The Definitive Guide to Instagram Engagement
The Definitive Guide to Instagram Engagement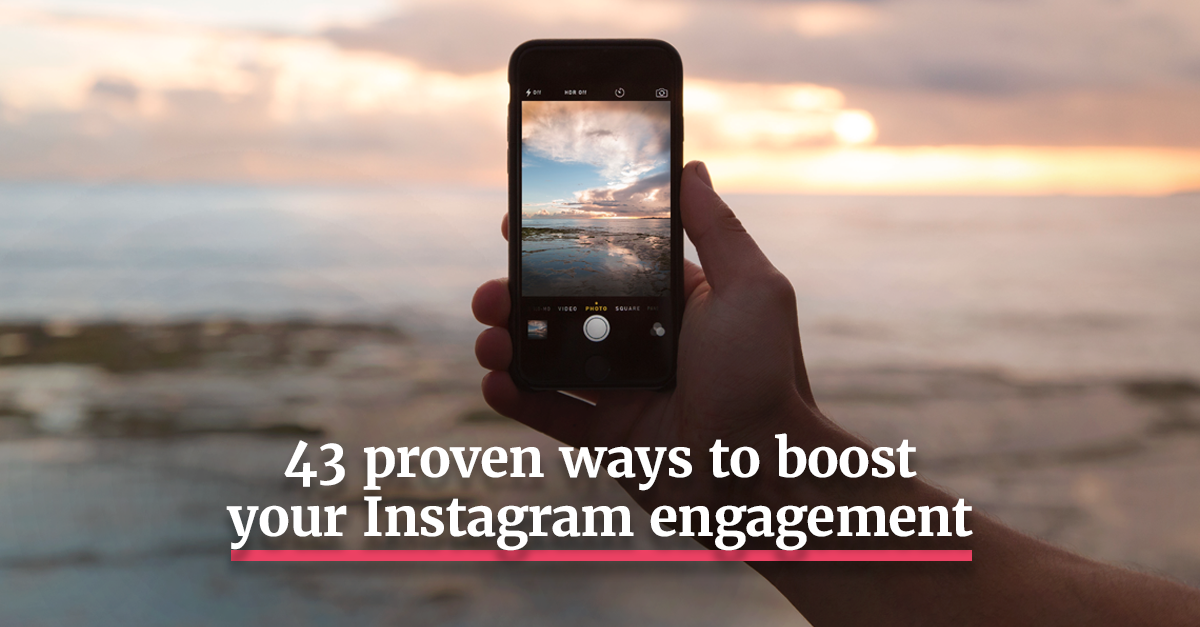 With over 400 million monthly active users, can you afford to leave Instagram out of your digital strategy?
There's no doubt Instagram is growing in popularity as a digital marketing tool. With the decrease in organic reach on both Twitter and Facebook, and a big appetite for visual content amongst consumers, no longer is it just about selfies, food and filters. It's a platform for businesses to access their customers.
Instagram allows you to deliver a visual story, that reinforces your brand's personality and builds another layer of trust and credibility with your prospects.
The real kicker? Not many companies are doing it that well yet, so you have a big advantage if you can.
But even if it is a great opportunity, how do you get it right? How do you dominate Instagram engagement?
Boosting your Instagram engagement isn't easy, but there is a lot you can do to make it happen. Just like any other social network, it requires dedication, consistency, and quality content. And perhaps more than anything, it requires creativity.
To help you figure it all out, we've gathered together a master list of Instagram engagement techniques in this article.
For ease of reading, the list is broken down into five sections:
Content – What type of content should you publish on Instagram?
Interaction – How should you interact with others on Instagram to boost engagement?
Optimisation – How can you optimise your strategy for more engagement?
Hashtags & Offers – How can you leverage hashtags and unique offers?
Promotion – What can you do to get more people seeing your Instagram account?
Let's get into it…
Content
Regardless of how well you interact with people, leverage hashtags, optimise your strategy and promote your Instagram page – if your content isn't high quality, then you won't get much engagement.
Instagram screams for simplicity. Simplicity in your photos, your messaging and your strategy.
As well as being simple, your content needs to be edgy, reveal the personality behind your brand and capture the essence of what it's like to be a customer.
So how do you make it happen? Here are some tactics for increasing Instagram engagement with your content.
1. Keep photos simple
Your photos are the very reason why you are on Instagram. If they are overly complicated, you'll struggle to attract followers.
When you post something on Instagram, it's important to think about how it's going to fit into your strategy as a whole.
When posting photos:
Avoid anything too busy. If your goal is to have a photo feed that's simple and minimalistic, avoid posting photos that are too 'busy'. A super busy photo will make the rest of your photos look weak, whereas a whole feed of simple photos will appear strong and confident.
Keep a theme. If most of your photos are bright and airy, a dark and moody photo will look out of place. Keep your theme consistent and your brand will be clear. This will also help your photos become more recognisable to people mindlessly scrolling through their Instagram feed.
Take fashion and beauty Instagrammer Olivia Muenter as an example. Her photos are recognisable because they always include bright and punctuated pops of colour.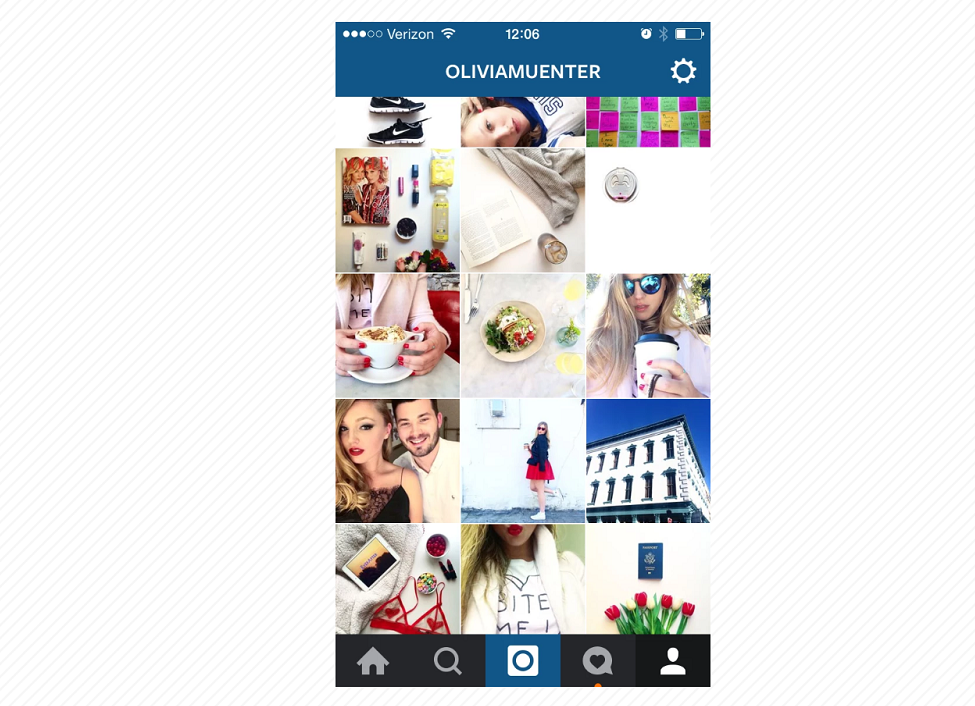 Source: Olivia Muente
Pay attention to light. Like any photo, light is important. For simple photos, always aim for natural light and don't try to force a photo out at night if you know you can take a better photo in the morning when the sun is out. Patience will always pay off here, as good light will generate 24% more likes than dark images.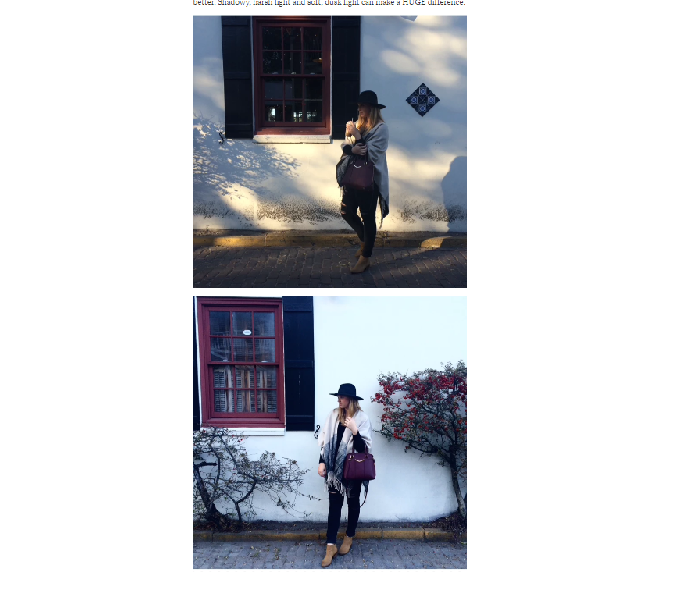 Source: Olivia Muente
2. Use lots of background space
Your background space is crucial. A cluttered image background will take away from the story you are trying to tell.
Some tips on using background space:
Create space. A high amount of background space generates 29% more likes than those with minimal space. Try not to zone in too much on the product or image you are marketing, and allow some room for the viewer to take it in.
Have a look at this Burger King post. The drink itself takes up just a small percentage of the photo, but it stands out against the open space in the background.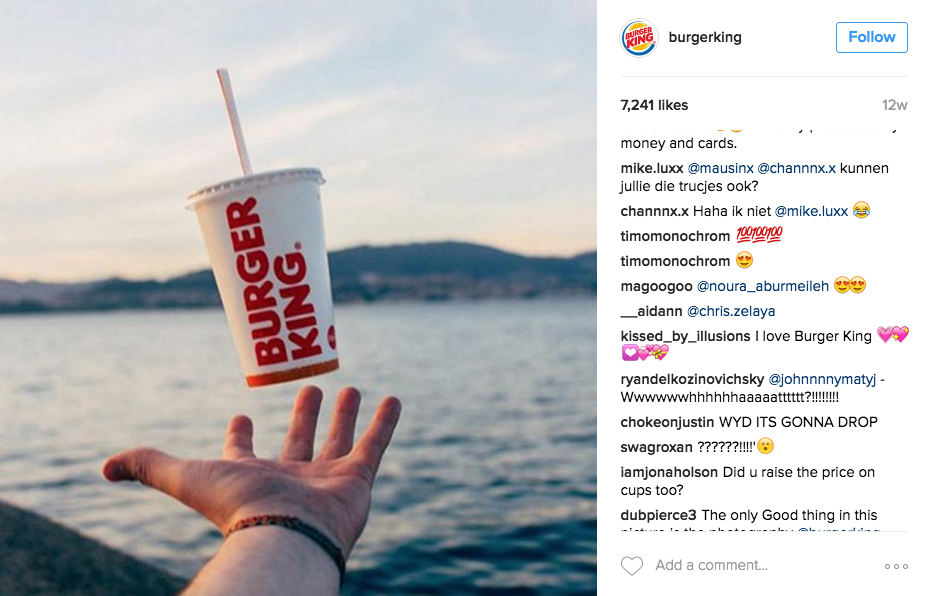 Source: Burger King
Buy a poster board. A poster board equals an instantly de-cluttered background that's perfect for making your products pop in your Instagram pics.
Not everyone has a perfectly white marble table lying around, right? A poster board is an inexpensive way to make photos bright, clean and simple. Like this example from Nike.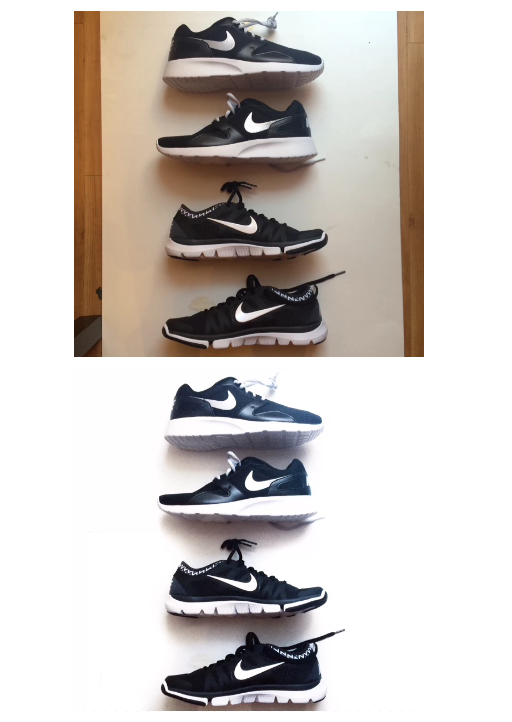 Source: Nike
Make use of tone apps. Use an app like FaceTune to find a tone that matches your poster board. This will blur out any other details in the photo that are distracting.
3. Include faces in your images
Instagram photos with faces get 38% more likes from followers than those without. People are social animals and are naturally drawn to faces as a way to feel comfort.
Perhaps that's why this famous Oscar pic was liked by 1.3 million+ when shared by The Ellen Show? (Definitely not the collective celebrity power…).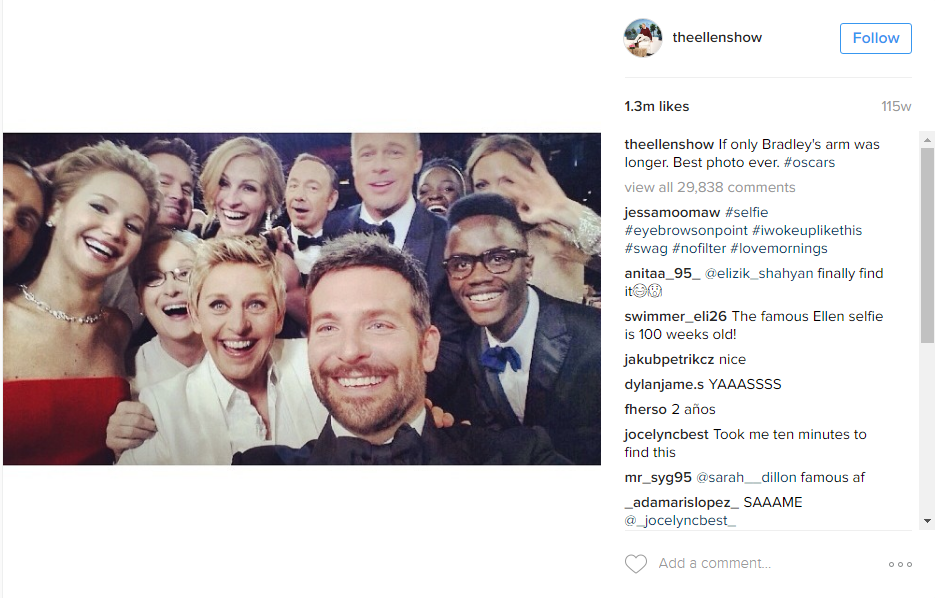 Source: The Ellen Show
Here are some tips on using faces in your Instagram photos:
Don't use the Instagram app. When taking photos of faces, don't use the Instagram app to take the photo. It doesn't have the same functions your phone camera does, such as zooming or the grid feature, which can make a big difference to the composition of your photo.
Deliberately underexpose. If you have an iPhone, deliberately underexposing your shots will counter out your phone's tendency to blow out parts of the image.
Pay attention to symmetry. If you're shooting a portrait that isn't symmetrical, place the subject's eye in the centre. Keep your scene simple, and the portrait as the focal point.
Utilise tuning apps. While your followers don't want unrealistically perfect selfies every day, some editing of small-scale details such as blemishes, stained teeth and flyaway hairs is expected. The Kardashians reportedly use YouCam Perfect and Perfect365 for their endless selfies.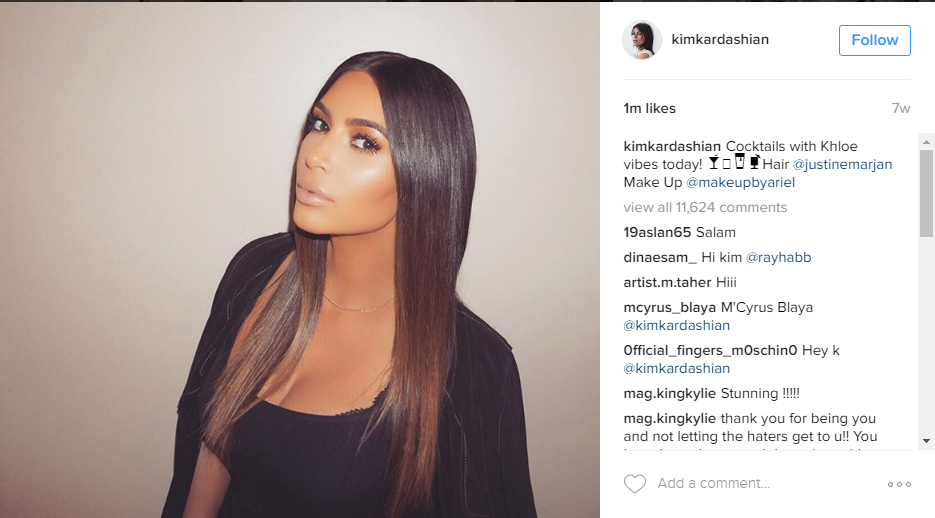 Source: Kim Kardashian
4. Share video
Instagram gives you the ability to post both pictures and videos, and you should. By mixing up the types of things you post, your page will be more interesting. Videos also inspire more engagement than other types of content.
Some tips for sharing video on Instagram:
Keep it interesting. Your videos can't be longer than 60 seconds, so every second counts with an Instagram post. Steer clear of random rants if you want viewers to stay engaged.
Try a filter app. To get a filter look that's different to the standard filters Instagram offers, try using a filter app such as Vintagio (Android and iOS) and 8mm (iOS). You can even layer different filters to come up with your own feel.
Check out some of Selena Gomez's vintage vids for inspiration.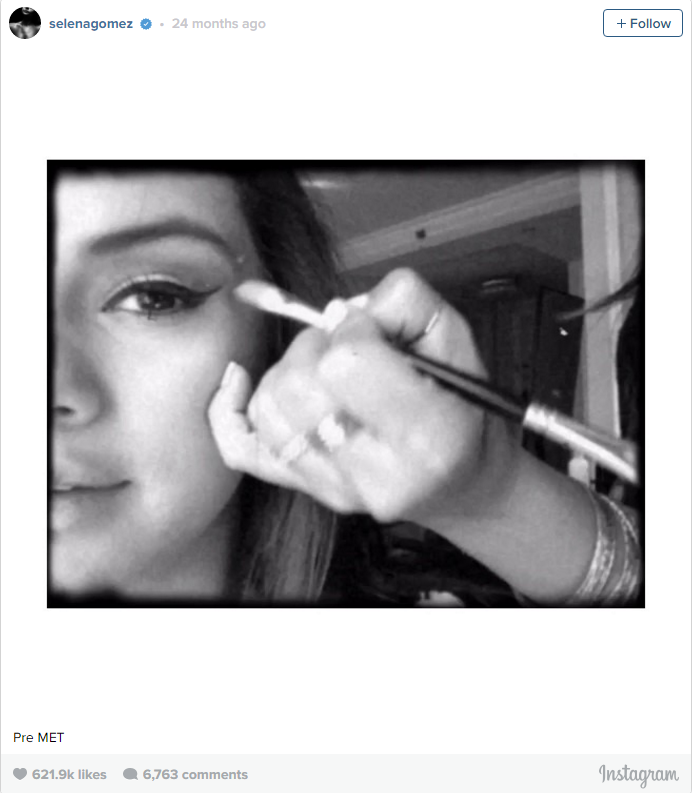 Source: Selena Gomez
Use an advanced video-editing app. Apps like iMovie (iOS) equip you with extra tools that give you more precise editing tools and control over sound and transitions.
Pay attention to alignment. When you upload a rectangular video (which is what most other apps shoot in), your video will be cropped in Instagram. Instagram crops to centre your video, so while you're shooting it's important to envision that either side of your video will be lopped off.
Nike is a big fan of Instagram videos and they generally stay on centre.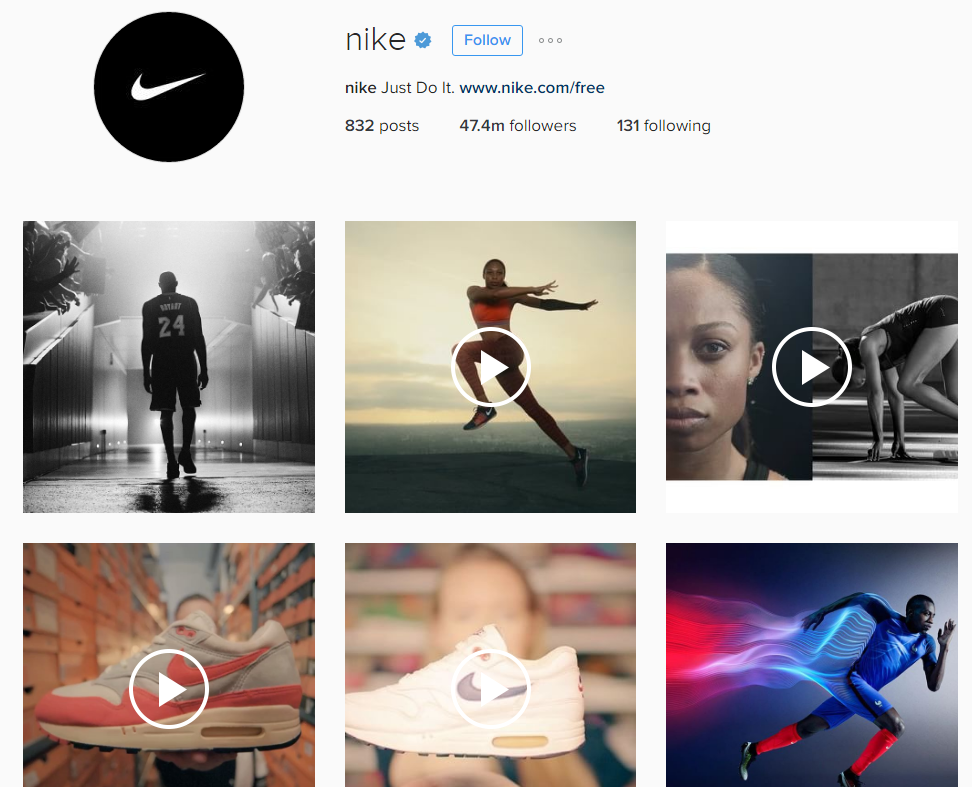 Source: Nike
5. Ask questions
One of the best ways to get more likes on your Instagram photos is to use the caption to ask a question. Not only will this drive likes, but asking the right questions can activate engagement on your post with comments, tags and reposts. Check out this repost app for Instagram.
Some tips on asking questions:
Ask open-ended questions. Open-ended questions can be answered in many ways, which makes for some more interesting answers from your followers.
Take this post by Jen Selter and her question of "Where should I travel to next?" The possible answers are limitless.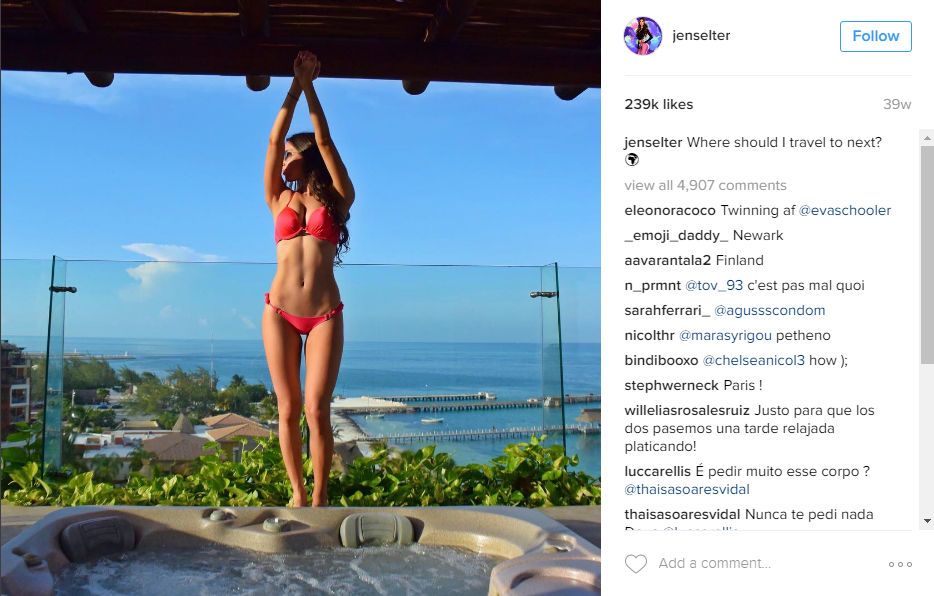 Source: Jen Selter
Use 'fill-in-the-blanks' questions. Fill-in-the-blank captions are a great way to get people to voice their opinions in a short format. Think I love _______. Or Thank goodness for _________. The more interesting answers the question invites the better.
Take this post by autogespot for example.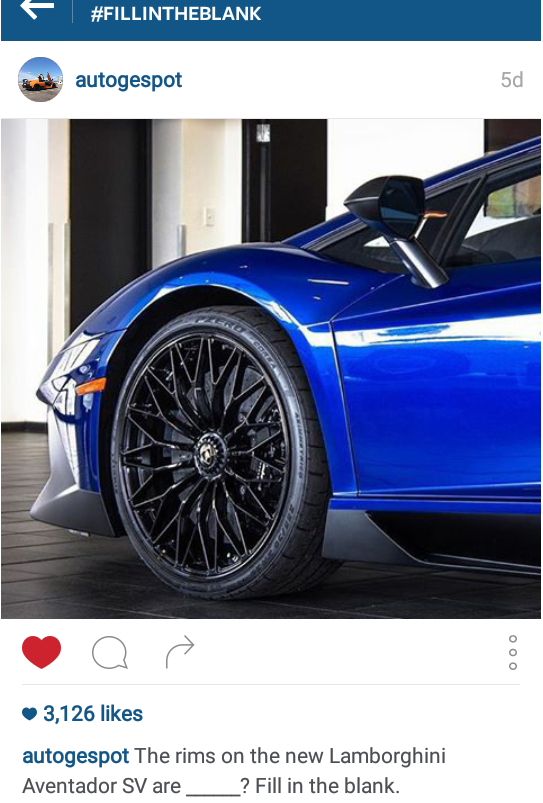 Source: Autogespot
'End this story'. Get your Instagram followers to picture themselves in a certain scene and then ask them to share a picture that will end the story.
Here is an example post from Chick Fil A, which asks followers to snap a photo of who they'd most like to share an ice cream cone with.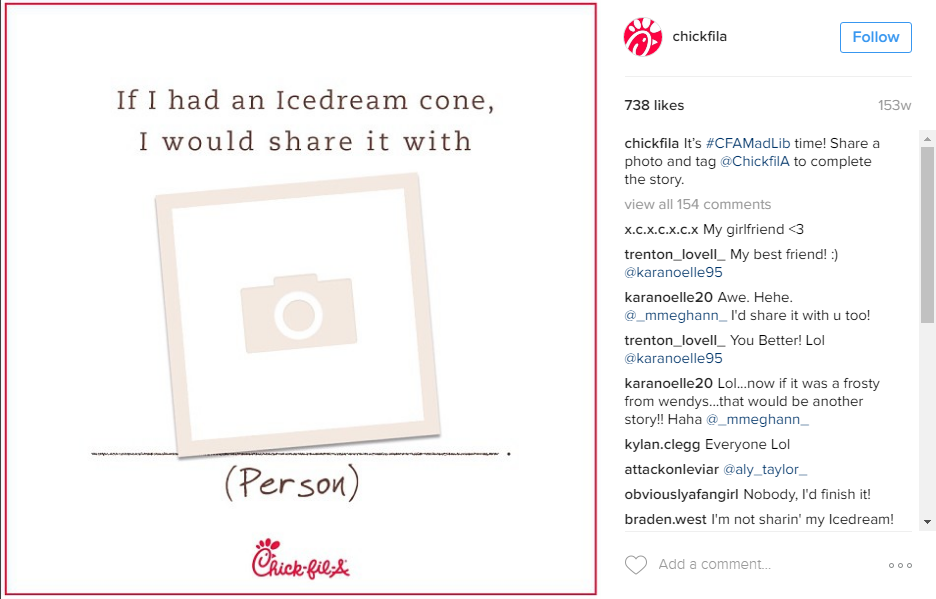 Source: Chick-fil-A
6. Stay active
The most common reason for followers to lose interest in an Instagram account is that it's not active enough. Some people regularly cycle through their list and unfollow boring accounts or inactive accounts, so a good rule of thumb is to make sure you update your account with entertaining content at least once a day.
Some tips on staying active on Instagram:
Offer constant food for thought. A daily dose of new information or a thought of the day that gets people thinking is a great way to get Instagram users excited about following you. Take Daily Dose of Champions for example, which offers motivational and inspirational quotes at least once a day.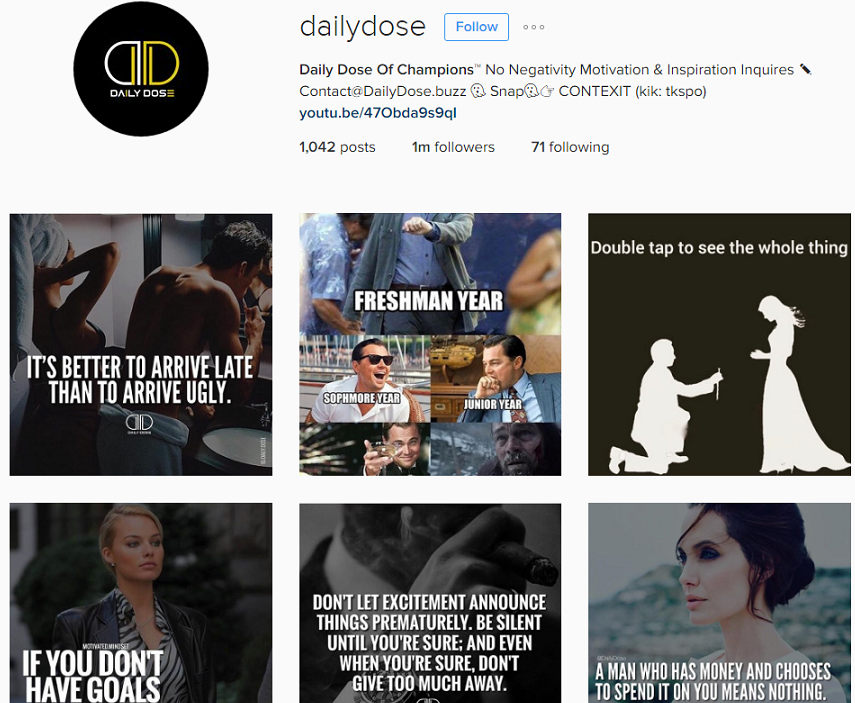 Source: Daily Dose
Aim for 1.5 posts a day. Major brands post on average 1.5 times per day. There's no drop off in engagement for posting more, provided you can keep up the rate of posting.
Make it seasonal. Match your content to the season, holiday or an event and users can instantly see that you're staying current and relevant. Hit your audience when you're already thinking about these things and make your posts timely. That's exactly what Myer did recently when they made all their posts about Fashion Week.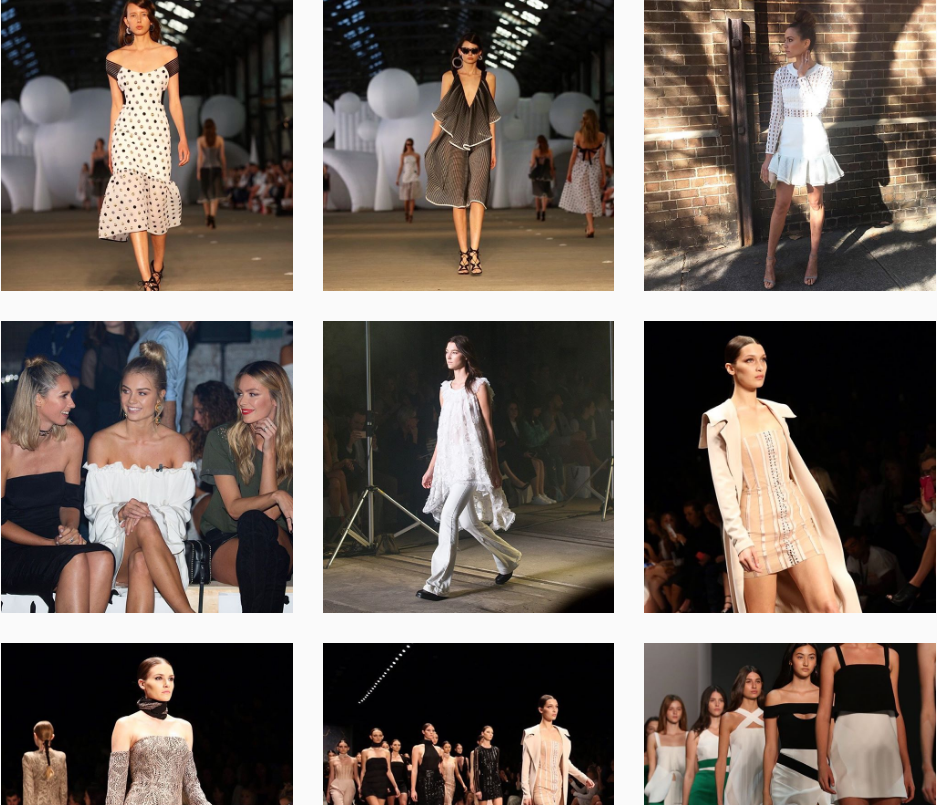 Source: Myer
7. Stick to a theme
Instagram themes can really set a brand apart and a great theme will make you instantly recognisable. Get inspiration from your favourite feeds and ask questions about their themes. What do you like about them? What's consistent? What links all their posts together?
Tips on sticking to a theme:
Crop your images the same way. Whether that means sticking with the classic square, adding a white border, or making your image narrow or long, if your images are all the same shape and size, it will make your feed look better as a whole.
Stick with the same filter. If you're a filter junkie, find your favourite and then stick with it. You want all your pictures to work alongside each other, and this will help. Take Happily Grey, whose feed lives up to her name. It's super clean, but she brings the saturation down by using a greyish hue for all her posts.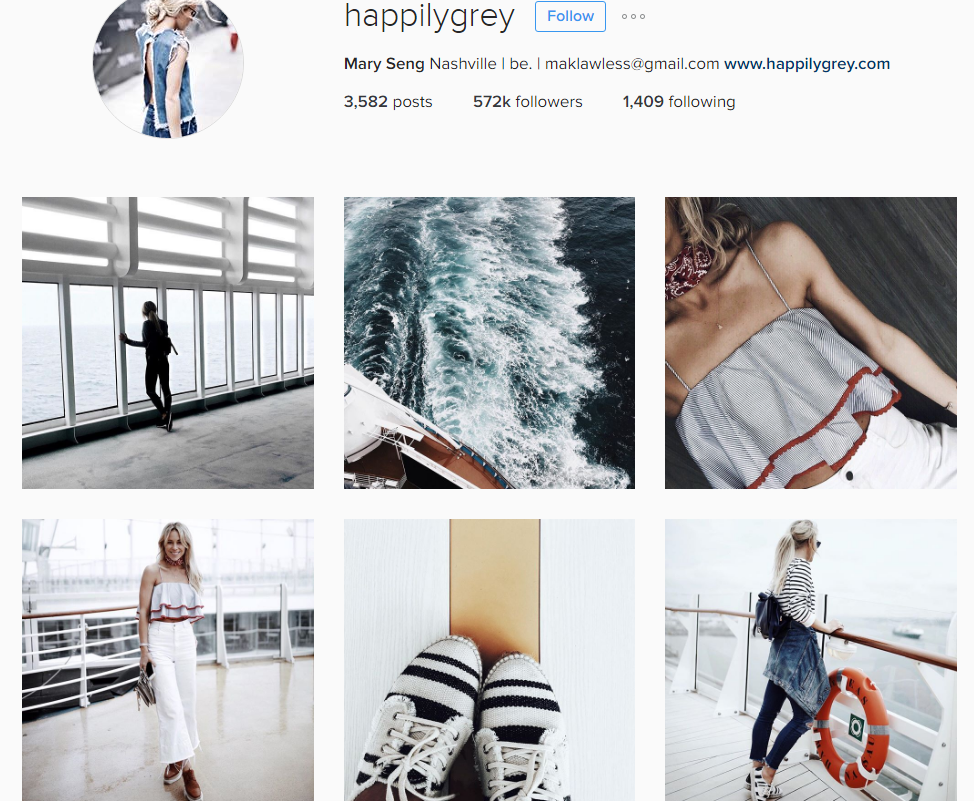 Source: Mary Seng
Take pictures of the same subject. If you love dogs and have gained a following because of your cute puppy pics, stick to what you love. While photographing the same subject every week may seem a tad boring, loads of Instagrammers have tons of success with this strategy.
Cats of Instagram, for example, has 6.1 million followers.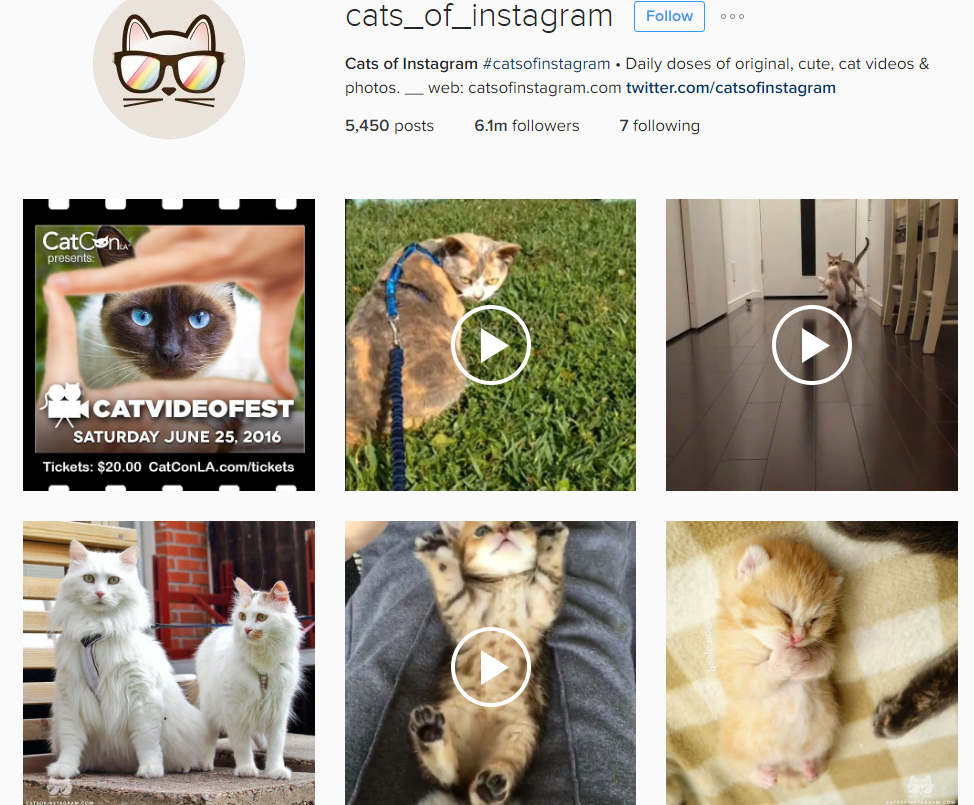 Source: Cats of Instagram
8. Share photos of customers using your product
When customers see other "regular" people using a product, they're more likely to buy from you. Why? This kind of social proof is a powerful motivator. Visitors gain trust by seeing others use the products they are about to buy.
Tips on product photos:
Offer examples. By seeing products in use, consumers can start to envision themselves using them. It becomes more than just a product and starts to become a necessity.
Take this Samsung post. It speaks to all fitness fanatics, making them understand how owning a Samsung Galaxy Tablet could be beneficial for them.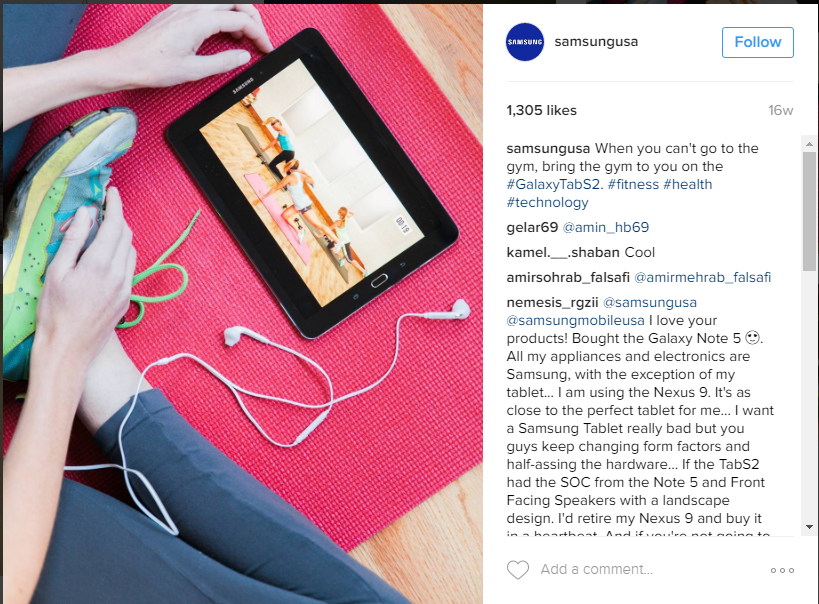 Source: Samsung USA
Make a video from fan's images. Lexus took advantage of fan images for their aptly titled #LexusInstaFilm, where a group of 200 Instagrammers met on a racetrack to capture the brand's new IS model. They then pooled the photos together to create a short video to share on Instagram and other social media channels.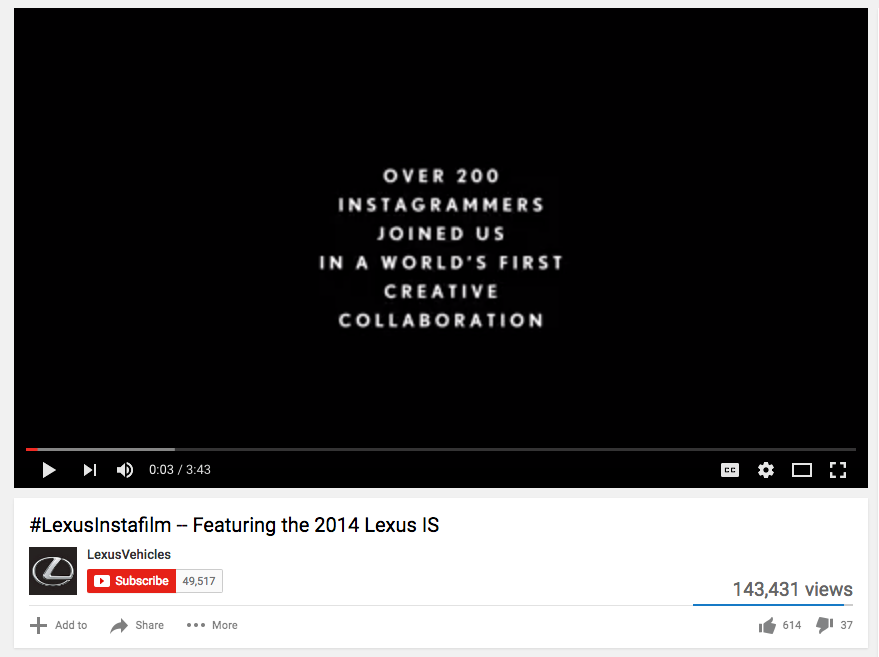 Source: Lexus
Show unusual uses. A product might not always be used for what it's designed to do, so why not share an alternative way to get a second usage out of something? That's exactly what Amazon did in this post.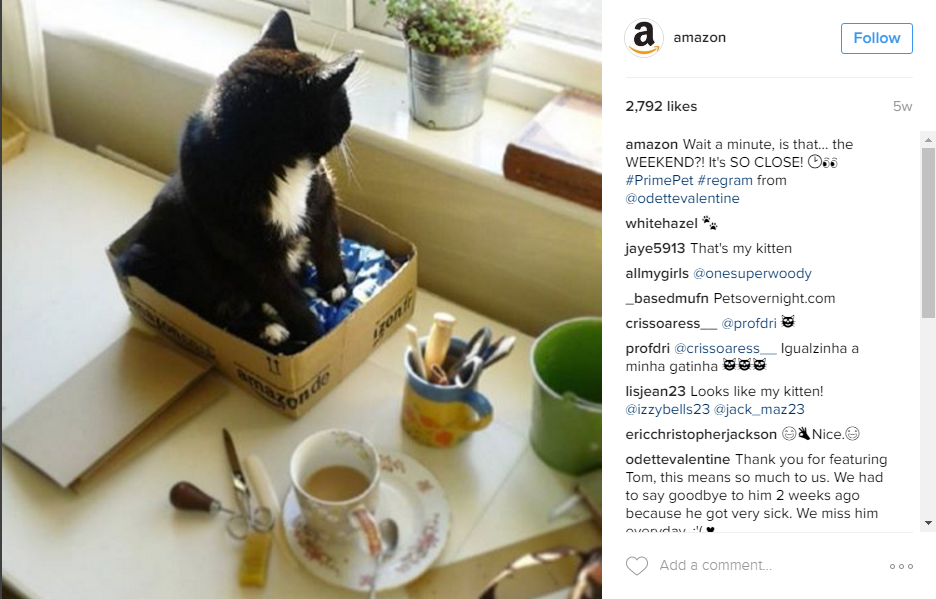 Source: Amazon
9. Write long descriptions
While Instagram is primarily considered a photo sharing application, some brands use it as a platform for sharing the written word. Each Instagram post allows 2,000 characters for captions, so why not use them?
Tips on using long descriptions:
Offer detail. If a certain post needs explaining, use the generous caption character allowance and tell your viewers what the post is all about.
Oxfam International regularly post long captions alongside their photographs which tell the story of the people who are in them.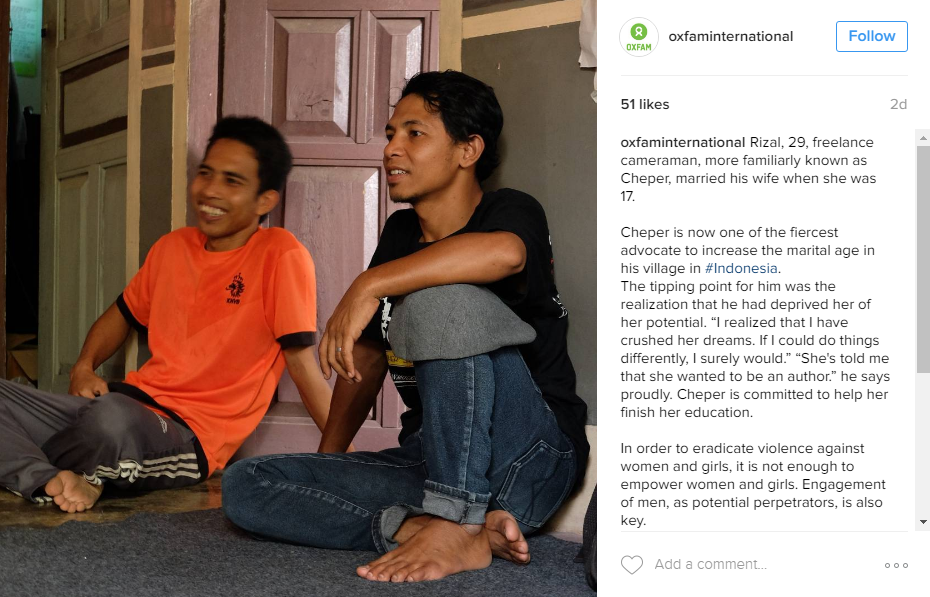 Source: Oxfam International
Break it up. A long caption can be a good thing, but when it's not broken up it can be a real turnoff. Adding paragraph spacing makes your copy more skimmable, and more appealing to readers. But you won't be able to do it straight from Instagram. Instead you'll need to write your caption copy in an email or Facebook status draft, and then cut and paste it into Instagram.
Explain the rules. If you're running an Instagram competition, you'll need somewhere to explain the rules. Caption copy is a great way to include rules, terms and instructions that go with competitions.
Take advice from those that know. If you've been wondering whether or not long captions really could work on Instagram, take a look at Instagram's own account. Most of their photos are accompanied by a long caption… And if Instagram is doing it, you should too, right?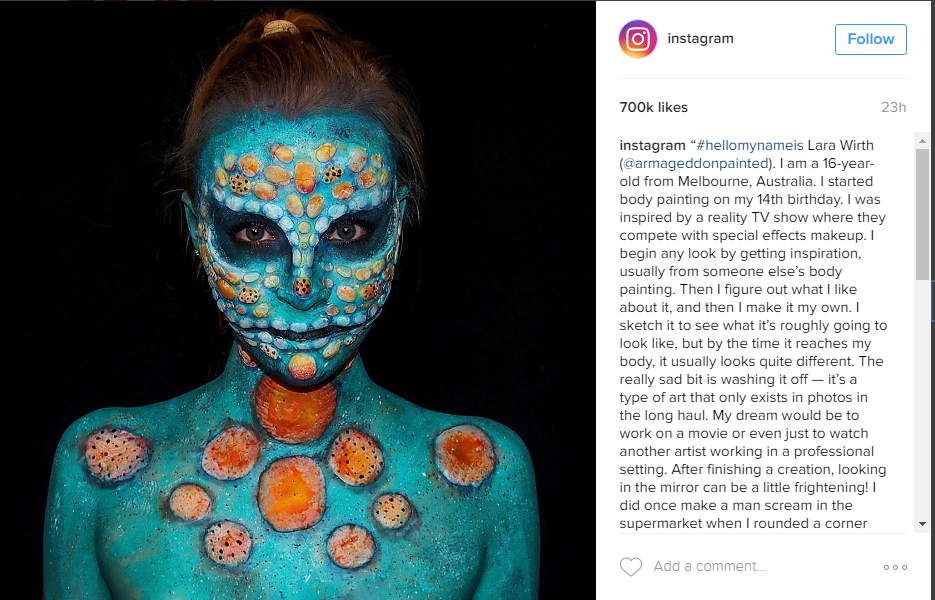 Source: Instagram
10. Add text to your location
Since Instagram only allows advertisers to share a clickable link in their posts, adding text to your location is a great workaround to highlight a call to action.
For example, in the highly visible location spot, GoPro tells their followers to "go to the link in our profile" to be a featured Photo of the Day.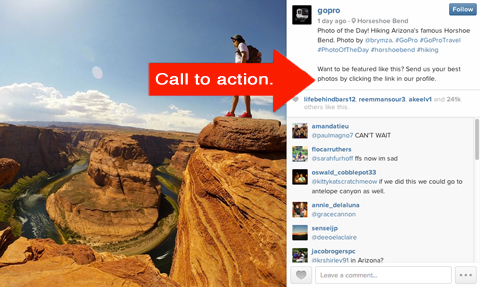 Source: GoPro
You can add text under an image's location on Instagram by:
Uploading and sharing an image. Once shared, tap the three dots in the bottom corner of the photo and select "Edit". The keyboard should then pop up along with the option to "Add Location".
Create your own call-to-action (CTA). Tap "Add Location" and a pop-up asking you to turn on location services will appear. Press "Cancel", and then tap the "Find" or "Create a Location" search bar. Then, type in your CTA. Alternatively you could just input your company's URL.
11. Use emojis
Emojis have become a whole language of their own – sometimes explaining something more clearly or simply than you even could with words. People love them, especially on social media sites. They help draw attention to your posts and engage followers even more.
If you want to include emojis in your Instagram post's caption copy, do so within your sentences – not before or after them.
Alternatively you can try adding emojis in between paragraph spacing. To do this, write out your caption copy in your notes app (or wherever you decide), add your paragraph spacing by hitting the "return" button a couple of times, then, after the caption copy looks good, go in and add your emojis in the spaces between your new paragraphs.
Tips on using emojis:
Enable emojis.  First you will need to enable the Emoji keyboard. It's built into the iOS platform.
Add near CTAs. Emojis work best in and around your calls to action. For example, you could try adding three downward pointing fingers above your URL in your bio to double your click rate like foundr has done.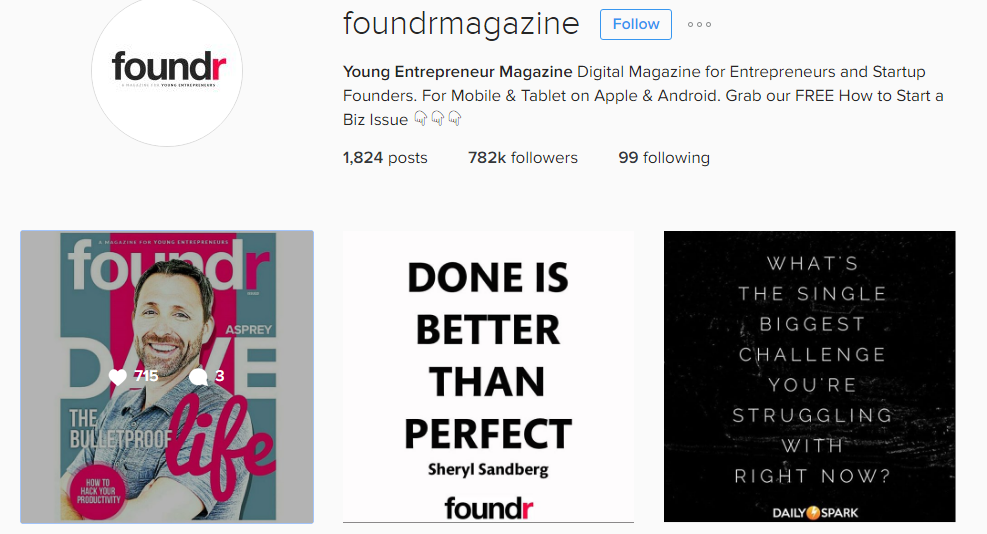 Source: Foundr Magazine
Add emojis to hashtags. Instagram has now released a feature that allows the use of expressive emoji characters in hashtags, allowing Instagrammers to search for specific emojis or emoji combinations. By entering a coffee mug into the search section, for example, you'll be led to those making use of the same emoji.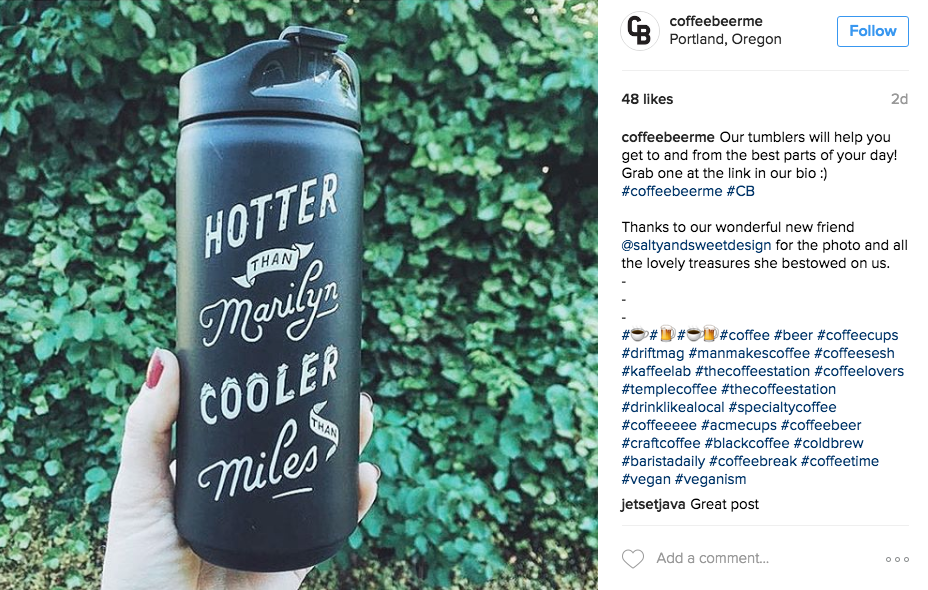 Source: CoffeeBeerMe
12. Curate content from your fans, followers, and influencers
Curating content from other places can save you quite a bit of precious time. Identify the tags related to your target audience and start browsing for images that are awesome. Take screenshots of every post you find.
By curating content from other sources, you can create a never-ending supply of posts for your Instagram account. Just be sure to credit where the image came from in your caption or on the image itself like The Classy People.co has done here.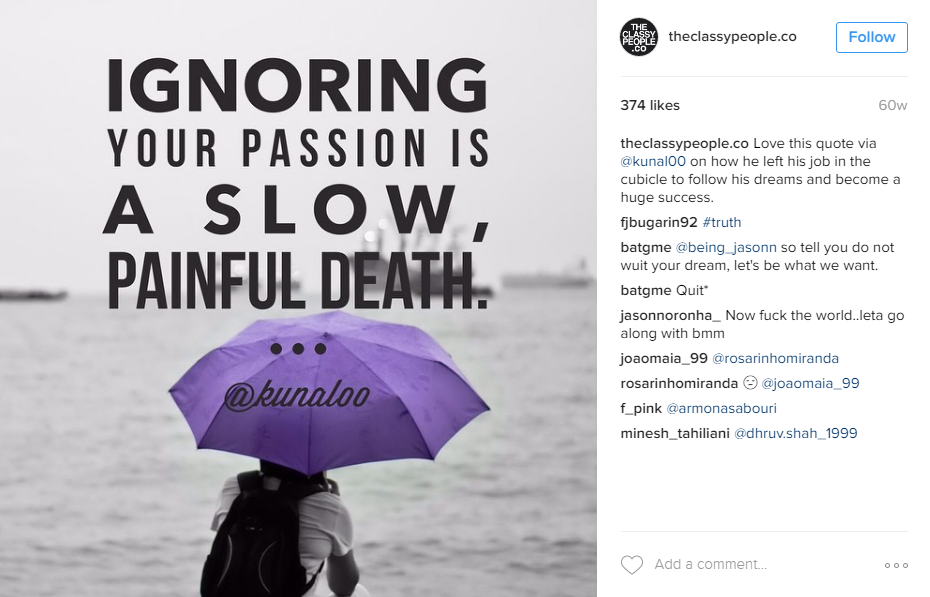 Source: The Classy People.co
Tips for curating content on Instagram:
Take from your fans and followers. For specific campaigns, state opt-in guidelines as part of the terms and conditions. If you blatantly state in contest rules that users who provide a photo for a sweepstakes or competition are automatically consenting to their photo being used by the brand, you'll obtain a variety of user-generated photos (having protected yourself) like the Macy's #Macyslove campaign or GoPro's #gopro hashtag.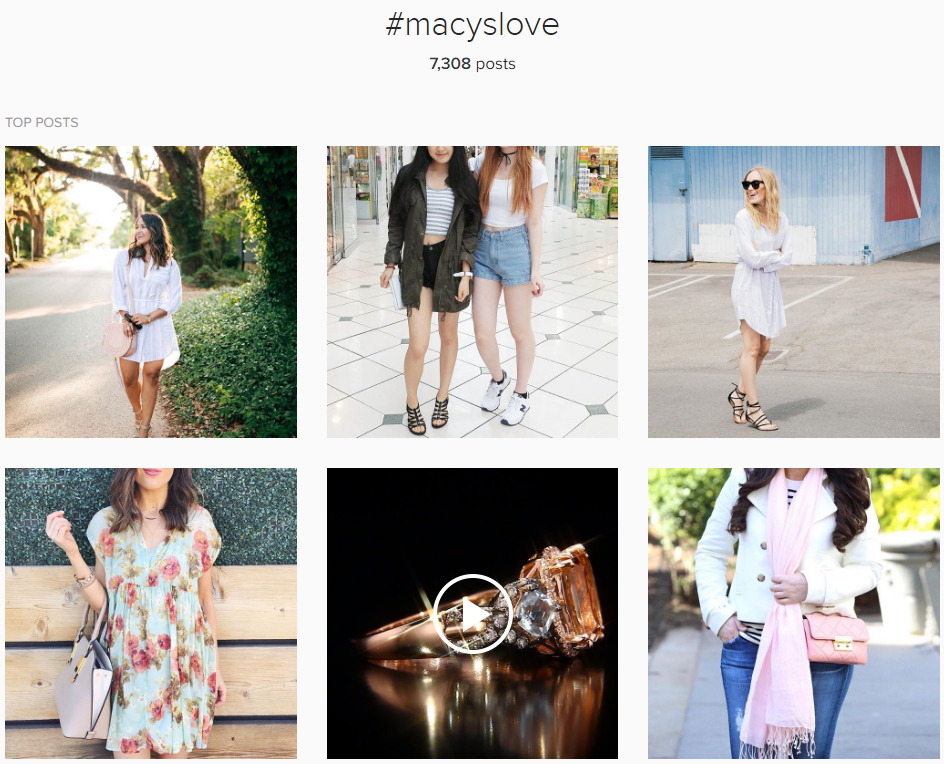 Source: #macyslove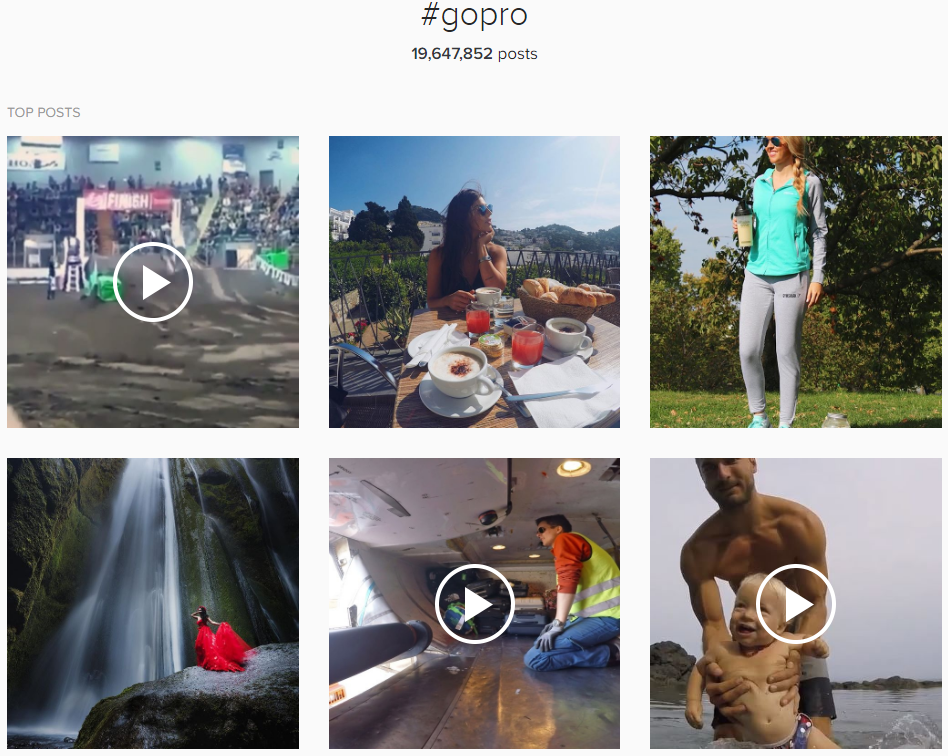 Source: #gopro
Ask for permission. There are now a number of platforms such as Content Rights Solution designed by TINT that create a variety of social display tools. This solution allows you to discover content related to your brand, request the proper permissions from the author of the image, and track the images to which you have rights.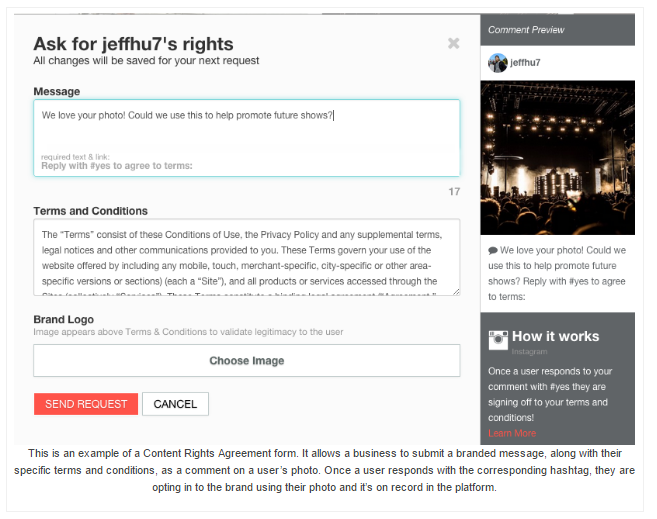 Source: Content Rights Solution
13. Use the right filters
Choosing the right Instagram filter can be an agonising decision. And so it should be – the right filter can make or break your engagement levels.
There are dozens of filters to choose from, each brimming with possibility. With the swipe of a finger you can boost contrast, inject vintage flavour, or simply enhance the overall effect.
Tips for using filters:
Go with the crowd. According to Design School, the most used Instagram filter is Clarendon. The all-purpose filter brightens, highlights and intensifies shadows for colour that pops, and is typically the default filter in the editing settings.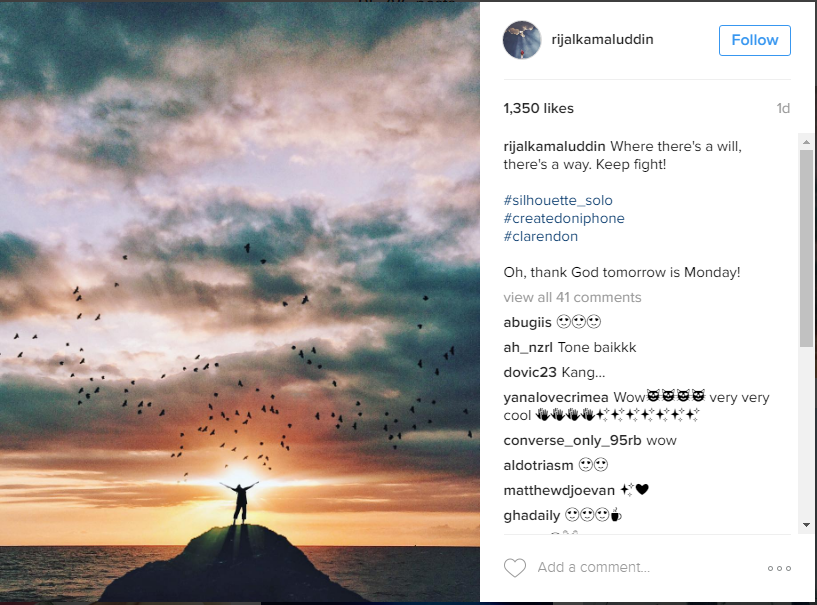 Source: Rijal Kamaluddin
Be nostalgic. The next most popular filter is great for users wanting to evoke the past. Gingham is the nostalgic choice and what was once reserved for videos now gives photos a great vintage feel.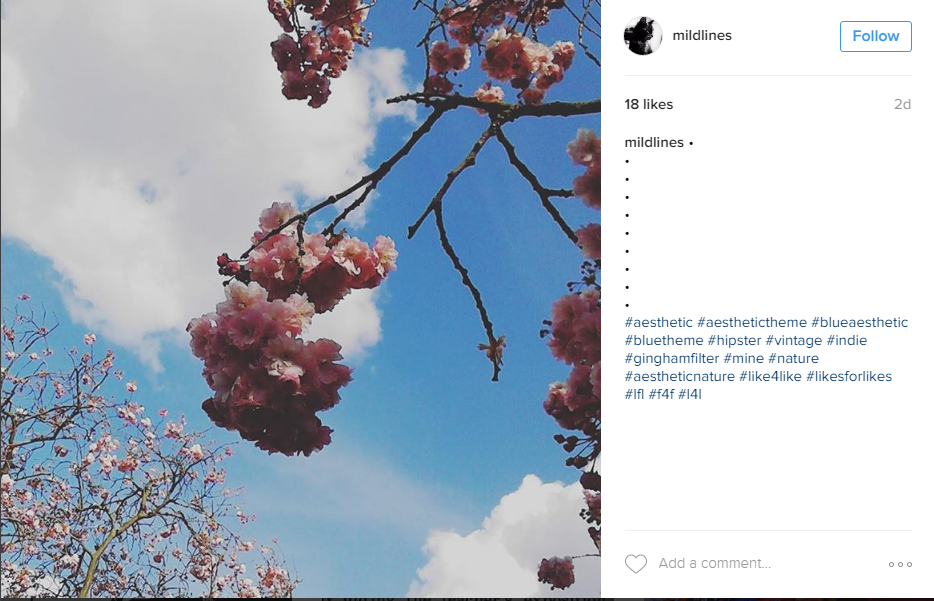 Source: mildlines
Aim for likes. From trees dripping with moss to waves lapping at a sandy shore, the natural world is a breathtaking subject for Instagram photos. Your best bet for drawing likes from these photos? Apply a Valencia filter.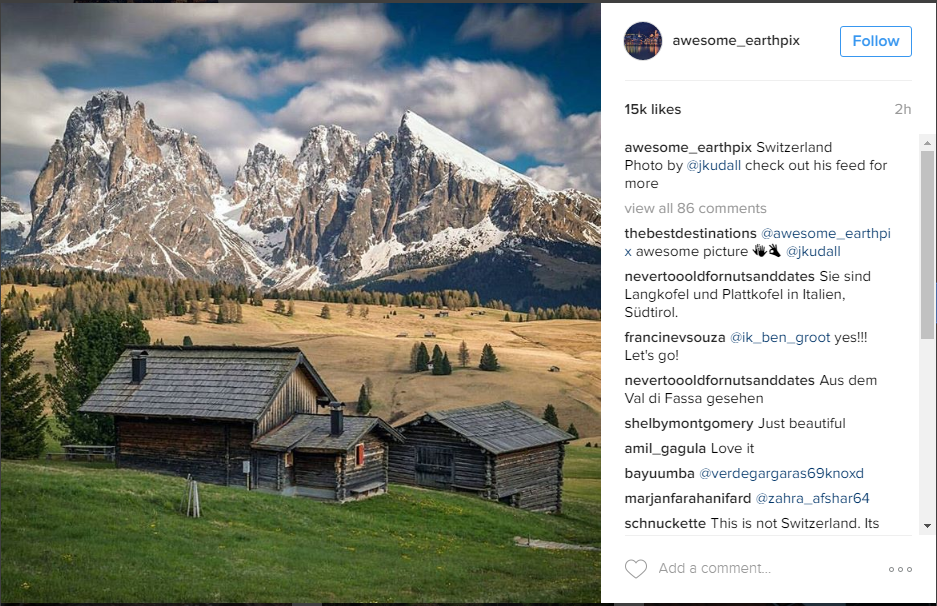 Source: Awesome Earth Pix
Make a fashion statement: Want to really make a statement when you post pics of a new outfit or the new boots you just got in stock? Apply a Kelvin filter, which averages 162 likes per fashion photo.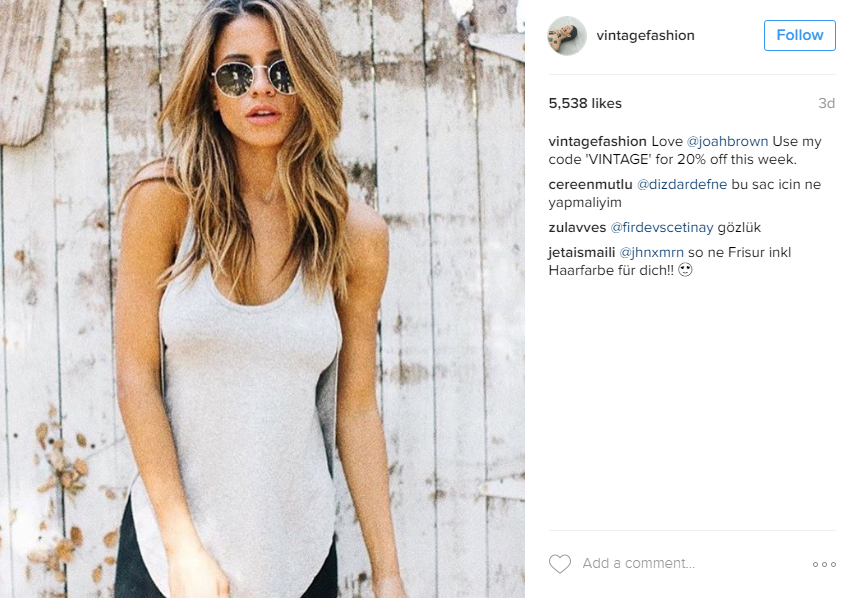 Source: Vintage Fashion
Interaction
Instagram is a "social" network for a reason, so engagement comes back to interacting with people.
Start conversations with those that have similar interests, follow influencers and leaders in your industry, like and comment – get active and social with everything you do. People respond to personality and direct engagement.
More so than Twitter, Facebook or LinkedIn, Instagram is about having fun. So to boost engagement, you will need to come to the party.
Here are some more specific tactics on how to interact on Instagram to increase engagement.
14. Start conversations
Starting conversations on other people's posts can draw attention to your own. A randomly started conversation based on the things you like, and the things your brand stands for, can pop you in front of the right people.
Tips on starting conversations:
Know your audience. You can't interest someone in a conversation if you don't know what they like. Understand who it is you are trying to speak to. Follow the people that make positive comments on your Instagram posts and see what else they are interested in. What images are they sharing? What's their bio like? Knowing your buyer persona will help you target messages toward them.
Use hashtags. Don't just use hashtags to distribute content more effectively – also use them to find like-minded users who do the same thing. For example, if you're in the fitness industry, search for hashtags like #Fitspiration or #FitnessAddict. Then engage with users who are sharing content with this tag.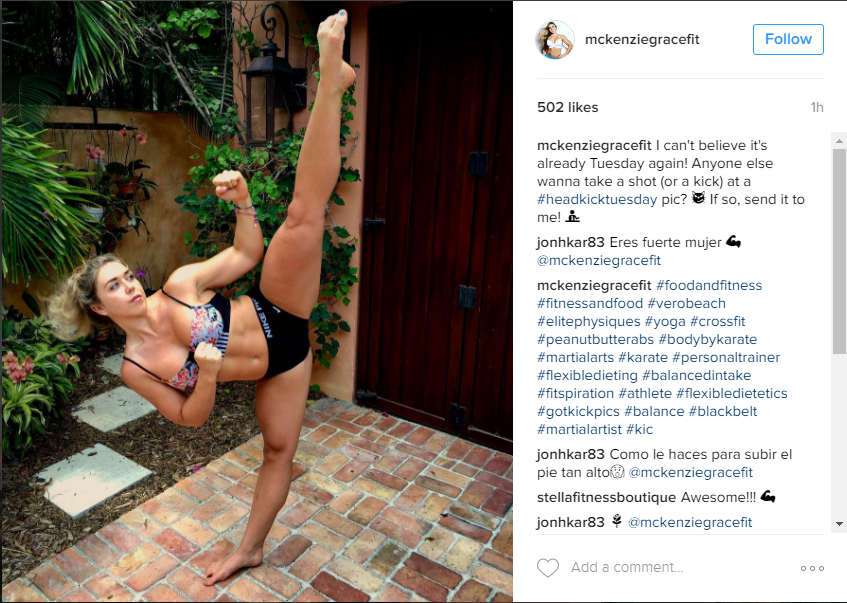 Source: McKenzie Flinchum
Respond. A conversation is a two-way street, so make sure you respond to your audience or the person you're talking to. Respond in a timely fashion to show you are interested.
Use Instagram Direct. You can create a conversation using Instagram Direct and send messages to as many as 15 people. This is a great way to send more targeted messages to your followers.
15. Find a community
You've started your Instagram account, created a content strategy, and are posting high-quality content regularly. Now it's time for the hard part – finding your community.
Building a living, breathing community of users that are actually interested in your content can be a challenge, but it's very doable with the right approach.
Here are some community-building tips:
Leverage hashtags. Monitor and engage with different hashtags, and take a look at your competitors hashtags to see which ones they are using. Spend some time each day monitoring the content of each tag.
For example, a business wanting to market to photographers would benefit from searching the popular photography hashtag #vsco. Then spend time engaging with the content found through likes and comments, which will lead to more profile visits and potentially new followers. The simple comment "Great" by Destination Pixel is a good example.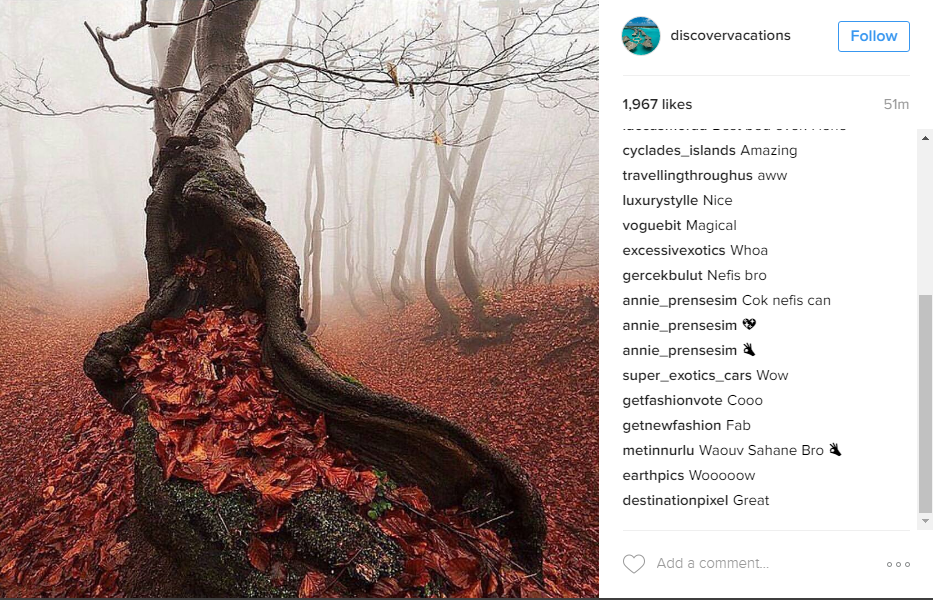 Source: Discover Vacations
Collaborate with other Instagrammers. The introduction of photo-tagging has made finding users easier, and clicking on tagged photos is the quickest way to get a sense of what someone looks like, who their friends are, and what they like doing.
The more your profile is tagged in other user's photos, the more exposure you can receive through users perusing the tagged photos of their favourite Instagram stars and brands.
Whether you're a blog featuring another blogger or a small business featuring another local company, collaborations are a natural and organic way to increase followers for both of you.
Take the collaboration between Nike and Riccardo Tisci as an example.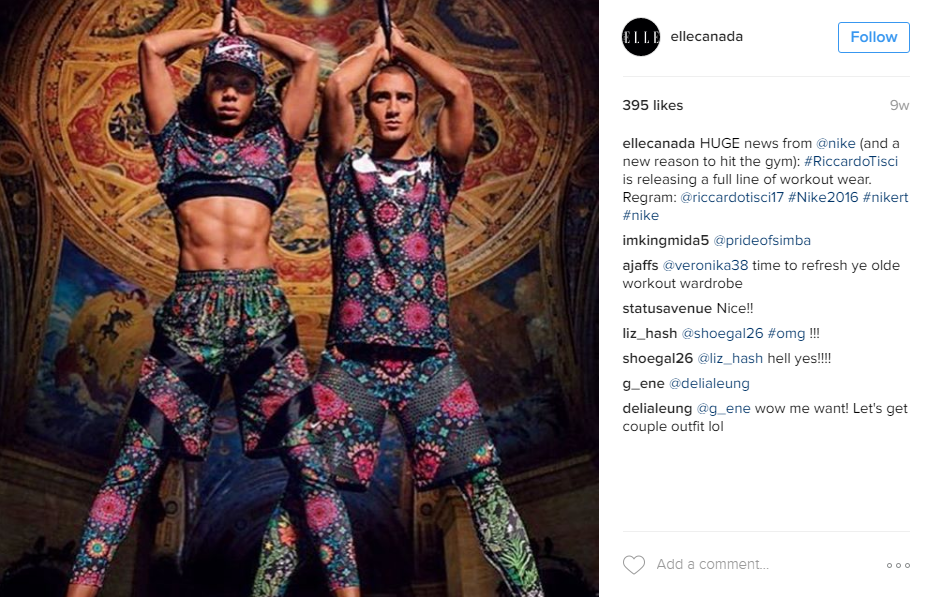 Source: ELLE Canada
16. Follow people
To kick off your Instagram presence, you'll want to follow a bunch of users.
Find influencers in your industry, clients, and engaged users and follow them. Search relevant industry hashtags and make your presence known by commenting on photos and following people who participate in these discussions. You'll be surprised at how quickly you can expand your following on Instagram and increase engagement.
Tips on following other accounts on Instagram:
Browse Instagram's suggested people. Instagram will display people you may be interested in following in the home tab of your Instagram app. These recommendations are based on what's popular and who you are currently following. Tap the "View All" button and scroll to ensure you don't miss any good suggestions.
Find famous people to follow. Instagram has a semi-hidden directory of many of its most notable users, including popular celebrities and public figures. Tap the "Profile" tab at the bottom of your Instagram screen. (This looks like a silhouette of a person.) Tap the "Gear" button and scroll to "Help Centre". Search for "Notable Users Directory" and browse until you find a user of interest.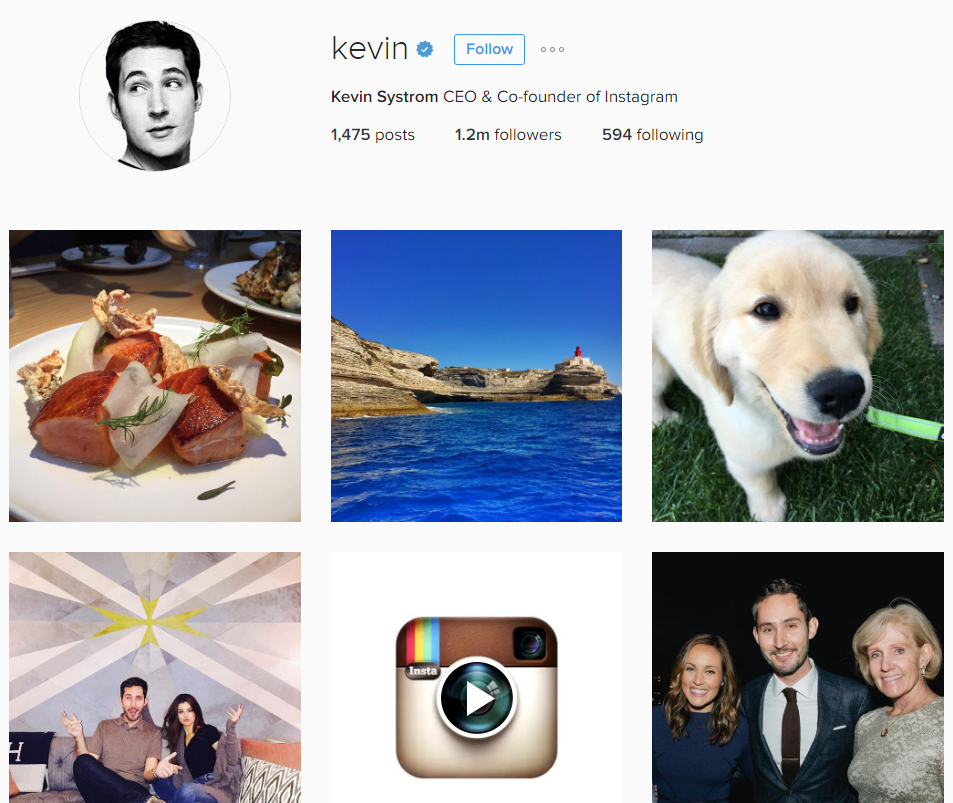 Source: Kevin Systrom
Follow people from your contacts list. Start with who you know from "real life" – friends, family, colleagues, clients, suppliers etc. Some of these will be in your contact list, while others you may need to manually search for.
17. Start a dialogue with your customers
Your followers want to feel appreciated and you can do that by showing support for the things they post.
Tips for liking and commenting on photos:
Like your customer's photos. Acknowledge your customer's awesomeness by liking their photos – particularly if they include your product or emulate your brand.
Comment on your customer's photos. Engage with consumers by commenting on related photos that they post.
Check out the comment from Oxford on a follower's shot of their clothing: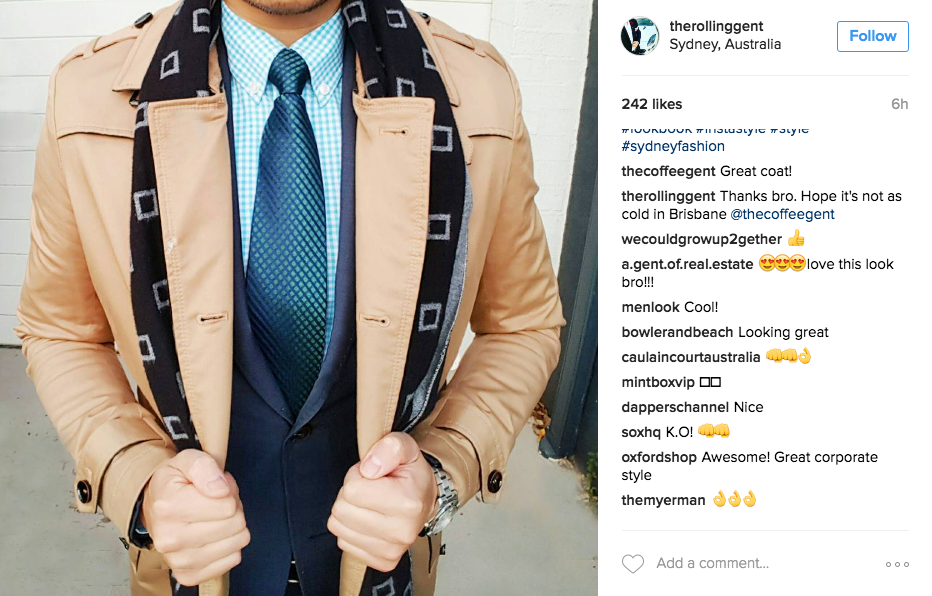 Source: The Rolling Gent
Mention. Mentioning is another huge opportunity on Instagram. @mention your followers, your customers, and any other user with great photos of your products. Not only will you make them feel appreciated, you get to engage with your market.
18. Respond to comments
Interacting with other Instagram users through comments helps you to expand your profile, attract new followers, and show you're a company that values your followers and customers.
When a user comments on your picture or mentions your name in a comment, you're notified through Instagram. Use this to your advantage and respond to the comment in a timely manner.
Some tips on responding to comments:
Mention a user in a comment. When you receive a notification that another user has either commented on your post or mentioned you by name, you can tap and hold their username to bring up a response menu. Select "Mention User" from the menu to open a new comment window and type your message. It looks like this: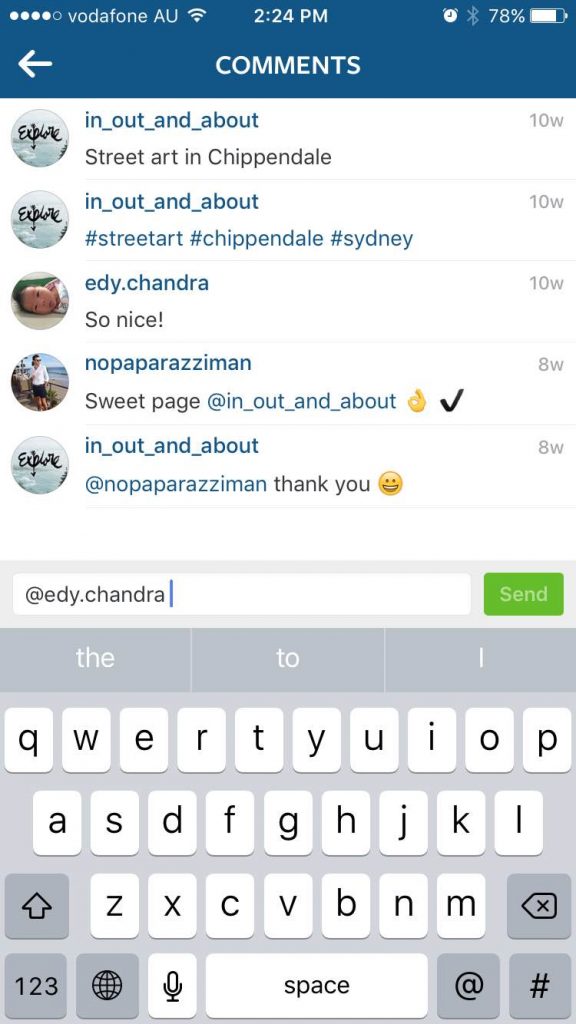 Source: In Out & About
Monitor comment feeds. It's important to stay on top of the comments made on your posts so that you can respond appropriately. Take this post from Optus below. By commenting, they showed their customers they care about what's happening with their service.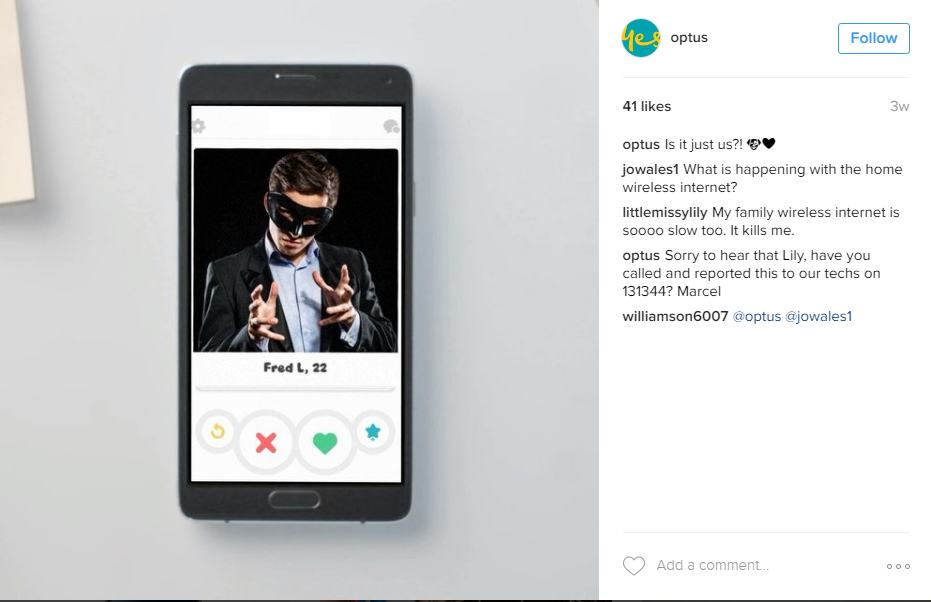 Source: Optus
19. Have fun
Instagram isn't hugely sales-driven, so you can afford to have a bit of fun with it.
It's is your chance to humanise your brand, to interact with customers and enhance relationships with your followers. Your posts should be based on the principles of your business and the ideas for which you stand.
Post things you find entertaining and your followers will not only take notice – they'll enjoy your presence more.
Tips for having fun on Instagram:
Mix it up. Be it a collaboration one minute, a campaign the next, keep your content fun and light and try to get your followers involved.
Camp Brand Goods award an Instagram user with a t-shirt once a week simply for "keeping it wild". Their hashtag #keepitwild is just for fun and designed to create a community of like-minded outdoor enthusiasts.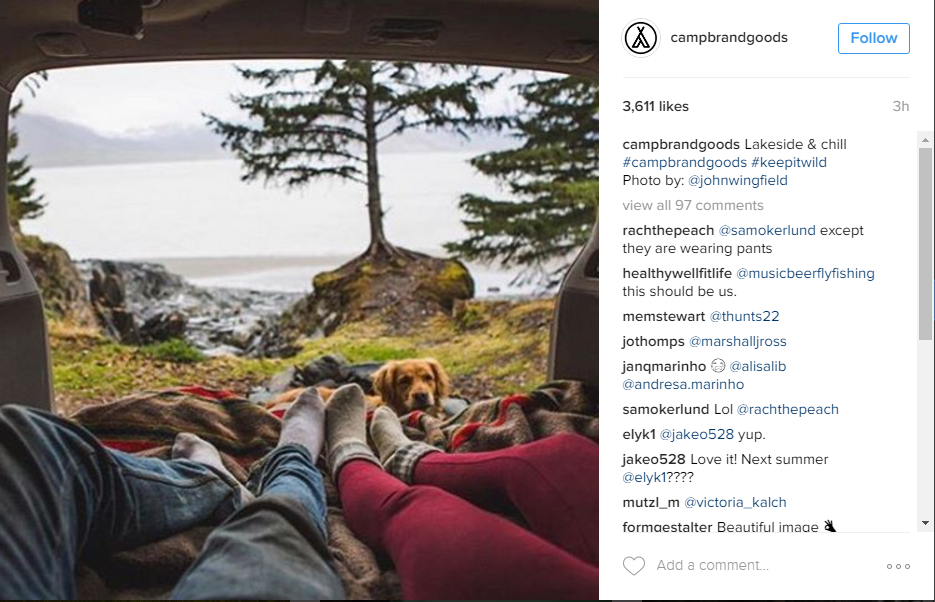 Source: Camp Brand Goods
Keep it fresh. If all your posts look the same, your feed will come across as boring. Even if you must display the same product in every post, ensure the background changes each time. While Milkshake Liquid by itself may not make for the most exciting photo, at least the context in which it's displayed can be.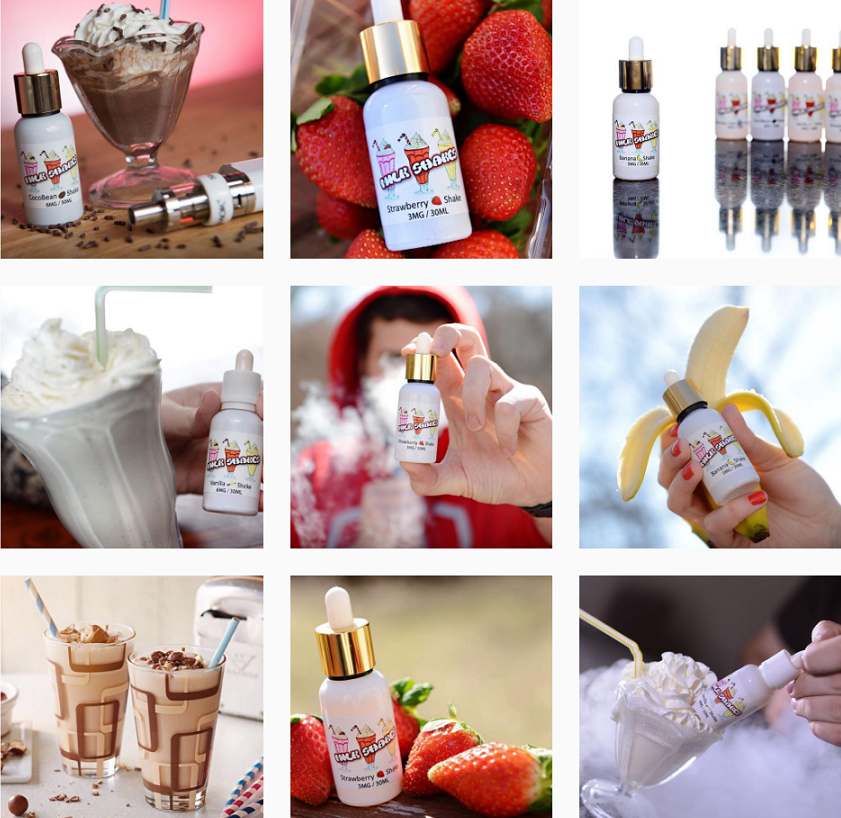 Source: Milkshake Liquids
Don't be salesy. The number one turnoff for potential followers is directly asking them to follow you or buy from you. Instagrammers are generally happy to buy, but they don't like to be "sold" to – because that's not what they come to the platform for. It's okay to include a call-to-action, but avoid giving a full on sales pitch. Instead give something away to the user – something entertaining, informative, or thought-provoking – that helps them get to know and connect with your brand.
20. Make use of content from your community
"Regramming" involves posting a photo from someone else's Instagram account to your own, along with the appropriate credit. This helps the photo get great exposure, saves the regrammer time on generating their own content, and draws attention to the original poster's account and photography skills.
For businesses on Instagram, regramming is a great way to connect with your Instagram audience on a more personal level. Sure, an occasional comment or 'like' from a recognisable name is flattering, but it doesn't compare to the pleasure of seeing your own photo in their Instagram feed.
Tips on spotlighting your followers and gaining user generated content:
Make a separate hashtag for user generated content. Your official hashtag is needed to monitor possible customer support concerns, feedback on your product, or other customer interaction that deserves your attention. To build a pool of user generated content, try creating a separate hashtag that's purely designed to draw community pics.
G Adventures' profile asks guests travelling with them to tag their pictures #gadv for a chance to be featured.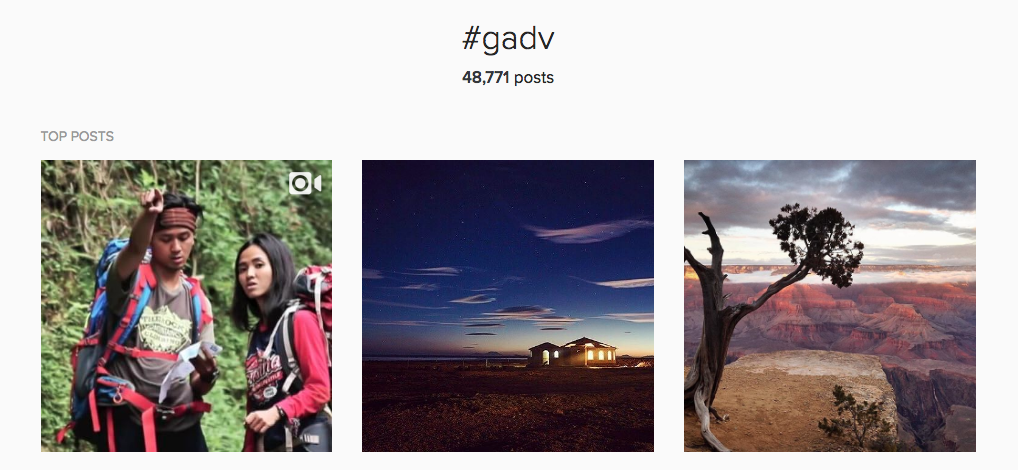 Source: #gadv
Embed followers' photos. Instagram now allows you to embed Instagram photos on your website and other sites. You can use this to show off great images of your brand and products from your Instagram followers by embedding the entire post. Let them know that you're embedding their post, as not only will you need permission to do this, they'll likely welcome your appreciation.
Crowdsource photos. Ask followers to submit photos of how they use your product. This could help your business gain customer insight, as well as helping add a personal touch to your products. To entice these photos, run an Instagram photo contest.
Check out this post from Thankyou, directed @sophiecottrell.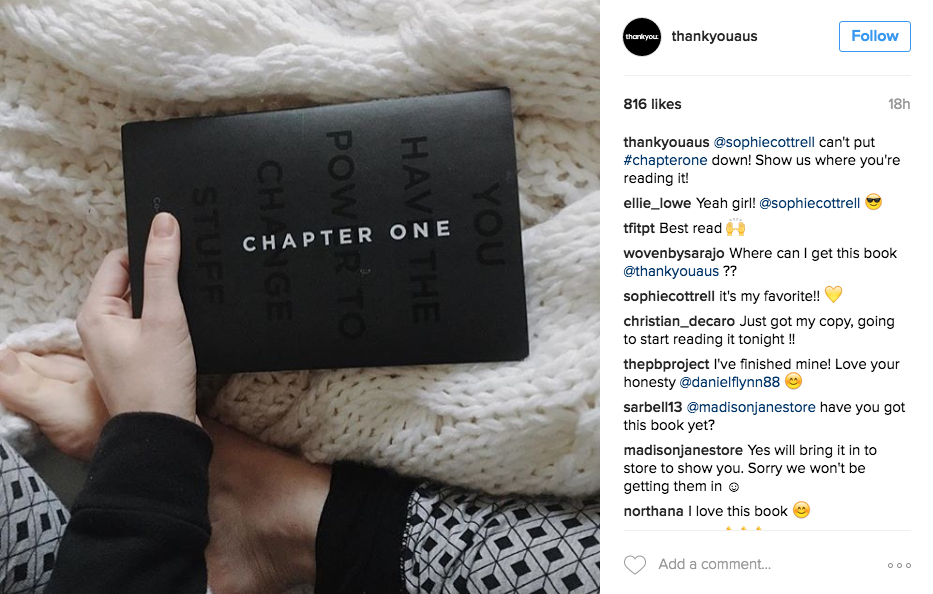 Source: Thankyou
21. Show off your employees
Your employees are a massive part of your business, and if your followers can build a relationship with your employees, it'll strengthen their relationship with your brand. Friendship fuels loyalty, so make friends of your employees.
Tips for showing off your employees:
Show who you are. Feature fun photos and videos of your employees to give your Instagram followers a behind-the-scenes look at your company. By showing the faces of your employees, it tells the story that you care about your workers. This inadvertently tells the customer you care about them too.
This post shows fans of Kew Gardens just how hard the team works to get the gardens looking beautiful.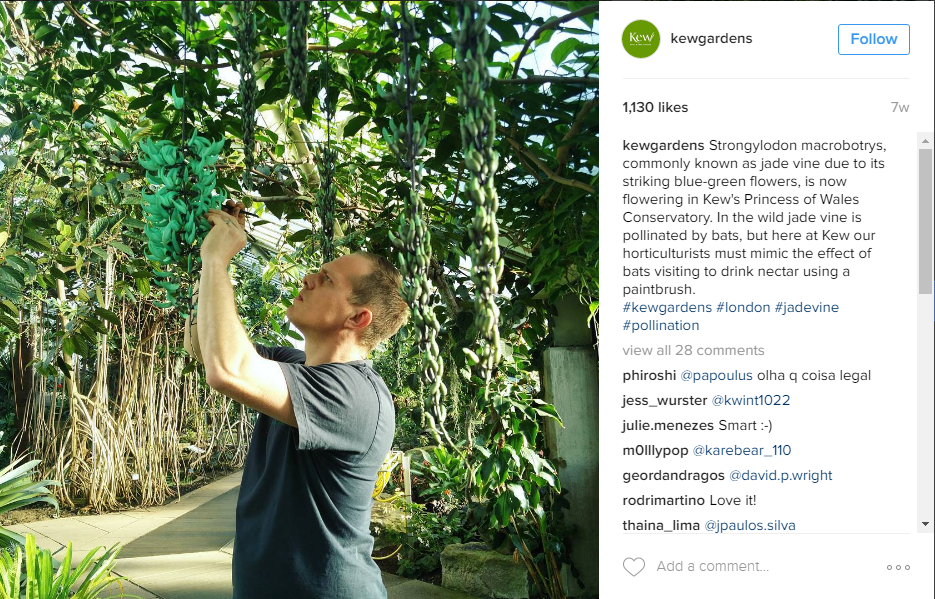 Source: Kew Gardens
Show your brand story. Post photos you believe are relevant to your company's core values. You could even consider posting a series of short videos that depict the story of your creation.
Be proud. When your employees do something wonderful, highlight how proud you are of them. When Costa Coffee's Klara Rohel won Barista of the Year in 2015, they were quick to show her off.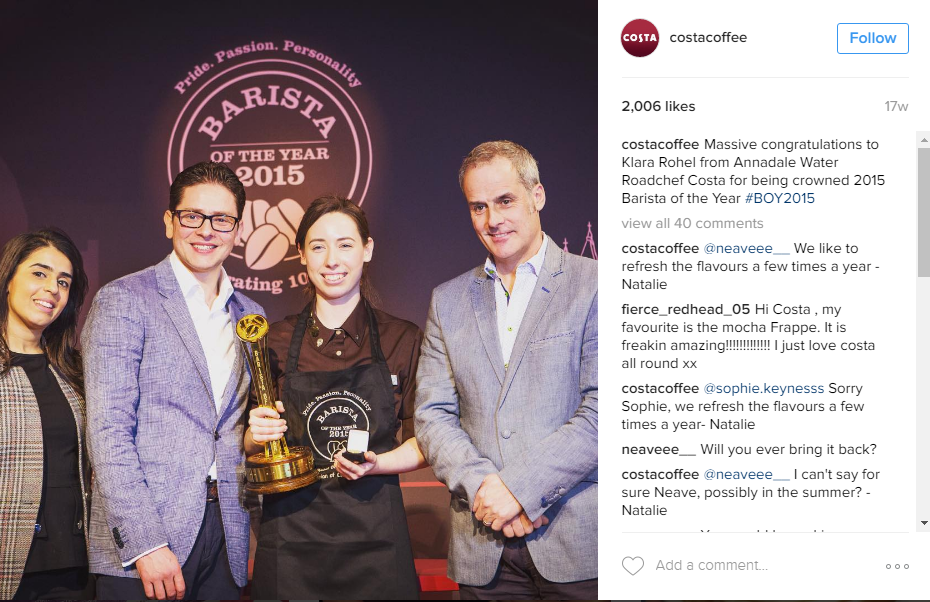 Source: Costa Coffee
Optimisation
While it's important to be present in the moment and show off your brand's personality, effective social media marketing comes down to optimisation, and Instagram is no different.
It's just as much a science as it is an art.
Track your competitors, followers, fans and customers and optimise your strategy according to their movements. Automate and pre-schedule your content so you are ready to respond, and not left with an empty canvas every day.
Make the elements of your strategy as measurable and specific as you would for any other marketing platform, because to get sustainable results they need to be.
Let's dive deeper into how you can optimise your Instagram strategy for more engagement.
22. Steal your competitors' followers
There are a number of different ways in which you can steal your competitor's followers. It might not sound all that ethical, but it will help you find people who are already interested in what you have to offer (so really you're just helping them find you!). Think of it as "leveraging" rather than "stealing".
Tips for leveraging your competitors' followers:
Network. What do savvy business owners do to get the edge? They network. Start reaching out to people in the same niche as you, as well as those in vertical niches. If you're in the business of sportswear, for example, reach out to profiles of athletes and clubs and ask questions their fans might take note of.
Make friends with your authority competitor. Find out who in your niche has the largest following and most active account and make friends using a shoutout or by commenting on one of their pics.
Jump on slow response times. By monitoring your authority competitors comments, you can step up and become useful inside the community. If a commenter is yet to receive a response, jump in their quick and offer them some insight. Their followers will soon learn that you are of value and start turning to you for their questions and comments instead.
Help each other out. If you notice a competitor has a similar following to you, find out if there is a way you can collaborate to transfer your followers to each other. Both parties need to benefit in some way. In the case below, outdoor clothing brand Cintamani Iceland traded a coat with makeup guru Ariel for a shoutout on his popular Instagram account.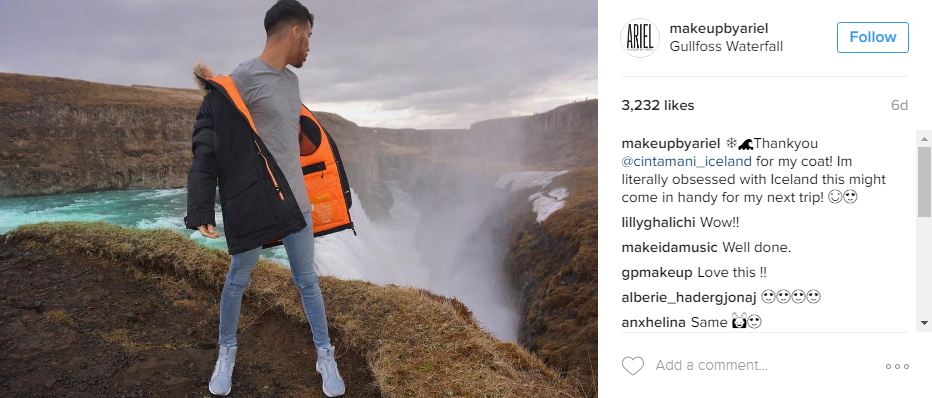 Source: Ariel Tejada
Ask about becoming a guest. Think you have something of value to offer another Instagram account? Find out if the account owner would be willing to let you play host for the day. If they do, make sure your content is the best you can come up with and you'll hopefully attract some new followers.
Brooklyn Beckham recently took over Vogue China's account, which proved hugely valuable for both parties: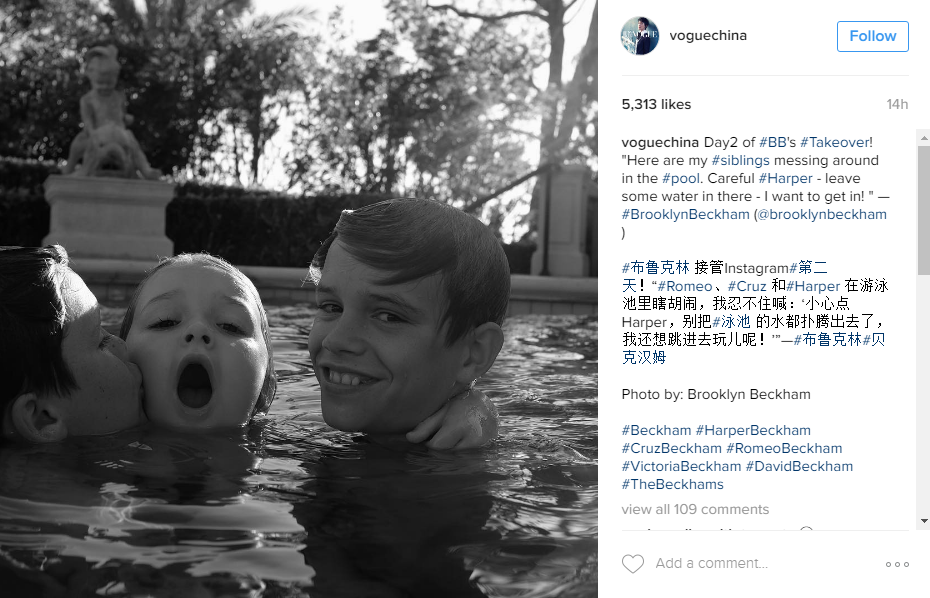 Source: Vogue China
23. Post at strategic times
The time that you post your content is crucial. You need to know when the majority of your followers are online and active, because if you post while no one is there, then no one will see it. Identify the 3-5 peaks during the day and create your posting schedule around this.
How to post at the right time:
Find your perfect posting time. Not all brands have the same 'best time' to post on Instagram. Not all products do either. Use analytics tools to monitor when your photos are getting liked and commented on. Find out when your hashtags are getting used. Then post your content at the most active times.
Be specific in your images and videos. Your posts should be relevant to the time of day. Why post an image telling your followers to "seize the day" when for most of your followers, it's 8pm at night? The time in which you post specific messages is important.
Take this post from Motivation Mafia below. It was posted at the start of the working day, and was a great reminder for  followers to value their time and qualities.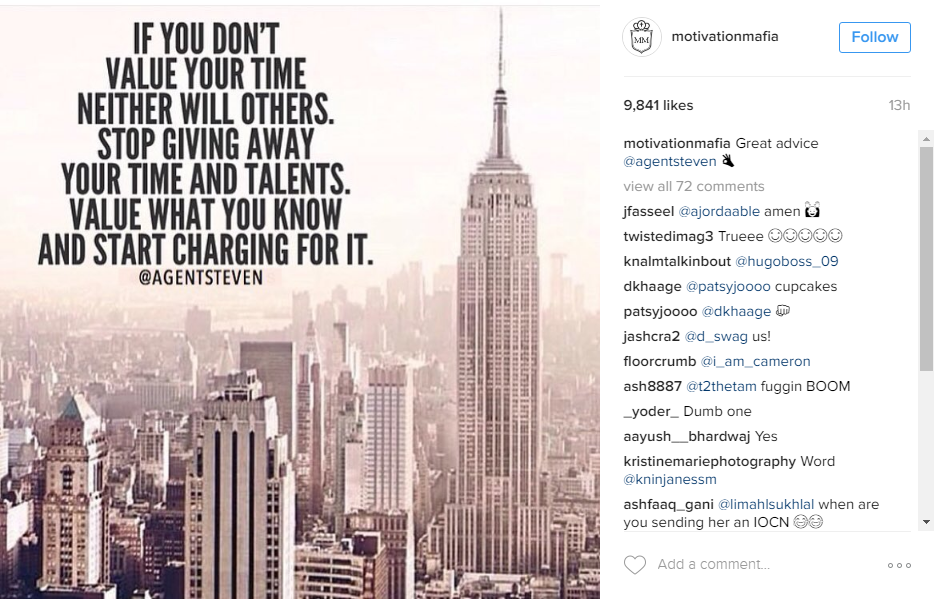 Source: Motivation Mafia
Role with the seasons: If you are in the final days of the Christmas shopping rush, getting ready for the start of winter or have just pulled the bikini back out in the midst of a sudden heatwave, roll with it. Your followers want you to be timely.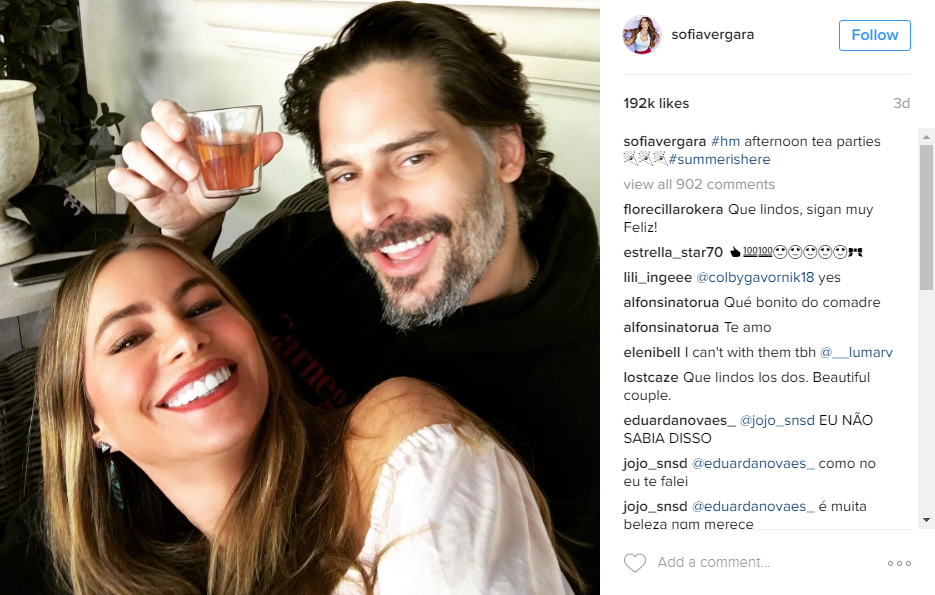 Source: Sofia Vergara
24. Monitor location tags to connect
A cool option for each of your posts is to include a geo-location tag, which tells your Instagram followers where you are posting from. Posts using a geotag can get you 79% more engagement and if you're holding an event, this can be even greater.
To geotag, turn on your location settings in your photo app. You should now notice the location shows up in your camera roll. This location will now show up on your Instagram pics too.
If you're wanting to add location to your existing posts, simply click on the three dots at the base of your post and scroll to "Add Location".
Tips for monitoring location tags:
Use tags at events. If you are at a big event for your industry, then be sure to include the event tag on all your posts. Monitoring the latest posts that come through from those at the event not only gives you the inside scoop on what's happening, but gives you ample opportunity to connect with other posters.
Here's an example from men's suit brand InStitchu, who posted regularly from the Pitti Imaginne Uomo event in Florence recently.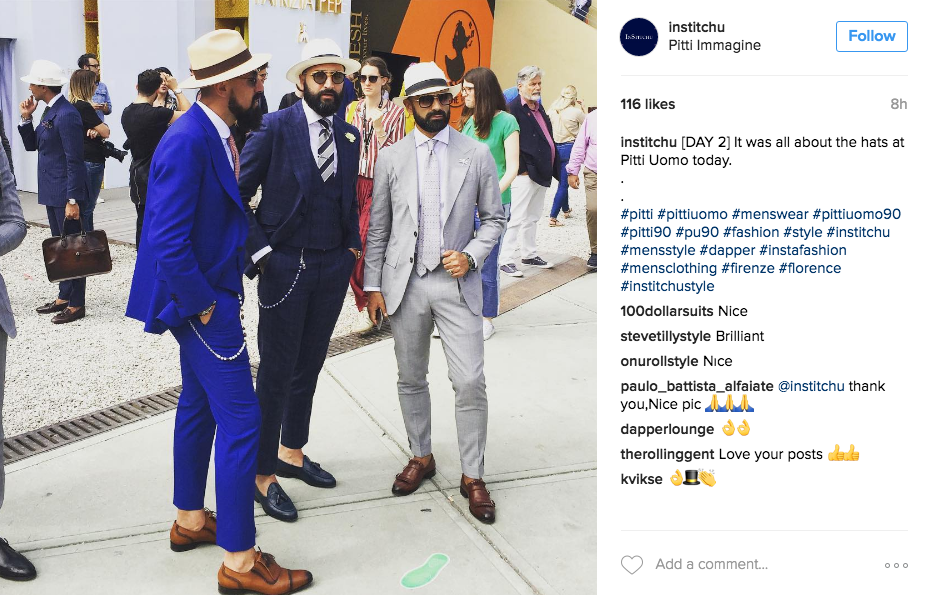 Source: InStitchu
25. Optimise your bio
Your bio is one of the first things new followers or potential customers see on Instagram. So you want to make that experience a good one for your brand.
The bio section is even more important than most other social networks, because it is the only place you are actually allowed to include links back to your website.
So what makes for a winning Instagram bio that will foster engagement?
Here is a quick fire checklist for the core elements of your bio:
A recognisable handle/username. Try to make it really easy for people to search for your brand on Instagram with an easy-to-remember username. Try to go with just your company name and nothing else. If you have to include anything extra because your company name isn't available, go with a geo add-on like Fitness Playground have here: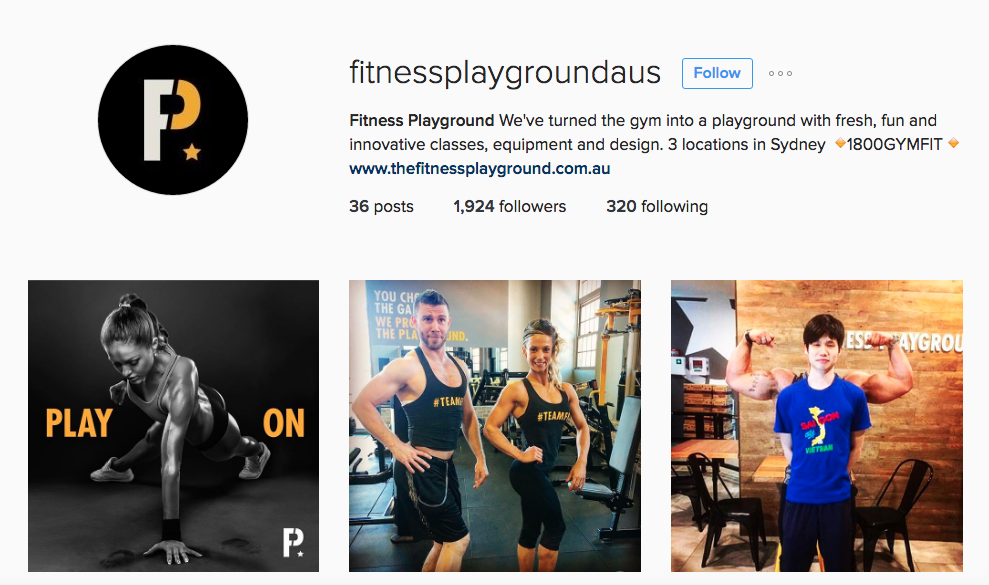 Source: Fitness Playground
Make your bio description focused and compelling. Whatever your unique selling proposition is (that thing you do better than anyone else), articulate it in your bio. Tell people exactly who you are, what you do and why you are different. But don't take it too seriously; this is a fun social network… Old Spice know what's going on: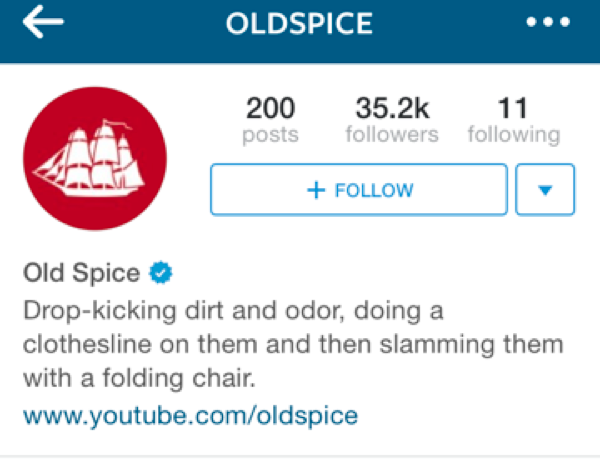 Source: Old Spice
Choose a powerful profile image. This one is so important we've created a whole spot in the list for it – see number 26.
Include a relevant link to your website. Where do you want people to go if they find you on Instagram? You will usually see more engagement and better results if your link from Instagram sends users to a page that is specific and unique, rather than just your home page. The team at Foundr Magazine are rockstars at this stuff; their link sends users straight to a squeeze page to join their email list:

Source: Foundr Magazine
It goes here: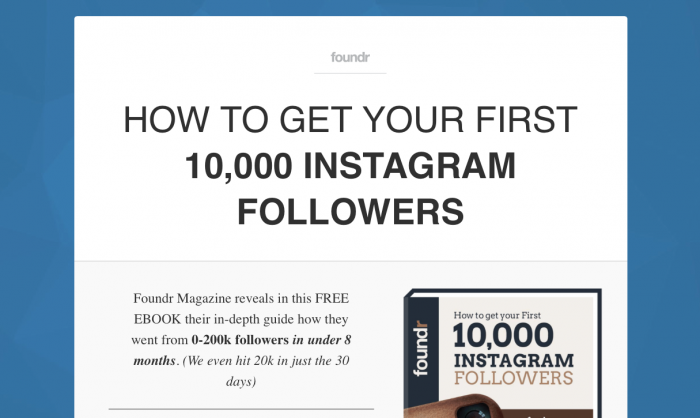 Source: Foundr Magazine
Pick relevant hashtags and put them in your description. By using relevant hashtags in your Instagram bio you become more "searchable" for users that are looking for accounts in your industry.
26. Use an appealing profile photo
Your profile pic is one of the things that defines you everywhere you go on Instagram, so it's important that it looks good.
Some ways to make your profile pic appealing include:
Start with quality. This may seem obvious, but there are countless Instagram profiles that use blurry, dark or low-res images. If there's one element that brings a profile photo down, it's lack of sharpness.
Let it depict what you're about. Your profile photo can be a good way to instantly let people know what you're all about.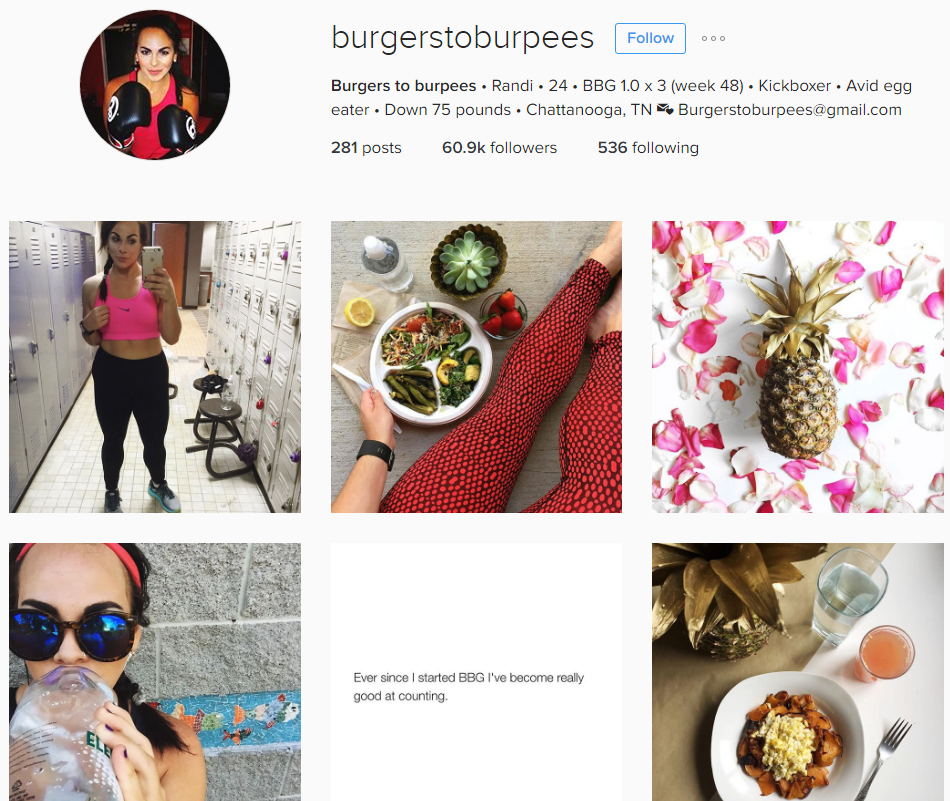 Source: Burgers to Burpees
Show your face. Unless you're a well-known brand or your business is recognised solely for its logo, use your face as your profile pic. People don't "connect" to a logo but they are hardwired to pay attention to faces.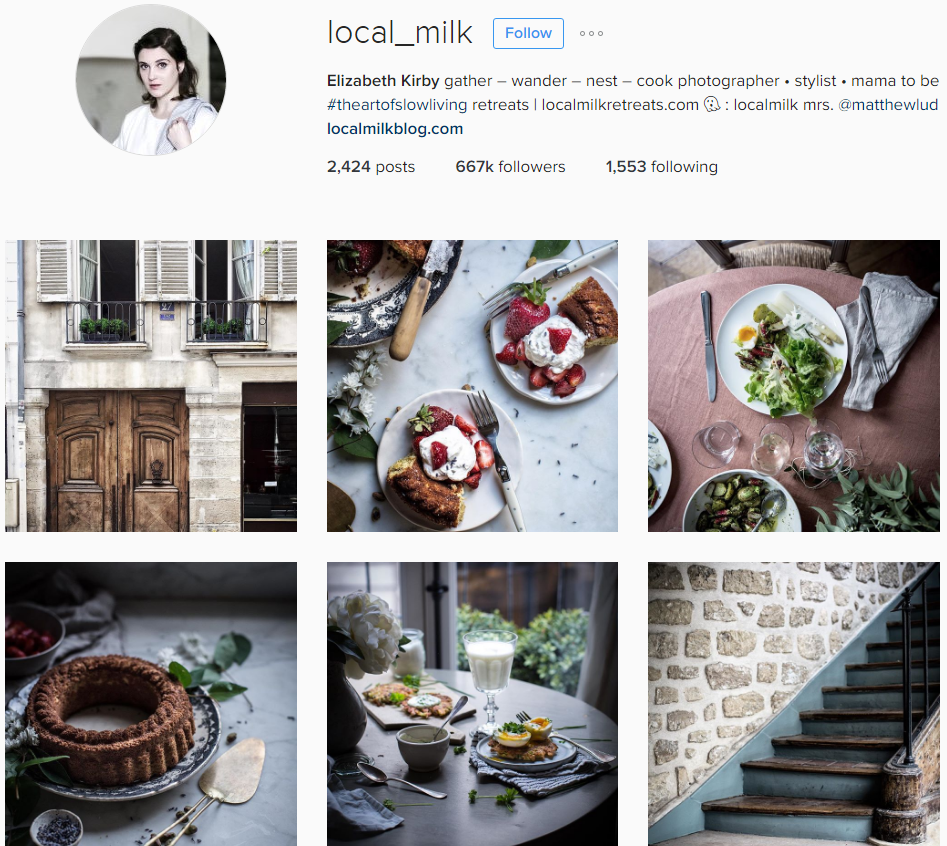 Source: Elizabeth Kirby
Be conscious of formats and dimensions. Social networks often play by different rules when it comes to images. If you plan to look your best on all of them, you'll need to know individual formats and dimension requirements.
Be consistent. Your profile photo should always be recognisable, so don't change it every two or three days. Find a good one and stick with it. This profile photo should be carried across all the social media platforms you use for a unified effect.
27. Monitor the content your followers share
User generated content is found to be more engaging than posts from brand accounts, and by showcasing the content your followers are sharing you can increase your reach and encourage more to share. Continuing this practice will help build an army of ambassadors promoting your brand. Never be afraid of having your community tell your story.
Tips for monitoring your followers:
Highlight your fans' content. By displaying your fans' content on other properties like your website, you're showing a more authentic perspective of your brand. The Empire State Building does this really well, having built the Share ESB site to show the skyscraper and views in an authentic light, courtesy of the community.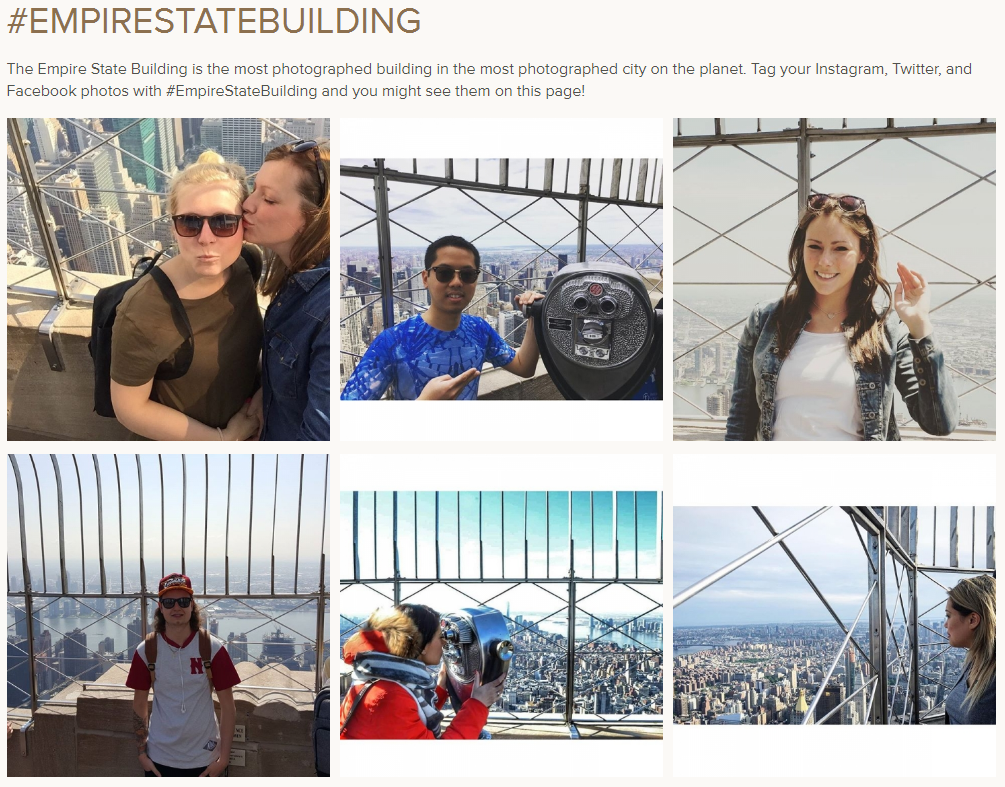 Source: Empire State Building
Know your audience. Be sure to do your research about the audience you are targeting and the types of posts that are proving popular. You'll likely see a pattern of layouts and content. Use these to up the interest for your own account.
Let's say your target market is the entrepreneurial type. Foundr Magazine has the same target market and they kill it on Instagram, so you could take a look at their most popular posts to get a sense of what the entrepreneurial audience likes. One look will tell you that great quotes is the current answer: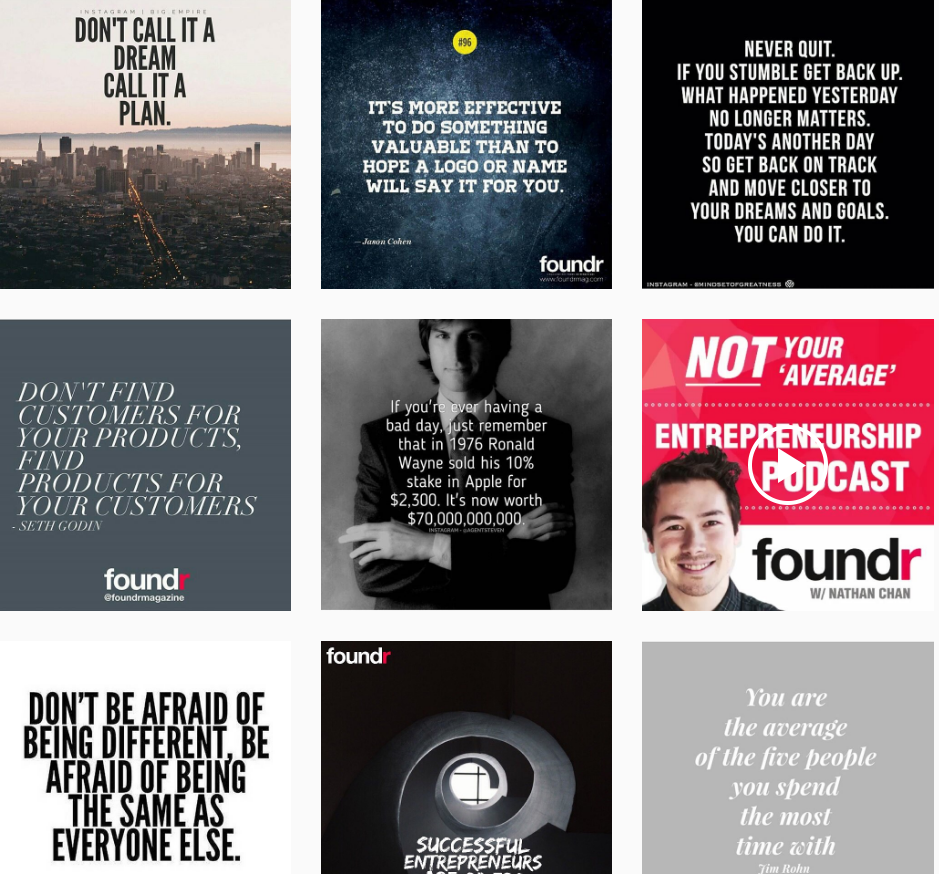 Source: Foundr Magazine
See what others are sharing. Monitor the posts that your followers comment on and share. If you can get a sense of what they find 'share-worthy', you can edit your posts to suit.
28. Pre-schedule and automate for consistency
Regardless of your follower count, you should try to post consistently. This will get your brand seen regularly, and by maintaining a strong presence, you can turn viewers into loyal customers. A study in L2 found that big brands average a posting frequency of 9.3 posts per week.
Tips for consistent posting on Instagram:
Create a mix. It's not enough just to have product photos on your Instagram feed. People want lifestyle shots and photos that make them feel good. Create a mix of shots – some highlighting the kind of lifestyle your audience wants, and some your products. This makes it easy for them to imagine how your products will help them become who they want to be.
In Bed Store makes use of product photos alongside images that represent a lifestyle of leisure, lazy mornings and a beautiful, comfortable home.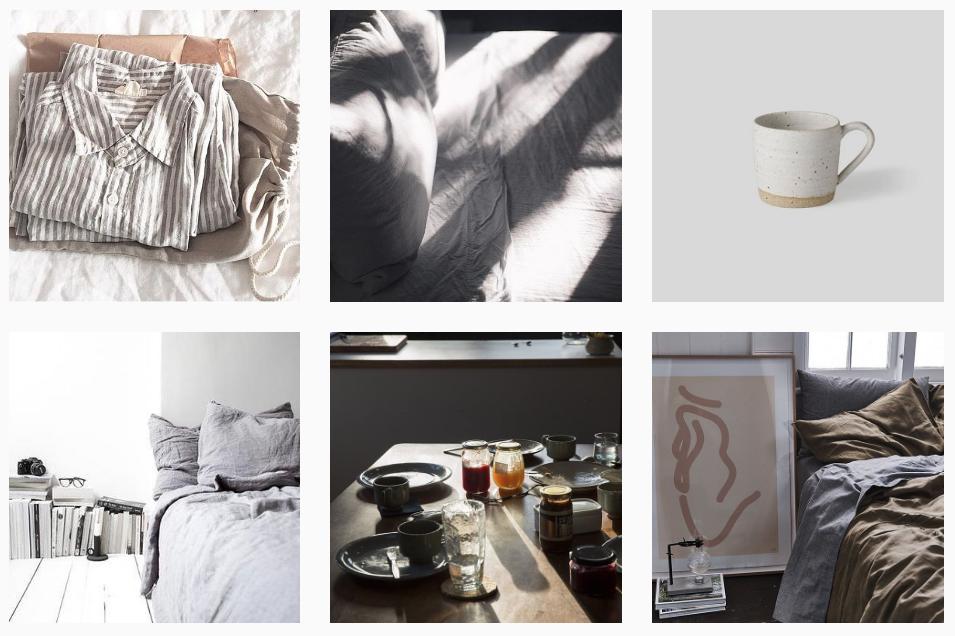 Source: In Bed Store
Determine your frequency rate. Monitor the accounts of your competitors and influencers to see how often they post. Also monitor the interaction you are getting with your own posts. If your followers are commenting on some but not all of your posts, you may consider reducing the frequency. If they are commenting continuously, they are clearly happy with your content, so keep it coming.
Automate posts. Social media management sites such as Later or Curalate help you plan, manage and schedule your visual media posts and marketing campaigns. Simply upload photos and videos from your computer, phone or tablet, import content from Dropbox or Google Drive, and schedule the frequency of your Instagram posts. You can even plan your posts using a visual content calendar. You don't want to make the mistake of being super active one week only to drop off for three days the next.
29. Maintain quality
The content you are sharing needs to be authentic and representative of your brand's lifestyle. Your followers will love seeing this true visual content and will respond positively. Use Instagram as a way to showcase quality images of your lifestyle and community rather than another channel to place your ads.
How to maintain quality:
Offer authenticity. Show photos of your products being used in real life to highlight the authenticity of your brand. While these photos should still be good quality, the content humanises your business.
Whistler Water regularly uses this in their Instagram marketing approach, as does Headhunter Spearfishing: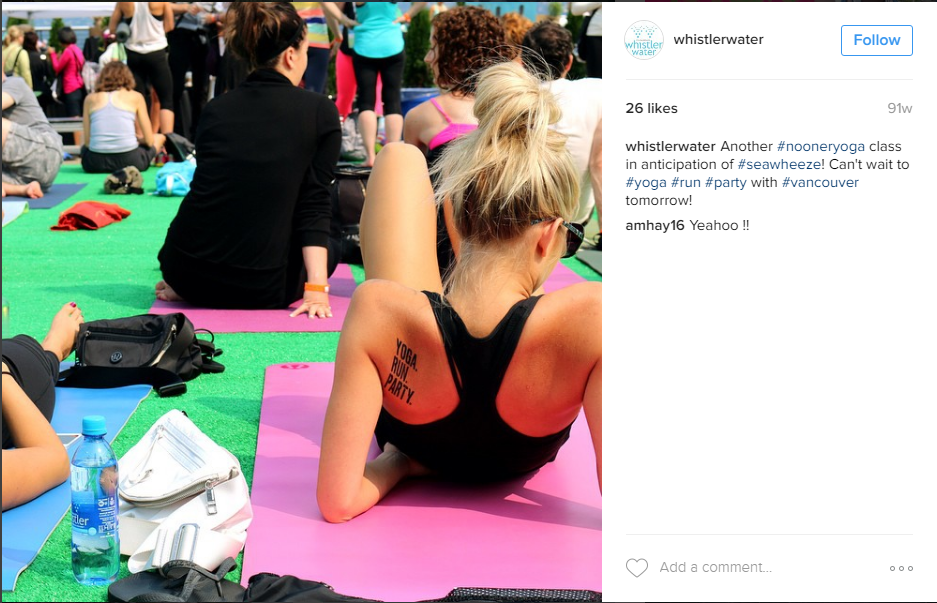 Source: Whistler Water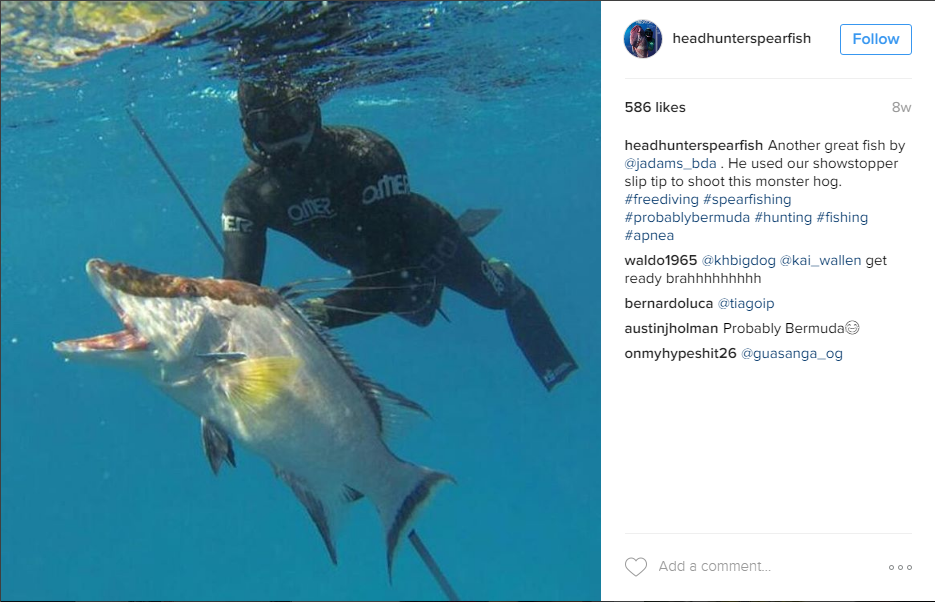 Source: Headhunter Spearfishing
Strive to improve. Part of maintaining quality is the will to continually improve your photos and videos. By monitoring your content results you can see what's working and what's not. If a particular image drives tons of engagement, find ways to incorporate more of them. If using general hashtags drives more interacted posts, stay on top of trending tags.
Keep on top of what's new. Instagram, just like any good social media platform, is continually changing to keep up with the times. It's constantly developing new and innovative ways to engage through the application, so keep learning to stay on top of what's happening in the world of photo-sharing.
Hashtags & Offers
Hashtags help your content get discovered by more people – it's really as simple as that.
People search for hashtags on Instagram as a way to find the best photos and videos, perhaps more so than any other social network.
If you effectively use hashtags you can skyrocket your post engagement and quickly grow your following.
But it's not as simple as adding the "#" sign to any old word – you need to be deliberate with the hashtags you choose. Jump on trends, create a unique hashtag for your brand, find contests and deliver offers that are unique to your Instagram audience.
Let's have a look at how you can better use hashtags and deliver offers.
30. Piggyback on relevant and trending hashtags
Finding relevant hashtags to piggypack is a great way to increase your brand engagement on Instagram.
Despite the hashtag originating on Twitter, its use on Instagram is perhaps even more prominent, especially when it comes to people searching for interesting content.
But your hashtags need to have meaning if you want them to attract the right kind of prospects for your business.
There are three types of hashtags that are worth piggybacking:
Trending hashtags
Instagram favourites
Topic-specific hashtags
Trending hashtags are usually developed from time-bound events or topics, and if you're not quick you can miss the opportunity to jump on board.
If you want to find trending hashtags in your industry, the Hootsuite Trendspottr app is a really helpful tool. It lets you select from a group of popular topic tags and discover trending hashtags, influencers and top posts about that topic.
It slots straight into your Hootsuite dashboard like the screenshot below: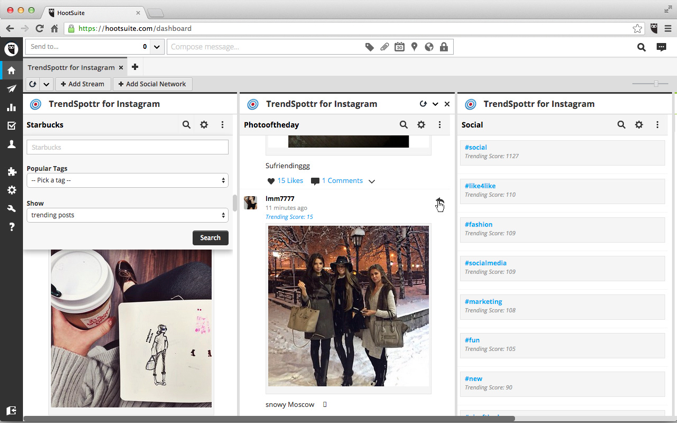 Source: Hootsuite Trendspottr app
Instagram favourites are the hashtags you can use more regularly to attract new followers and increase engagement. They are typically hashtags that aren't industry-specific but can generate more universal meaning and engagement.
This article from Post Planner lays out the top 25 Instagram hashtags if you are looking for some inspiration.
Topic-specific hashtags are all about getting your content found for the right reason, by using hashtags that are relevant to the actual image you are sharing.
For example, in this image from The Iconic with a fresh pair of Nike runners, they have used the hashtag #shoelove: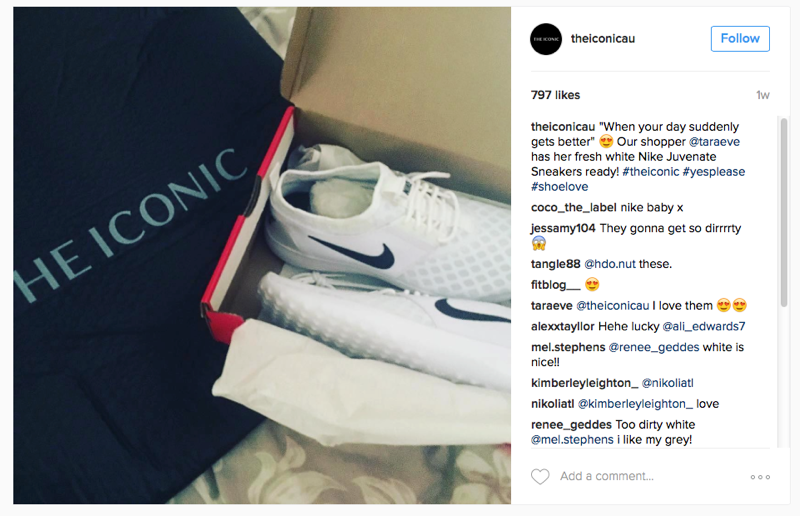 Source: The Iconic
31. Create unique hashtags
Your Instagram account should be unique, so your content and hashtags need to be unique. Keep your Instagram content strategy focused on your brand's unique way of seeing the world. It is your way to connect with your photo-sharing tribe in a consistent and particularly visual way.
Hashtags are one of the best ways to get your business found. Traditionally, hashtags are used to raise brand awareness with an individual brand tag, or to push a specific event or idea. The more unique a hashtag is, the easier it will be to segment your audience.
Tips for unique hashtags:
Go wild. Unlike other platform sites such as Twitter, your hashtags aren't limited by character count. So go wild! Think outside the box when coming up with a hashtag that's unique to your business model and include a few different tags. Just don't throw out too many or you'll come across as desperate to get connected.
Allow time for growth. If your presence is relatively small in Instagram terms, give your hashtag time to grow before a product release or event. Fox News for example posted a 4th of July photo hashtagged #ProudAmerican on July 3rd, giving followers a day to take in the idea before contributing themselves.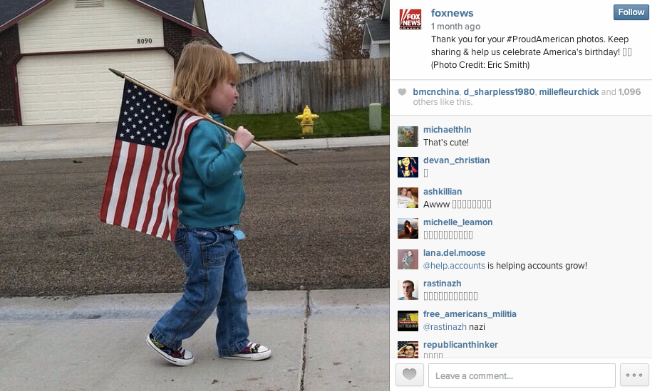 Source: Fox News
Make it clear. People, as a rule, prefer things that make sense and are easily understood. Make the purpose of your tag clear, so it's not just you who uses your new hashtag.
Be brand-specific. Include your business name in some of your post hashtags. Also use unique tags for particular marketing campaigns you run. This is especially important if running a photo contest, allowing your consumers a distinct tag to connect with other participants.
Bellamy's Organic used the hashtag #BellamysMumNBub for their latest Instagram competition: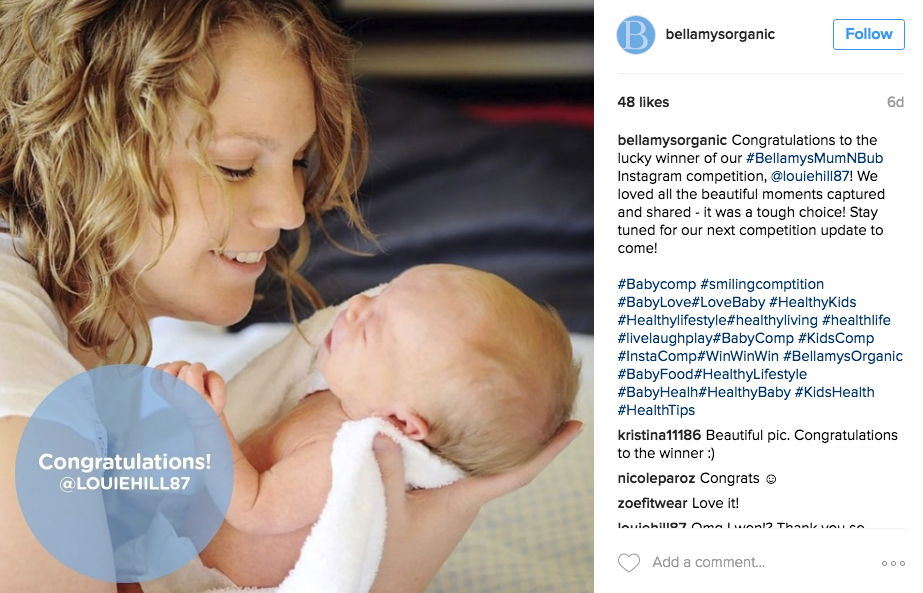 Source: Bellamys Organic
32. Hold contests
It's not difficult to create an Instagram contest. If you want one that's going to meet or exceed your expectations, however, you must include the proper planning, smart execution and follow up.
Tips for running a great Instagram contest:
Set objectives. Before launching any social marketing campaign, write down your goals. The clearer they are, the better your chance of success. Your objective – be it to increase followers by 15%, generate at least 200 @mentions of your Instagram handle, or create a hashtag stream of user generated photos – will influence your contest choice.
Find the right prize. The right prize, one that connects with your market, can easily make your contest go viral. Your prize needs to provide the right incentive to get your customers entering and their friends involved too.
Be hashtag-specific. Hashtag contests are one of the most fun ways to gain user-generated content and engage your followers. Followers simply upload a photo with your hashtag and submissions are placed into a gallery where they are voted on to choose a winner (like the Bellamys competition above).
When watch brand Jorg Gray ran its #jorgstyle competition, followers had the chance to win a free watch and Jorg Gray got a steady stream of user generated pics for future lifestyle posts.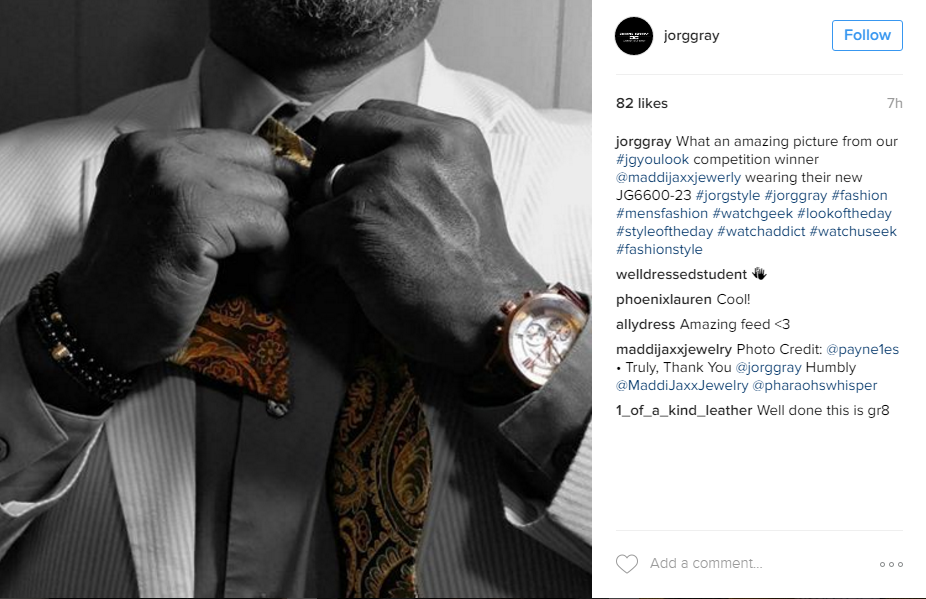 Source: Jorg Gray
Focus on your audience. A contest may seem like a great idea, but if you only have 50 followers, you might get more cricket chirps than entries. Before running a contest, make sure you spend time growing your audience. Once you've got the right people watching, reward them with your contest.
Get your followers to tag a friend. A simple way to run a contest is to have your followers like a photo and double tap to tag a friend. This low-barrier style of entry can increase your Instagram reach with little effort, but engagement and consumer connection levels are often weaker than other types of competiton .
GoPro often runs 'tag a friend to win' competitions like this one, which get heaps of engagement: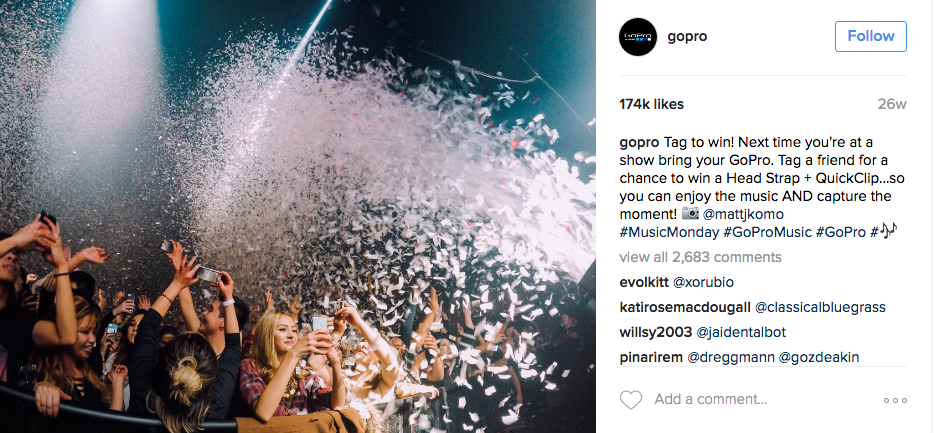 Source: GoPro
33. Join contests
If you're consistently good at taking photographs with Instagram in mind, be sure to show off your stuff in other contests. Putting your name to a great pic in front of a large audience is only ever going to be a good thing.
How to leverage relevant contests:
Search for photo contests. Use social media search engines such as Iconosquare to find out what competitions are currently running. From there you can match contests with your business model and take part yourself. Joining competitions like those you hope to run yourself will give you great insight into what works and what doesn't. By being part of it, you'll get a real sense of the level of engagement the competition attracted.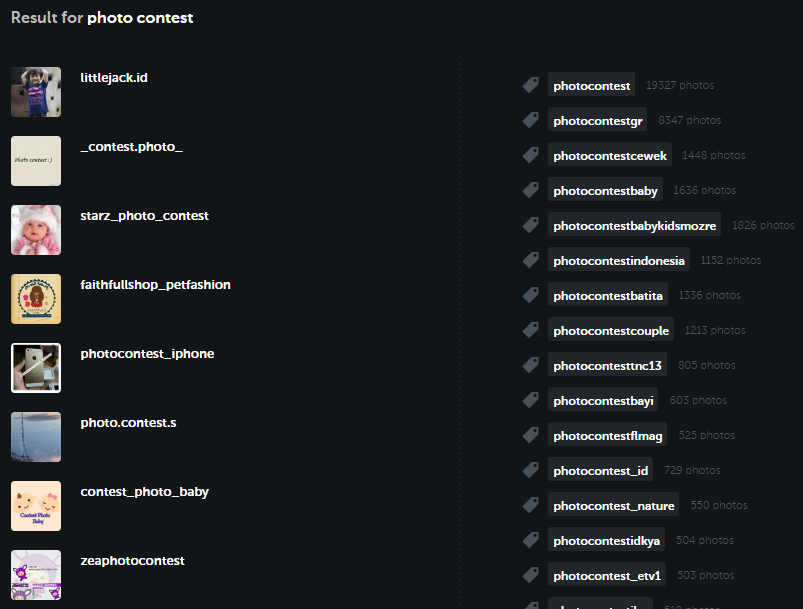 Source: Iconosquare
34. Share Instagram-exclusive offers
Consumers love offers, coupons, discounts and deals. Online discounts can be a powerful weapon in your conversion arsenal, especially when they are targeted at specific audiences.
Instagram exclusive offers:
Prelaunch sales. If you're still in the launch stage of your business or are just about to launch a new product, try creating a buzz about your product by offering an exclusive first look or the opportunity to buy before everyone else.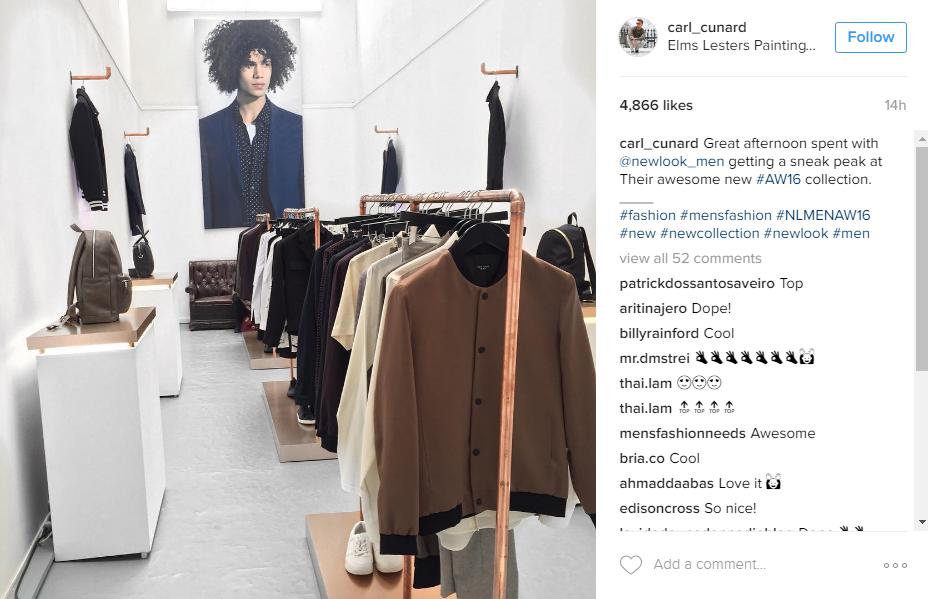 Source: Carl Cunard
Share exclusive content. Use your Instagram account to show photos or information you haven't shared on your Facebook, Twitter or blog. This makes your followers feel special – like they have inside knowledge.
35. Include a prominent call-to-action
If you want your followers to do something, you're going to have to flat out ask them.
Even if it seems obvious to you, it may not be to everyone, so a strong call to action is an essential part of your Instagram posts. Don't let potential customers fall through the cracks by not directing them to the next step.
Tips for calls-to-action:
Be clear. Your audience wants to know exactly what to do. They want you to spell it out for them. They also want to know exactly what's going to happen next if they do what it is you ask them to do. Viewers of Evernote's Instagram account can see the exact plan mapped out.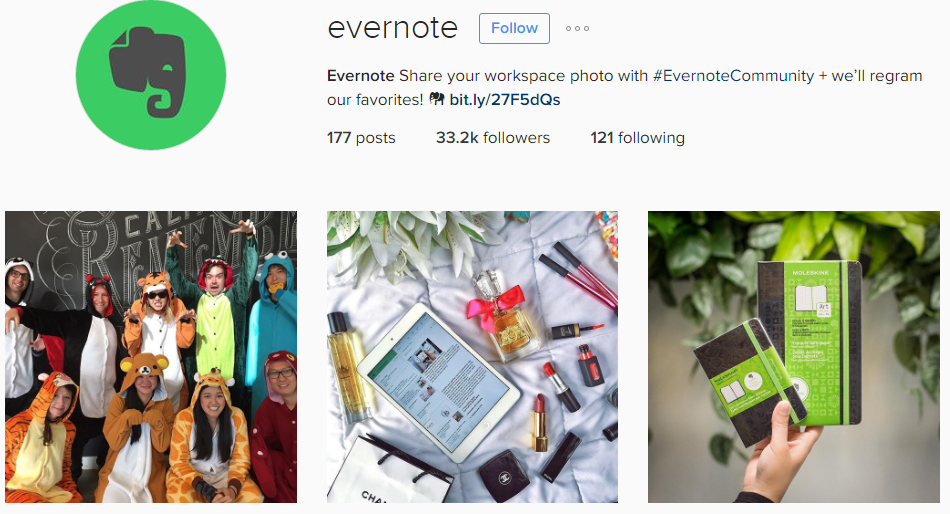 Source: Evernote
Use actionable language. Realise that some verbs and phrases are stronger than others. Use words that compel your visitors to do what you want them to do. Your phrase needs to be strong – "Call us today" as opposed to "Give us a call".
Be urgent. Your call to action should create a sense of urgency that compels the viewer into immediate action. You can do this by conveying a message that your viewers will be missing a great opportunity if they don't act fast.
Staples does this subtly with their #makemorehappen hashtag. Their posts imply that without staples, you won't get stuff done, and their messages often give a list of what needs doing: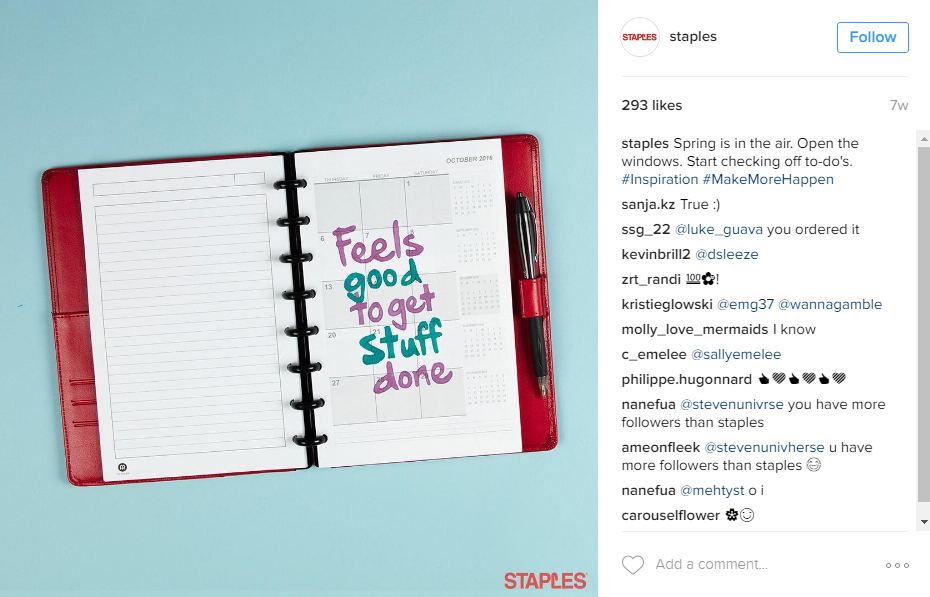 Source: Staples
Offer incentives. If you have a free download to give away or offer a weekly newsletter, make note of it in your call to action. Here, Insure4Less invites you to contact them via direct message for a free quote.

Source: Insure for Less UK
36. Hijack hashtags
Done smartly, jumping on the bandwagon of a popular hashtag can work well for increasing your reach.
Here's how:
Monitor real-time hashtags. Blindly using trending hashtags without doing the research is a bad move – Celeb Boutique learnt this the hard way when they "accidently" used a trending #Aurora hashtag to promote one of their dresses – but having fun with real-time marketing can produce great results.
Use trending hashtags. If you spot a trend that fits in with your brand, jump on it. A good trending hashtag works at lightning speed to get your post seen by thousands of interested consumers in a matter of minutes.
Find relevant hashtags. To find the most relevant hashtags for your updates, use a free online service such as Iconosquare or Websta. These tools provide a list of popular hashtags based on your keywords.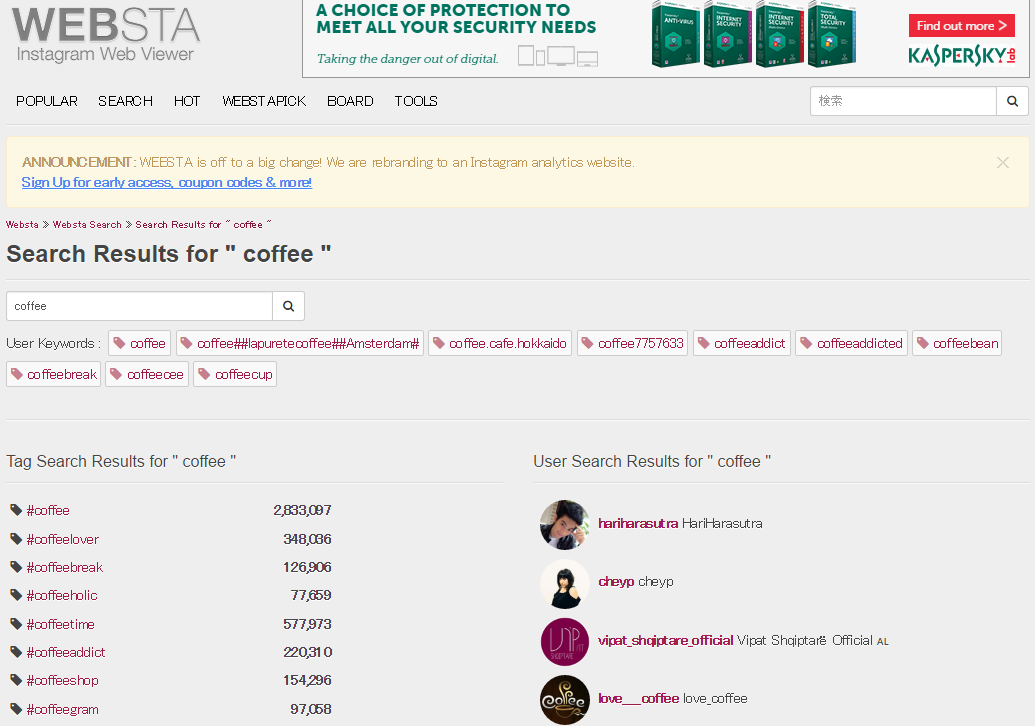 Source: Websta
Use general hashtags. Think about what general hashtags you can include in your posts. We Work didn't start the hashtag #MondayMotivation, but it uses it to promote it's laidback approach to office life.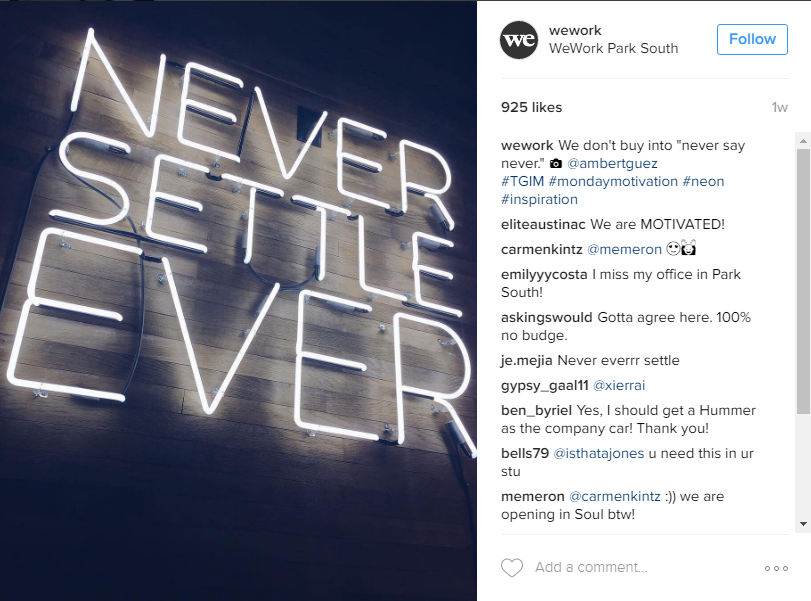 Source: WeWork
Know the most popular hashtags. Certain tags, while a little boring, are hugely popular and used thousands of times a day. Look at the hashtag #love for example. As Instagram's most popular hashtag, it's been used on more than 996 million Instagram posts. However, using popular hashtags can result in your post getting easily lost in a sea of other photos – so make sure you use it in conjunction with other, more targetted hashtags.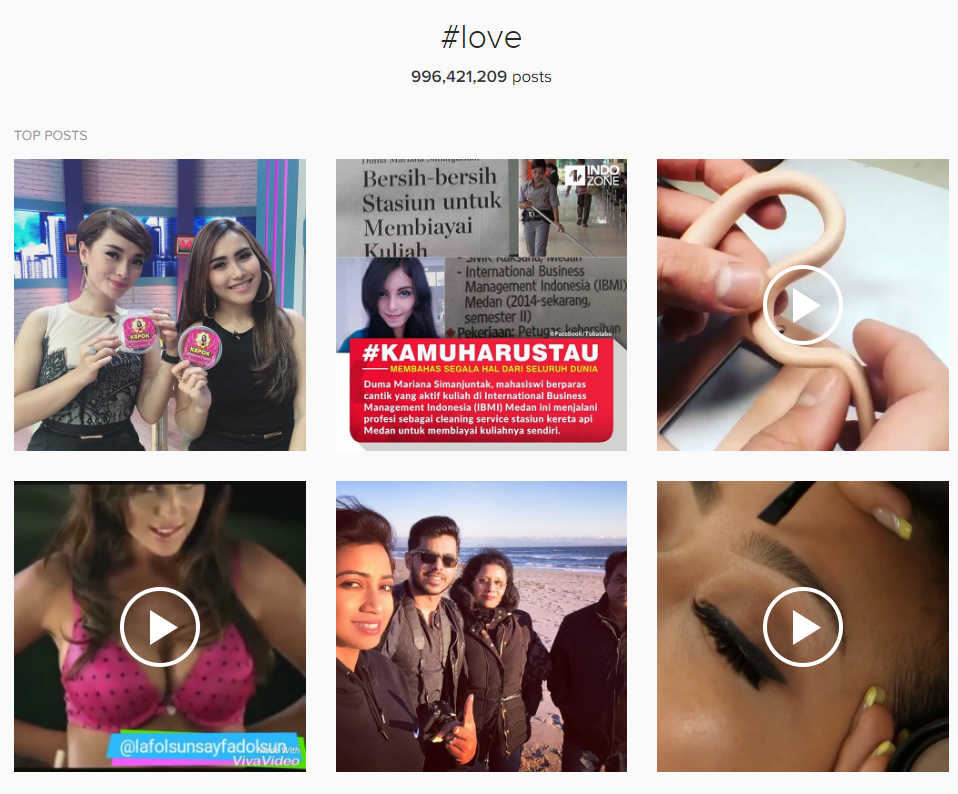 Source: #love
37. Use the comments section for more hashtags
Have you ever wondered why some brands post Instagram hashtags in a comment? The short answer is that if you're a small brand building a bigger audience, hashtags are a must.
Hashtags in a photo description help your photo get discovered. But letting your photo description be overrun with hashtags will make you look too eager to be seen. As hashtags in the comments area serve the exact same function, it's better to leave some hashtags for there and have just the most important hashtags in the description.
Also, once a few other people comment on the photo the first comment becomes "hidden", which means after a while people won't see all of your hashtags.
Below you will see homewares brand Electric Eyes has included all of their hashtags in the comments.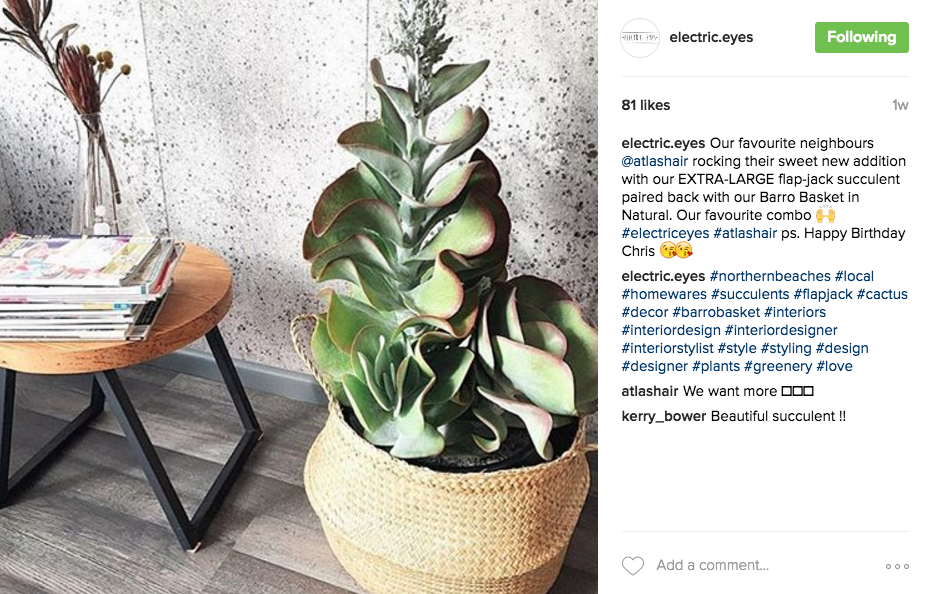 Source: Electric Eyes
Promotion
There's not much point having great content flowing on your Instagram account, that's fully optimised for engagement, if not enough people are seeing it.
Hashtags and other optimisation tactics are a good start, but if you want to rapidly grow your Instagram engagement and follower-ship then you need to promote your account.
Leverage your other social networks, influencers in your industry, brand ambassadors and paid media to get more people seeing your Instagram feed.
Here is a closer look at how to promote your Instagram account:
38. Pay for sponsored posts with influencers
Product promotion is key on Instagram, and there is no better way to showcase your brand's offering than partnering with social media influences.
Social media influencers are modern-day celebrities. There are over 40,000 influencers on Instagram covering all verticals, including fashion, beauty, health and wellness, home decor, food and more. With tens of thousands to millions of followers, influencers are trusted for their opinions and can add credibility to the products they promote.
There are several ways to use influencers to promote your products. These include:
Offering giveaways to their followers. Birchbox frequently uses top beauty influencers to offer giveaways of their monthly beauty boxes. By offering prizes, Instagrammers engage with both parties – the influencer for the giveaway and the provider of the product. It's a win-win for both partners.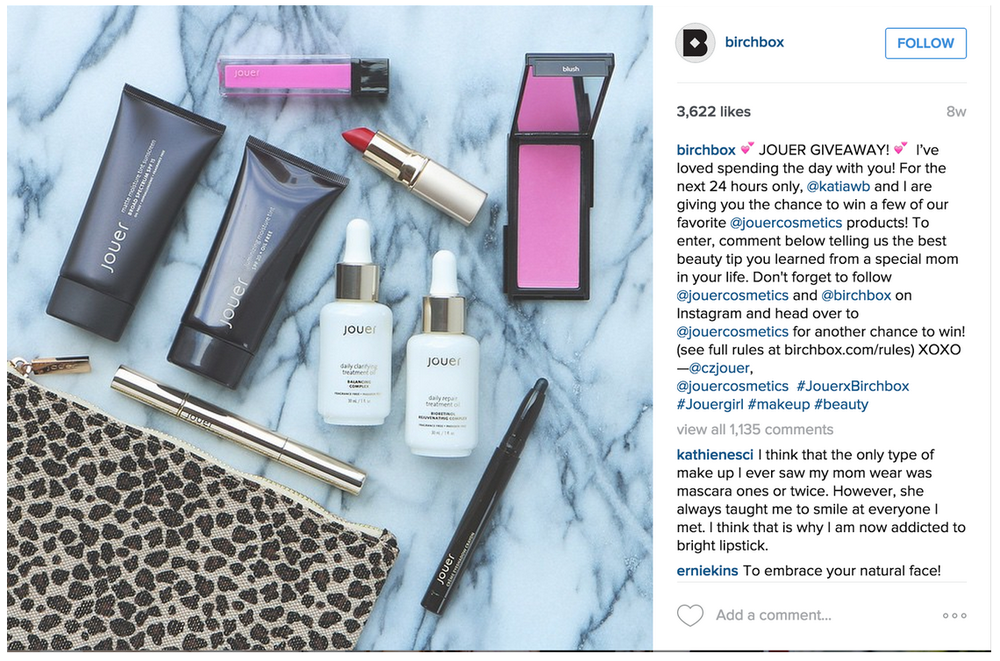 Source: Birchbox
Celebrate a milestone. Madewell teamed with five influencers to promote the anniversary of their signature tote in their #TOTEWELL campaign. Using only five influencers, they reached over 1 million targeted consumers with high-quality content from rising stars in fashion.
Capitalise on word of mouth. NatureBox knows that word-of-mouth marketing generates twice the sales of paid advertising. That's why they chose to work with Joanna Goddard at A Cup of Jo, who boasts over 50,000 Instagram followers. NatureBox posted three photos of Joanna's children snacking on food for their monthly roundup. This resulted in 1,200 likes and gave NatureBox credibility with their target audience.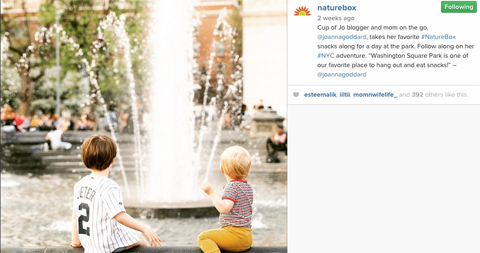 Source: Naturebox
39. Run Instagram ads
Instagram has been progressively rolling out its advertising platform and Instagram ads are now available globally for all businesses – big and small. So far, the results have been impressive. Across more than 475 global campaigns, ad recall from sponsored posts on Instagram was 2.9x higher than Nielson's formats for online advertising.
With a community of over 400 million, Instagram is one of the world's largest mobile ads platforms. Businesses can share their stories with a highly engaged audience in a creative, high-quality environment and drive actions with their ads.
Instagram ads can now be purchased and managed through Facebook's self-serve interfaces – Ads Manager and Power Editor.
Instagram ad formats are as follows: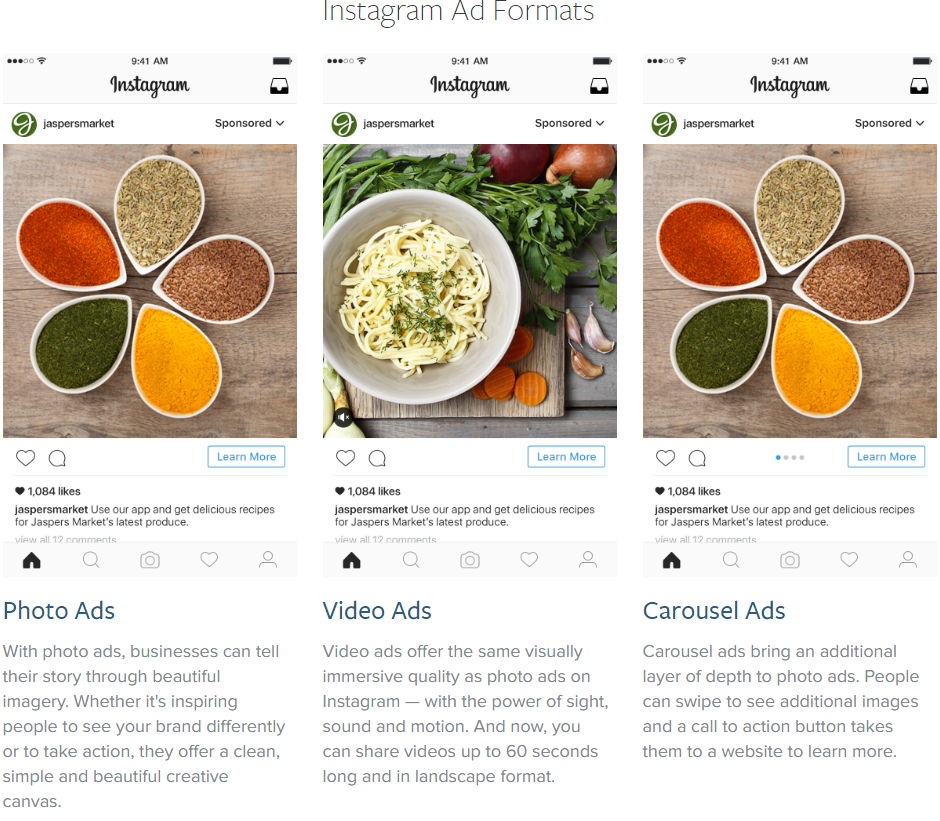 Source: Instagram
Visit Instagram's Ads Guide for additional information including design recommendations and ad specs.
40. Do an Instagram takeover
Invite an influencer, employee, ambassador, or active member of your community to takeover your Instagram feed for the day.
Collaborating with a popular Instagrammer or influencer in your industry can rapidly boost engagement. By doing this you expose yourself to their large Instagram community and while some influencers will charge a sizeable sum for a collaboration, others may be happy with a few free products.
Instagram takeovers are a great way for brands and influencers to collaborate and grow their audience by cross-promoting content. A great example of this is when Emily Shuman took over Estee Lauder's Instagram account for a day. Emily is a well-known fashion and beauty blogger who posted content to Estee Lauder's Instagram to promote the launch of a new product.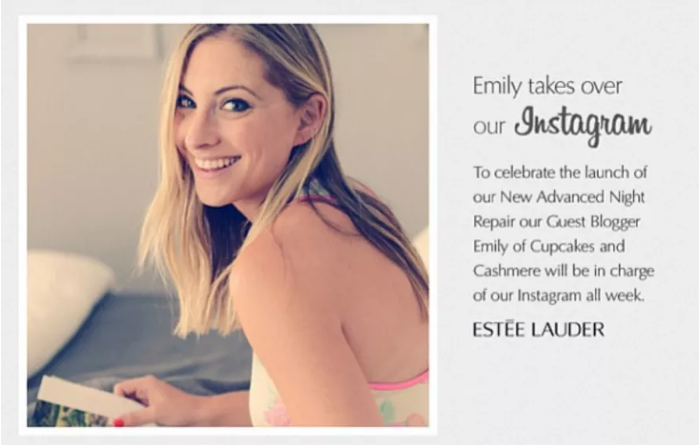 Source: Estee Lauder
Tips for running an Instagram takeover:
Define your goals. Before you look for a blogger, social media buff, photographer, community ambassador, fan, influencer or employee to take over your account for the day, determine what it is you hope to achieve from the takeover.
If your goal is to grow your Instagram audience, you'll need someone with good Instagram presence. If you want to foster authenticity and define your niche, you'll need someone your followers can relate to. If you want to offer a behind-the-scenes look at your company, you'll need someone with insider knowledge.
Find the right person. With clear goals in mind, your next step is to find the right person. If it's someone influential you are after, you'll need to be prepared to provide monetary compensation or free products. Many large brands capitalise on this approach, such as Marie Claire.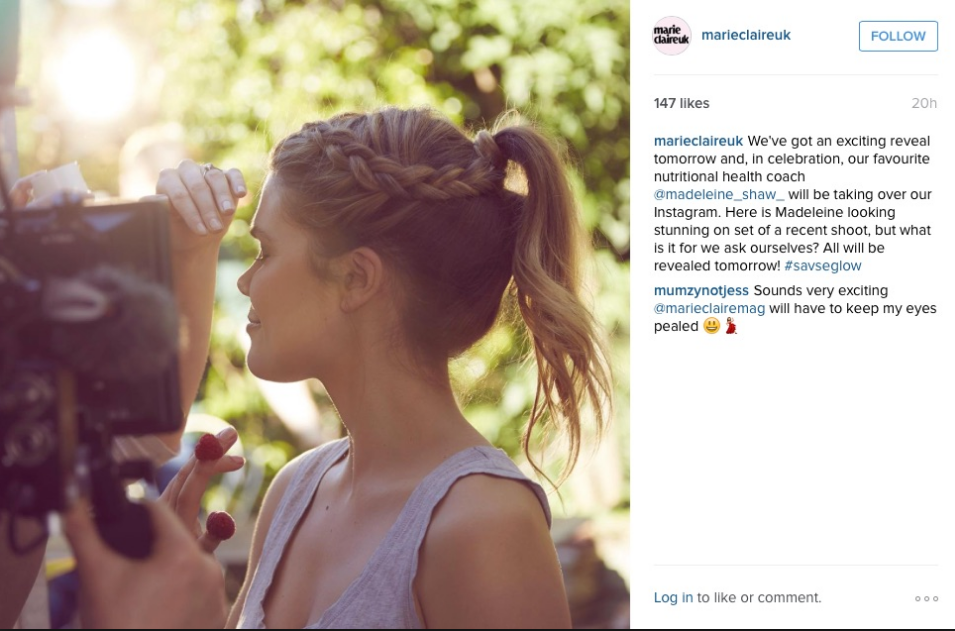 Source: Marie Claire UK
41. Leverage shoutouts
An Instagram shoutout involves you taking a screenshot of someone else's post and re-sharing it with your audience, or simply mentioning another Instagrammer in your post.
This is a great way to share the love with your fans and followers, but also an opportunity for you to find influential ambassadors that may give you a shout out themselves.
With a shoutout you can:
Show your support. If you like someone's profile and think they deserve a good Instagram shoutout, you can post a screenshot of their profile with a catchy caption such as 'Must follow this guy" or "Full of awesome pics".
Work with ambassadors directly. When oat and cereal producer Mornflake invited popular cook Anna Barnett into their mill kitchen to create some gourmet looking dishes, they showed her army of fans what you can do with their products.
By posting a shoutout to @annabarnettcooks in their post, not only did they confirm to their followers what a great product they have, they got to place their product in front of 8,000 potential new followers.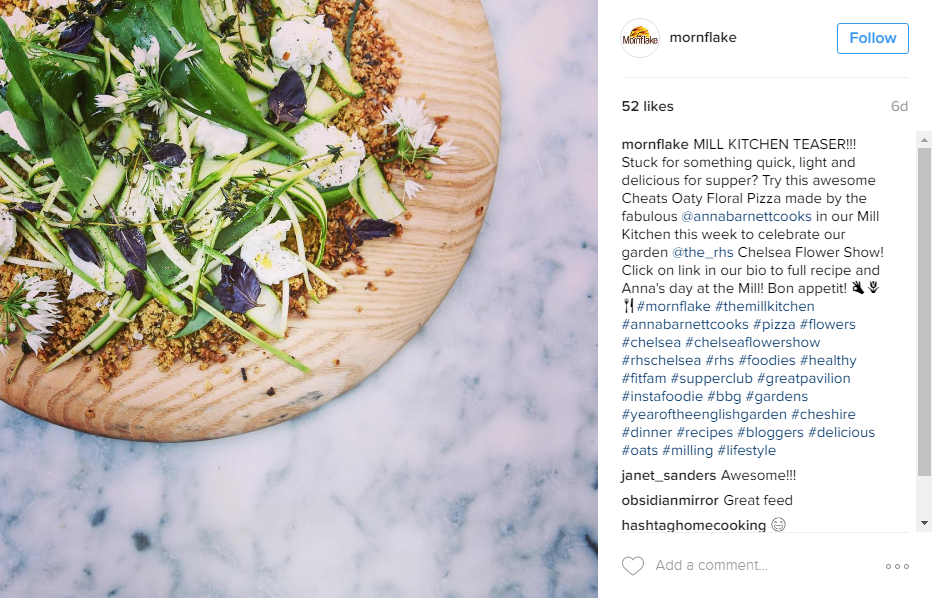 Source: Mornflake
Show admiration for a service or product. A shoutout can be your chance to say, "Wow! Look at this!". Say your nightmare day just got a little better with a great cup of coffee. Show your thanks with a shoutout.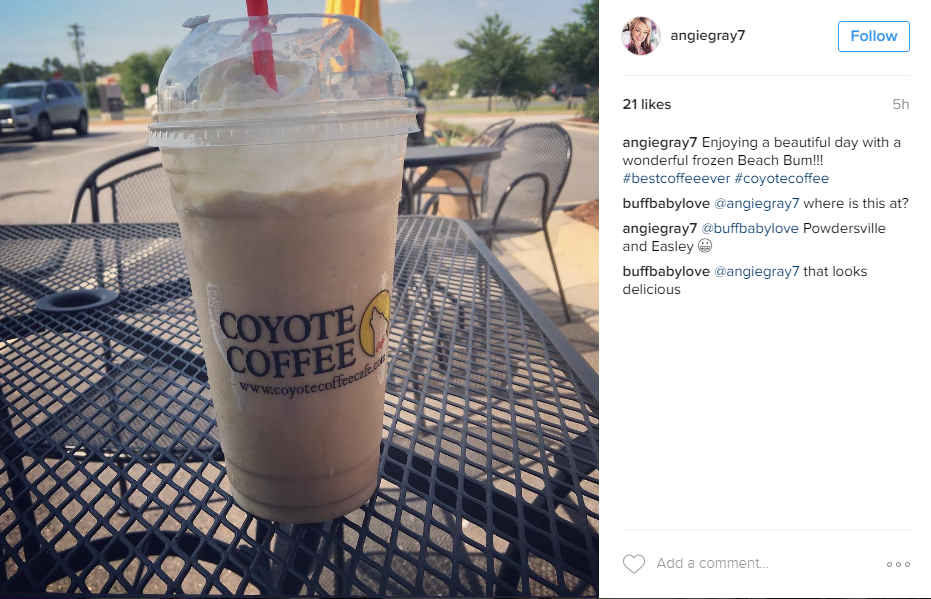 Source: Angie Gray
42. Incentivise re-shares
A big part of Instagram is encouraging your audience to tell your story through their eyes. This means getting as many shares as you can. The best way to get shares is through incentives.
Here are some ideas for incentivising re-shares:
Offer value. When Expedia launched their 'Find Your Story" app, it allowed users to create a video narrative of their Instagram holiday pics. The app provided a new way to share travel experiences for its users and offered a fresh perspective of the value of Expedia's services. These videos were then shared on Facebook, proving excellent cross-promotion.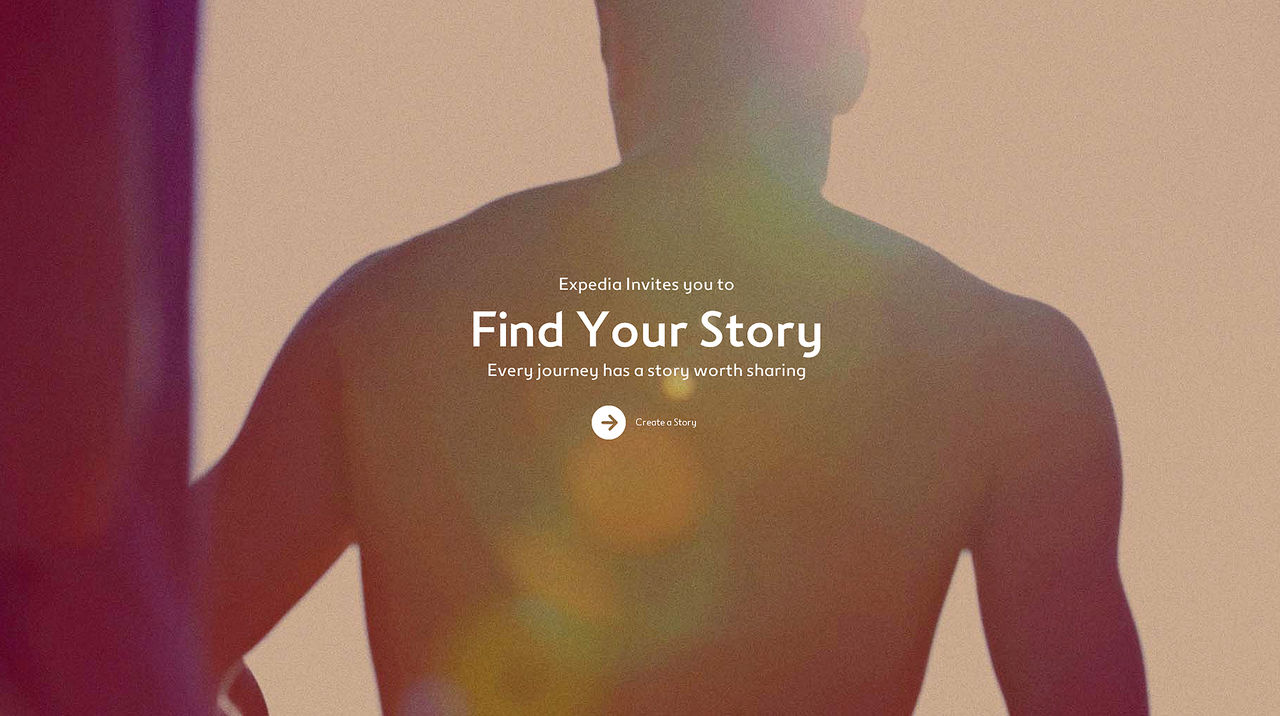 Source: Fast Company
Give the chance to win. When the Intercontinental Hotels Group launched their #discoverIHG Instagram sweepstakes to celebrate their new IHG Rewards Club, sharers of photos were given the opportunity to win hotel rewards. The campaign provided a platform for IHG guests to showcase the hotel group in an authentic way and offered great incentive to Instagrammers to share their story.
43. Cross-promote your account on other platforms
It isn't uncommon for the people that follow you on Facebook and Twitter to not be following you on Instagram. This doesn't mean they aren't interested in what you are posting – in fact, they are probably very interested. They may just not have found you yet.
Keep them in the loop, and possibly even bring them over to Instagram by linking up your Instagram posts to your other social media accounts.
Here's how:
Add a link to your bio. You can add links to your social accounts in the bio or "About" section to encourage people to visit your Instagram page. Alternatively, you can add other social links to your bio in Instagram.
List social platforms in your cover photo. Your cover photo is one of the most underutilised places for text and links. It might not bring you hundreds of new followers on all of your platforms, but it's a quick and painless way for your followers to know where to find you.
Add a Facebook app. Adding a Facebook app to your page, also known as a tab, can easily bring your other social accounts to your Facebook page. While Facebook itself doesn't offer this service, third-party developers such as TabSite and Pagemodo can. Montblanc has done just this: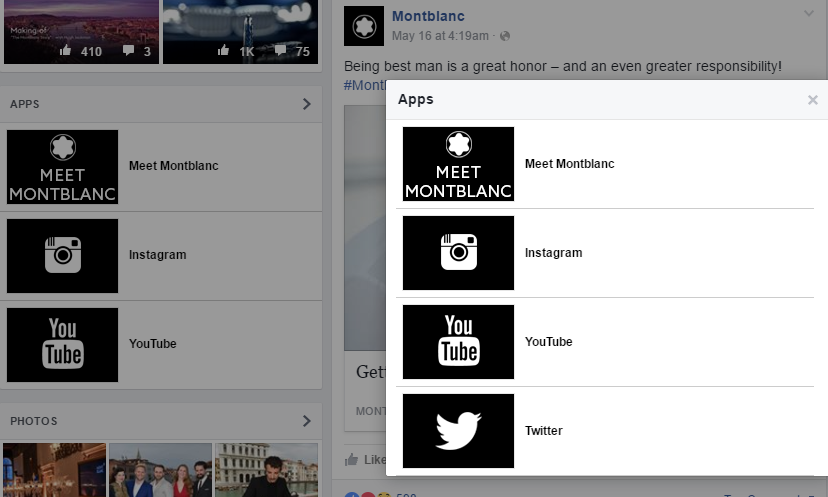 Source: Montblanc Facebook
Create a photo album of social profiles. Put together a Facebook album with icons from the social channels you use and include links in the photo descriptions. Your followers will see the album when initially posted and you can reshare links to the album throughout the year.
Putting it all together…
It's becoming harder and harder for businesses to ignore Instagram.
As a social media network it drives significant engagement and customer loyalty, and is beginning to saturate a market far beyond fitness blogs and fashion brands.
There is still a huge opportunity to inject Instagram into your digital marketing strategy, because not a lot of mid-sized brands are doing it well. But that opportunity won't be around forever.
If you're ready to take Instagram seriously and want to dramatically increase your engagement levels, you need to look at it holistically. It's no good focusing solely on great photos and forgetting about everything else – it all has to be integrated.
The right type of content is a great start, but from there you need to interact with your audience, optimise your profile and posting strategy, leverage hashtags and exclusive offers and deliberately promote your efforts on other platforms.
If you can line up all the ducks and deliver on every important element of your Instagram strategy, then you'll see some astonishing results for your business.
As you can see, it's a lot of work… so if you feel like you need some expert assistance, get in touch with us.x