Online Marketing Review #1: Granite Consulting
Online Marketing Review #1: Granite Consulting
Granite Consulting is an IT Recruitment firm based in Melbourne. I came across them in the BRW 2013 Fast Starters list article, where they ranked in the #3 spot with $15,663,932 in revenue, up 22% from the previous year! These guys clearly have a great business model and are going places.
So what are they like online? Well, I checked them out and was surprised at what I did (and didn't find). After reviewing their online presence in detail it became obvious to me that their growth was not based on their online marketing strategy… which means significant lost opportunity.
Sidenote: this is one of a series of reviews of websites in a range of different industries online. We normally charge for these types of strategic reviews but I'm giving them away for free. Why? Because at Webprofits we want to change the way business is done online and the first step is showing you (in detail) how we would implement an online marketing strategy for a particular business or in this case Granite Consulting.
Here's a full breakdown of my review…
How I would improve their website
Home page banner
This is a common mistake I see all the time. Their banner has no headline and no call-to-action (plus you can't actually click it!), which means a poor user experience for new visitors to the site.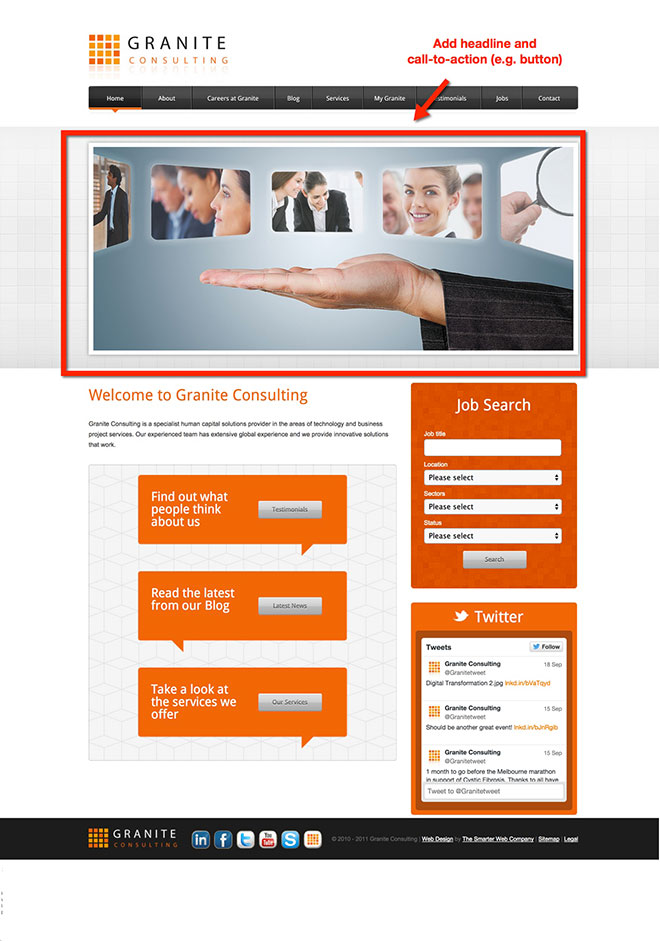 The first thing I would do is add a headline that clearly explains what they do in less than 3 seconds, with a button that directs them to the most important page on their website (ie the page that converts their most important prospect into a sales lead).
To further illustrate my point, here's a predictive eye tracking analysis we ran using EyeQuant (to learn more about the accuracy of this analysis, click here to download the EyeQuant Accuracy Evaluation PDF).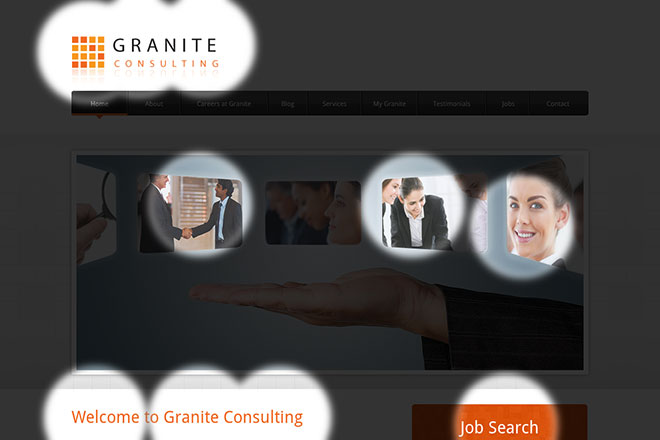 As you can see, in the first 3 seconds the visitor will see the logo, the images in the main banner, the 'Job Search' headline (which looks like a button, but isn't) and the headline 'Welcome to Granite Consulting'. As a new visitor to the site, you don't really know what they do unless you really look around.
Home page headline
This is another common mistake I see all the time – using a headline that says 'Welcome to (company name)'.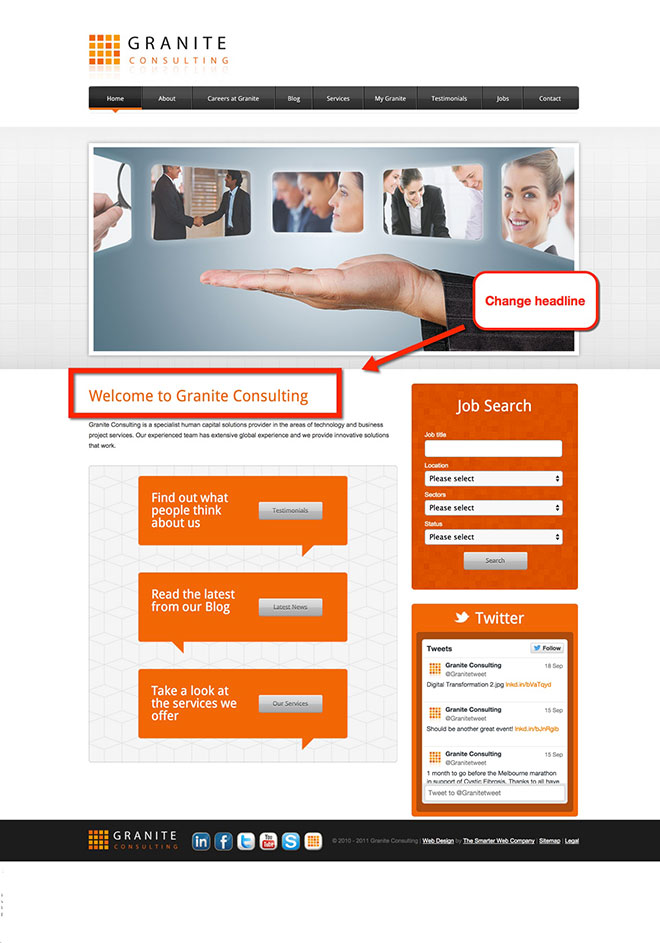 Visitors that land on your website will know what the company name is by looking at the logo (which is the first thing users see when they land there).
With that in mind, the headline should clearly explain what Granite Consulting does, so that first time users know what the company does within 3 seconds.
Change the layout of the home page
The home page is the window to the rest of the website. The aim of a home page should be to quickly explain what the company does, and make it as easy as possible for visitors to find the page they're looking for (the exception is where there is a single product or service only, in which case you can get away with a landing-page style home page instead).
With that in mind, I would use a different layout altogether for this home page. Here's what I suggest…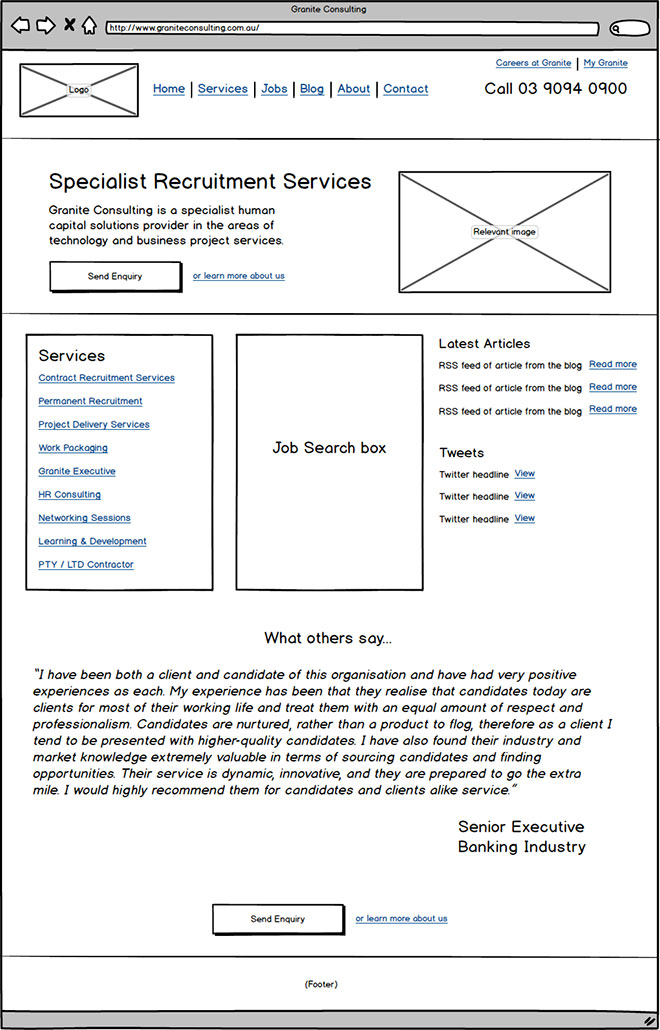 What I've changed
Banner – As you can see from this wireframe, there is a clear headline that instantly let's visitors know what the site is about, a sub-headline that expands on the main headline, and a main call-to-action to drive enquiries, with a second call-to-action to learn more about the company.
Below the banner – Underneath the main banner are the main sections of the site, laid out in an easy to scan format so visitors can quickly find what they're looking for.
Testimonial – I've also added a testimonial to the bottom of the page to add credibility (this is optional as the 'selling' happens on the internal pages).
Navigation – I have simplified the navigation to follow a logical order of the most to least important pages, with About Us and Contact Us at the end (as that is where users expect them). I have put less important pages in a secondary navigation above the phone number.
Phone number – I've added a phone number to the top right of the page to make it as easy as possible for visitors to call, as well as using up wasted space above-the-fold.
Call-to-action – there is another call-to-action at the bottom of the page to ensure that the visitor has somewhere to go if they've scrolled all the way down.
Change the layout of internal pages
I mentioned earlier that the home page is the window to the rest of the website, to allow visitors to quickly find what they are looking for so they click through.
There isn't much 'selling' happening on the home page because that's not the place for it – the internal pages are where the selling happens.
If you think about the user experience… a visitor lands on the home page, finds the page they're most interested in and then clicks on it. From there, you should give them all the information they need to do business with you, directly on that page, with a clear call-to-action driving them to take action.
Currently, the information is fragmented throughout the site, as follows…
Services page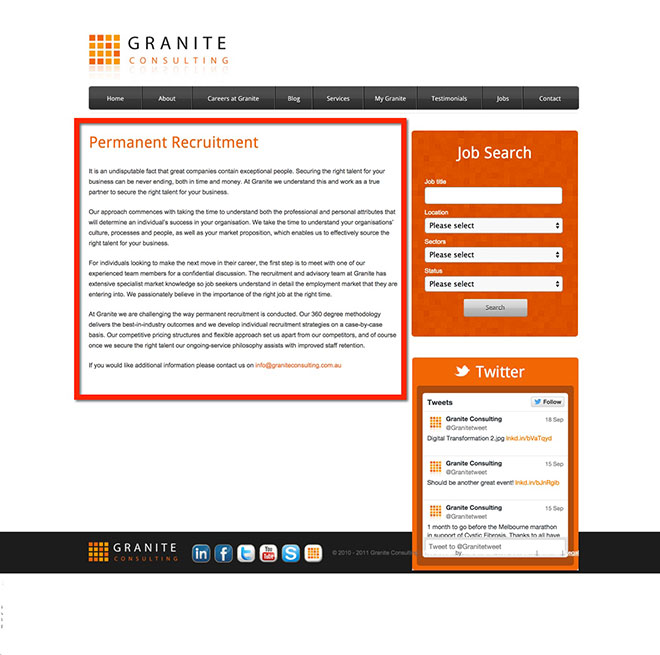 About Us page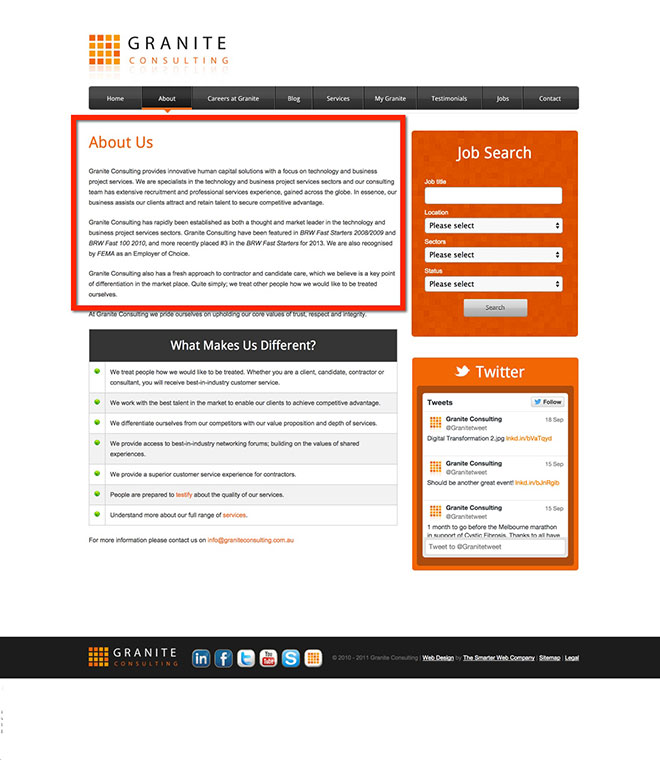 Testimonials page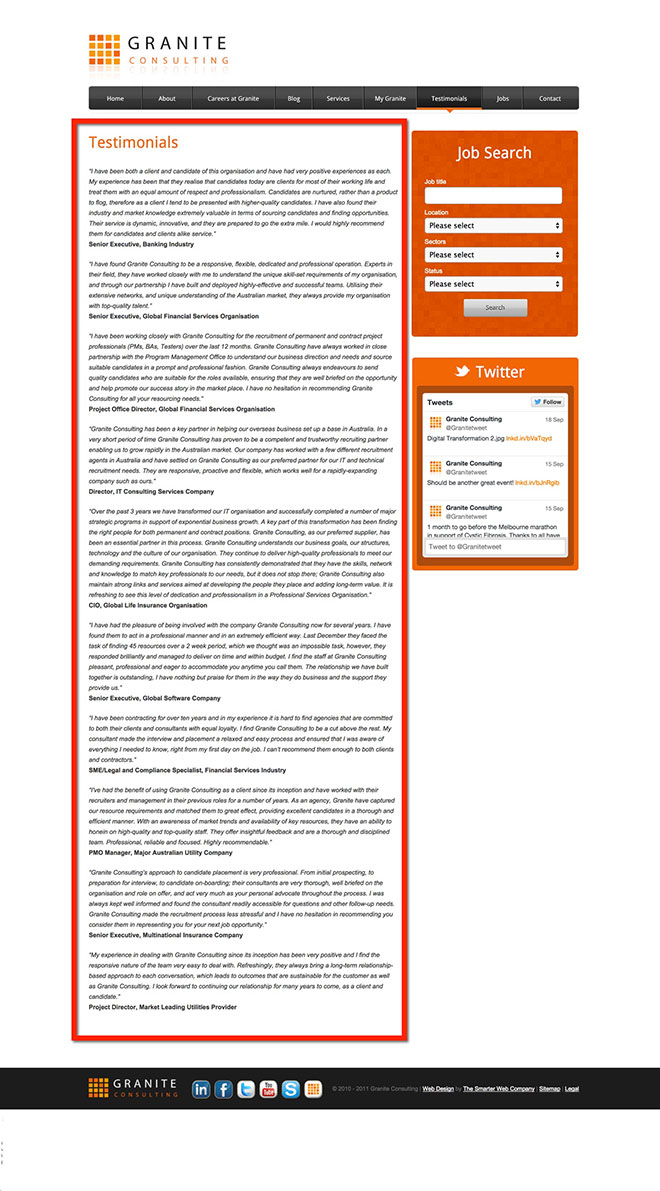 Sidebar
The sidebar of the internal pages is also quite distracting, especially because of the bright orange colour scheme…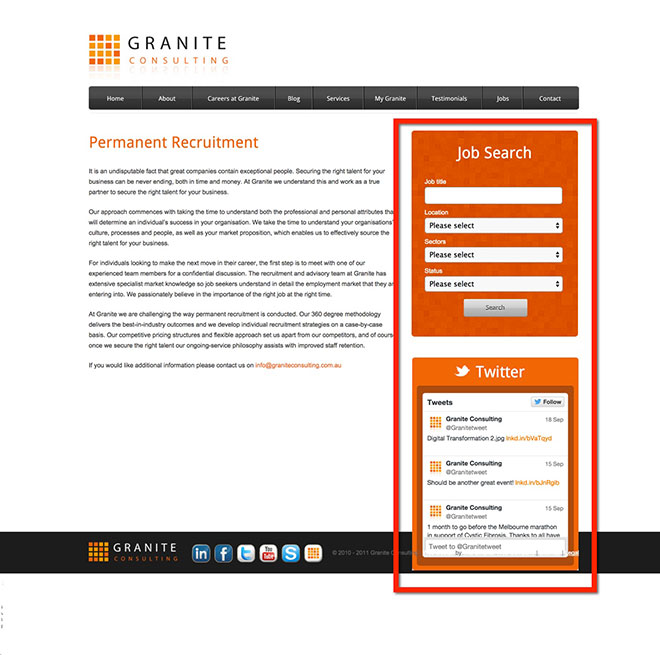 The new wireframe
So rather than having the Service information on one page, the About Us information on another, and the Testimonials on another, I'd put it all on one page, like this…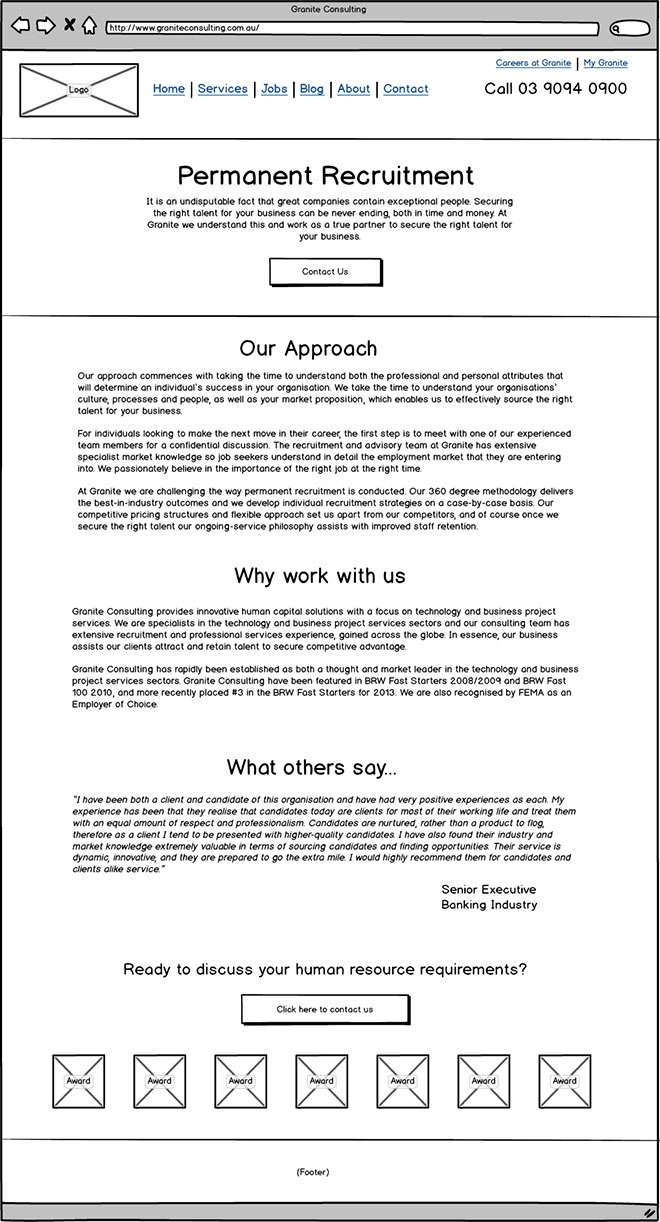 What I've changed
Layout – I've changed the layout to a landing-page format, where the page is dedicated to selling one thing only – in this case the Permanent Recruitment service.
Content – I've added the core messaging from around the rest of the website into the one page to give the visitor all the information they need to make the decision to take action (Note: I would also get a sales copywriter to redo all of the copy to ensure each page flows seamlessly, as well as ensuring there is no duplicate content between pages, which can negatively affect SEO).
Testimonials – I've added testimonials just before the call-to-action to enhance credibility before the call-to-action is presented.
Award logos – I've added award logos below the call-to-action to enhance credibility even further.
Nothing else – there are no other distractions at the bottom of the page (eg Sidebar, Twitter or Blog feed) to ensure the prospect is not distracted at the critical time of conversion.
Responsive Design
With the growth of mobile usage in Australia on the rise, having a mobile-friendly website is critical in providing a positive user experience to visitors no matter how they access your website.
Currently the website does not adjust to mobile devices, so converting it to a responsive design will instantly improve performance from mobile visitors.
How I would improve their online marketing
I'm assuming that their online marketing would be focused on attracting clients rather than candidates, as most candidates will be attracted via LinkedIn or Seek.
With that in mind, here's how I would target clients…
Search Engine Marketing
If the search volume exists, search engine marketing is always the best place to start because prospects 'searching' are in the middle of the buying cycle, which means the time to sale is a lot shorter than other marketing channels.
Here's a quick breakdown of the search volumes for keywords related to the Granite Consulting offering, identified using the Google Keyword Tool, limited to Victoria:
recruitment agencies melbourne – 3600 searches per month, $3.14 per click
recruitment agencies – 1900 searches per month, $2.56 per click
recruitment agency melbourne – 480 searches per month, $3.40 per click
it recruitment agencies melbourne – 320 searches per month, $6.29 per click
melbourne recruitment agencies – 320 searches per month, $3.12 per click
recruitment melbourne – 320 searches per month, $1.30 per click
it recruitment – 110 searches per month, $4.21 per click
it recruitment agencies – 40 searches per month, $3.50 per click
it recruitment agency – 20 searches per month, $5.17 per click
it recruitment melbourne – 110 searches per month, $2.37 per click
Google Adwords
There's enough search volume to start running ads on Google Adwords (note: at the time of writing this article, I could not find Granite Consulting advertising on any of these keywords).
But as the cost-per-click for these types of keywords are quite high, I would only start advertising once the website has been updated as per my suggestions above to ensure the conversion rate is as high as possible.
Let's take a quick look at the numbers to see why:
Keyword: recruitment agencies melbourne
Cost-per-click – $3.14
Why the conversion rate (CR) is important:
100 visitors costs $314 (ie 100 x $3.14)
@1% CR, cost per lead = $314 (ie 1 lead)
@2% CR, cost per lead = $157 (ie 2 leads)
@3% CR, cost per lead = $104.67 (ie 3 leads)
@5% CR, cost per lead = $62.80 (ie 5 leads)
The conversion rate not only reduces the amount you pay per lead, but it multiples the number of leads you receive within the same advertising spend.
I would also setup remarketing ads on the Google Display Network to advertise to prospects that visited specific pages on the Granite Consulting website but didn't convert, with the aim of convincing them to come back to the website to submit an enquiry.
SEO
Once the Google Adwords campaign is up and running, and the traffic and conversions are coming through, I would look at starting an SEO campaign to build upon the Google Adwords traffic.
The campaign would target both the transactional keywords targeted on Google Adwords, as well as informational keywords used by candidates during their job search process.
Here's a quick review of the Granite Consulting website and how it compares to the top ranked competitors on the keyword 'recruitment agencies melbourne' (which has the highest search volume):
adecco.com.au, 783 referring domains, 45 TrustFlow
hays.com.au, 1299 referring domains, 43 TrustFlow
horner.com.au, 47 referring domains, 9 TrustFlow
superiorpeople.com.au, 31 referring domains, 5 TrustFlow
roberthalf.com.au, 475 referring domains, 42 TrustFlow
morganconsulting.com.au, 91 referring domains, 14 TrustFlow
au.drankintl.com, 116 referring domains, 36 TrustFlow
temping.com.au, 47 referring domains, 21 TrustFlow
staffing.com.au, 138 referring domains, 24 TrustFlow
graniteconsulting.com.au, 20 referring domains, 13 TrustFlow
Note: this data has been taken from Majestic SEO. Definitions as follows:
Referring domain, also known as "ref domain", is a domain from which a backlink is pointing to a page or link.
Trust Flow is one of the Majestic SEO Flow Metrics, which is weighted by the number of clicks from a seed set of trusted sites to a given URL, or Domain.
Based on the backlink metrics above, it shouldn't be too difficult to rank Granite Consulting on the first page of Google for 'recruitment agencies melbourne'.
Note: a full review of each competitor's website has not been conducted.
LinkedIn Ads
I would use LinkedIn Ads to target HR managers in Melbourne. As at today's date, there are 29,606 LinkedIn members that fit this targeting.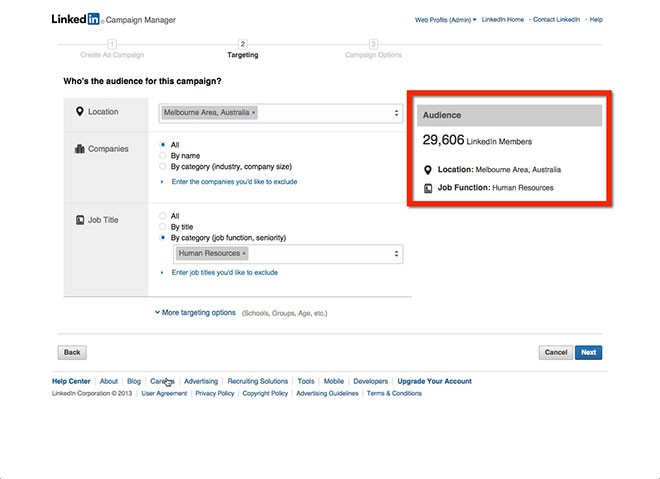 Ideally, a responsive landing page would be created to promote a free offer because, in our experience, free offers work best with LinkedIn Ads (eg industry report, free consultation etc).
That's just the beginning…
The marketing tactics I've outlined are the very first areas I would advertise the Granite Consulting website to generate new business, but that's just the beginning.
The full power of online will only be harnessed by a multi-channel online marketing strategy that integrates search engine marketing, social advertising, email marketing, and remarketing.
Disclaimer
I have not been in touch with anybody from Granite Consulting (yet), so I don't have the full picture of what they are trying to achieve online. The advice I have provided in this article is based entirely on what I can see online, and how I would optimise their web presence based on what we've found successful for other clients.
Would you like us to review your business as well?
If you'd like us to review your online marketing strategy, please send an email to [email protected]. Or if you simply want to discuss your online marketing with us, then click here to get in touch.