10 Lessons From Barack Obama's Online Marketing Strategy
10 Lessons From Barack Obama's Online Marketing Strategy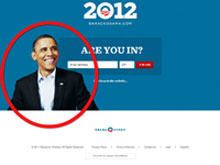 In 2008 Barack Obama won the presidency of the United States on the back of one of the most successful online marketing campaigns in history.
The time has now come again… with the upcoming U.S. elections in November, Barack Obama has re-launched his online marketing campaign with the hope of achieving similar, if not better, results than in 2008 (of course this time he has the benefit of already being the President).
In this article I'll cover 10 areas of his 2011 strategy, as well as explaining how you might apply them in your business.
1. A High Performance Website Is Used To Drive Action
When you go to www.barackobama.com the first page you see is a landing page that is focused on one thing… to get your email address and zip code. The main call to action is red so it stands out. It is obvious what they want you to do. They also use the words "I'm In!" in the button to encourage people to follow through.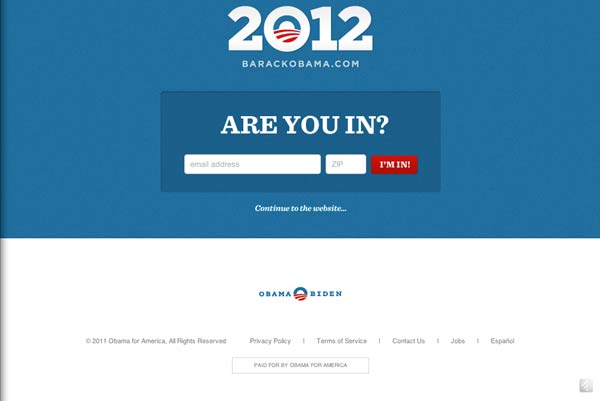 Barack Obama's people know that the key to gaining maximum leverage from those who visit his site is to capture their details and stay in touch with them on a regular basis through email marketing… the entire website is geared to drive email subscriptions and donations.
Action: What is the main action that you want your visitors to take? Are you capturing the email addresses of people who visit your website? Think about the best free offer you can make and integrate that offer into your website to drive action.
2. Split-Testing Is Used To Achieve Maximum Performance
Even though the website will be performing well, the Obama team know that the ultimate judge of what makes a good landing page is how people react to it. With that in mind, the Obama team is split-testing various designs of the landing page and measuring which one produces the best results.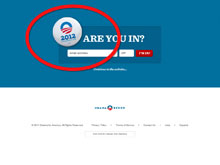 And when you consider how much traffic his website will be receiving, an improvement in the conversion rate of just 1% can mean hundreds of thousands of additional voters subscribing to their database.
Action: Use Google Analytics to identify the highest visited and highest performing pages on your website. Then use Google Website Optimizer to split-test various elements on the page to improve performance.
3. An Offer Is Made On The 'Thank You' Page
As soon as you join the mailing list you are taken to a 'thank you' page that encourages you to make a donation. The 'thank you' page is one of the most valuable pieces of real estate on the website because it is the page that is displayed immediately after an action has been taken (in this case the submission of the form).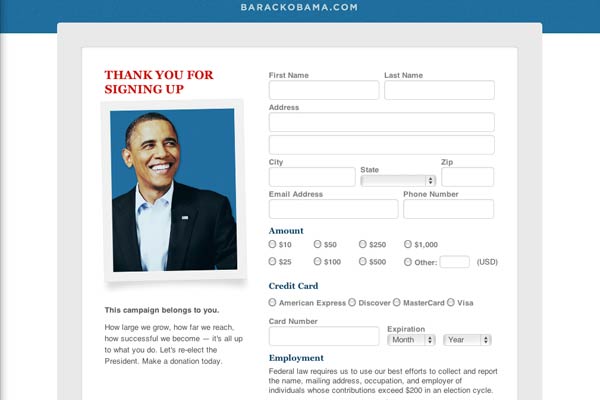 Notice how Barack Obama is looking at the form? Naturally, your eyes are taken to the top of the form as well… this isn't a coincidence. The caption below an image is nearly always read by the visitor, and they have used that to sell the benefit of donating to their campaign.
The form also gives you options of how much you can donate, which means that people can donate as little as $10 or as much as $1,000 or more – it takes away any issue that people might face with how much they should donate.
Action: Review the 'thank you' page that visitors see after they take an action on your website. What else could you offer on that page to drive additional action?
4. Email Marketing Is Used To Build The Relationship
Once you subscribe, Barack Obama uses email marketing to build a relationship with you over time. He shares updates on what he has been up to, opinions on various issues and he educates you over time. His emails are written from the first person, from him to you, further building his credibility and trust.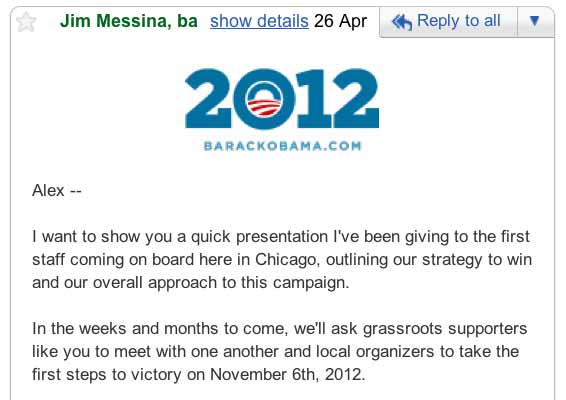 At the end of every email is a call to action to 'donate now', although this isn't pushed heavily. The main focus of every email is to communicate a clear message, which is done masterfully.
Action: Do you have a database of prospects or clients? Then implement an email marketing strategy that develops the relationship, builds trust, and establishes your business as the leader in the market.
5. Blogging Is Used To Connect With The Market
Barack Obama uses blogging to communicate with his visitors and supporters. He shares articles, commentary, YouTube videos and Twitter updates.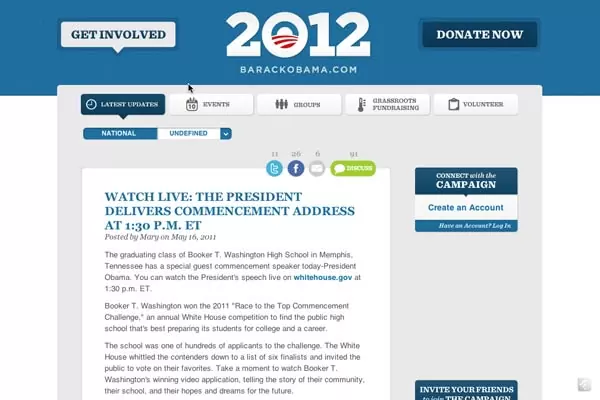 You'll also notice that there's a 'Donate Now' button on every page, to drive action (at the date of writing this article the button is blue, but in 2008 it was red and stood out a lot more, indicating that the donations component in 2011 may not be as important as it was in 2008… or maybe they're just split-testing it).
Blogging aligns perfectly with social media, which I'll cover shortly.
Action: Setup a blog on your website and use it to connect with your visitors. Sharing educational or informative articles works best when combined with email marketing and social media marketing.
6. Social Media Is Fully Integrated Into The Website
In 2008 Barack Obama had a presence on 16 different social media platforms, and promoted all of them on his website. In 2011 that number has been reduced to two… Facebook and Twitter, which reflects the growth and market share that these two websites have achieved in the last 3 years. Of course he still uses YouTube to stream his videos and Flickr to host his images, but he has limited his social networking to Facebook and Twitter.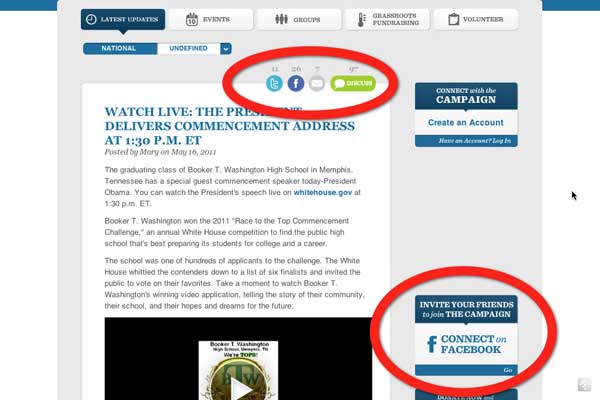 Every post on his website lets you share that post on Facebook and Twitter, and you can invite your Facebook friends to the Barack Obama site right from the widget in the sidebar. This is where blogging aligns perfectly with social media, because people are much more likely to share a piece of information rather than an entire website.
The biggest point to take away from this is that if Barack Obama, with all the resources at his disposal, is only focusing on Facebook and Twitter then why would you spend any of your precious time on anything else.
Action: Integrate Facebook and Twitter with your website and, in particular, your blog. The better the information you share, the more people who will also share it.
7. Campaigns Are Segmented By Market
The website is segmented by state so that supporters can stay up to date with what is happening in their state. This allows Barack Obama to use the main website for his national messages and the state pages for state-based messages.
Segmentation drives engagement with his supporters because they only hear about what is related to them (and aren't receiving updates about states they might not care about)… this is critical to the performance of his website and social media campaign.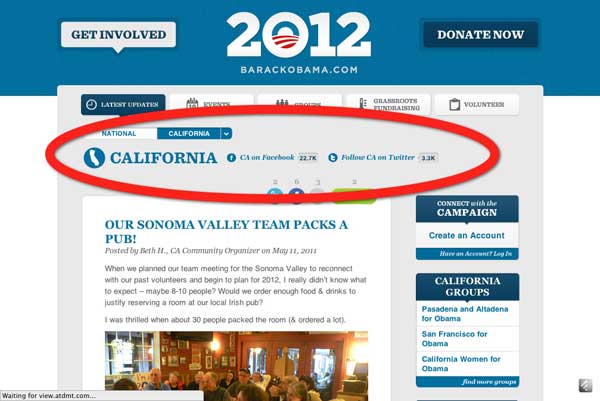 Obama has also setup Facebook and Twitter pages for each state, to further drive engagement.
Action: How can you segment your market to drive engagement? Take a look at your website, database and email marketing and think about how you can refine your message for each segment.
8. Facebook Is Used To Communicate With Facebook Users
Barack Obama's main Facebook page has more than 20 million Fans… and this doesn't include the fans he has on his state-based Facebook pages. He uses Facebook to share updates on his campaign, ask his fans questions, share YouTube videos and drive engagement.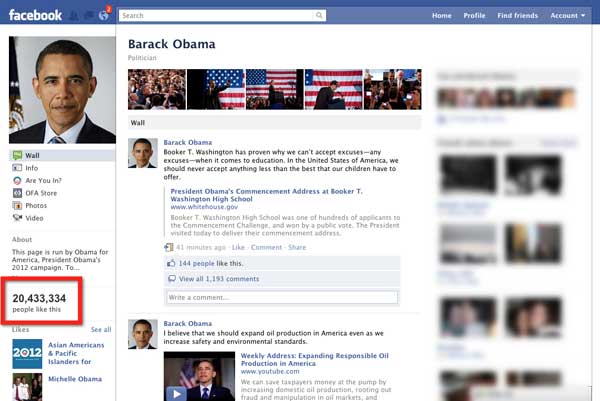 Importantly, he doesn't try to sell anything through his status updates (ie he doesn't ask for donations). He uses Facebook to drive engagement… and with feedback on his status updates regularly exceeding the 5,000 comments mark, he is doing it well.
Action: Setup a Facebook page for your business and start communicating with your market with the aim of driving engagement.
9. Twitter Is Used To Communicate With Twitter Users
Barack Obama's main Twitter profile has more than 8 million Followers. He uses Twitter to share opinions, thoughts and updates on his campaign. Obama also uses hashtags to participate in conversations.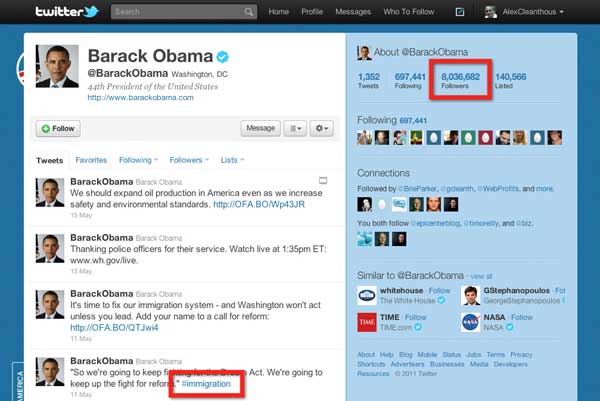 It's a great way for Twitter users to stay up to date with the Obama campaign.
Action: Setup a Twitter profile for your business and join the discussion.
10. A Mobile-Friendly Website Connects With Users On The Go
Barack Obama has a mobile-friendly website for smart phones. With the growth of mobile Internet usage, having a mobile-friendly website is critical for delivering a great experience to mobile phone users.
When you visit the main website on your phone, it automatically redirects you to the mobile-friendly version of the site.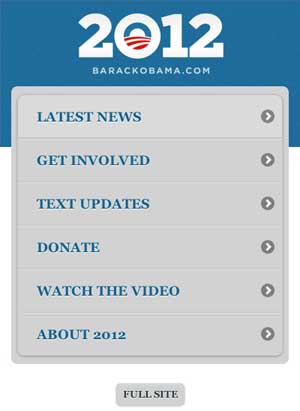 Mobile users can stay connected by sharing their phone number and receiving text alerts from the Obama campaign. They can also make a donation directly from their phone.
Action: Review Google Analytics and find out how many people are accessing your website via a mobile phone. If it is higher than 5% then consider building a mobile-friendly website for your business.
The Strategy
Barack Obama's strategy hasn't changed much since 2008… build up a database, grow social media followers, encourage donations, and build credibility and trust through ongoing and sincere communication. The main difference in his campaign this time around is that he is focusing only on Facebook and Twitter to connect with people through social media.
The most important thing to take away from this article is that the process of achieving success online is the same in every market… even when running for President! Here's the strategy:
Develop an effective website that drives action
Drive visitors to your website using marketing and advertising
Build a relationship with your prospects through email marketing & social media
Expand your reach through mobile
Implementing all of these steps together is the key to success
We know this to be true because this is the exact strategy we use for ourselves and our clients to achieve success online.