Protect Your Mobile Acquisition Dollars With These 4 Retention Hacks
We are in the midst of what has been coined as a "mobile engagement crisis."
What this means, exactly, is that apps are spending lots of money and effort to acquire new users and then failing to engage them. This results in users becoming dormant, or worse, uninstalling an app completely.
Currently, the app retention rate across industries hovers at 21 percent the first day after an app is downloaded. By day 90, retention rates drop to a meager 1.89 percent. That's low. Really low.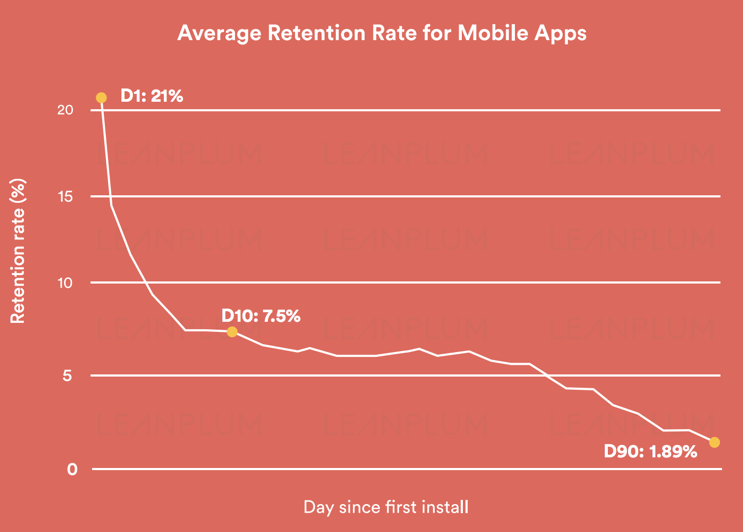 So why is the current state of retention considered a "crisis"? Because acquisition is expensive. Acquiring a new customer is anywhere from five to 25 times more expensive than retaining an existing one. According to LiftOff, the average cost of getting a new user to install an app is now $4.08.
To put that in perspective, let's say your app sees a healthy 5,000 install per day. That's $142,800 in acquisition costs every single week —  a lot of money to waste on users who don't come back.
It's time for mobile marketers to shift their focus from acquisition to retention hacking to protect their investments. Let's explore a few ways to convert new downloads into active, engaged users that are in for the long haul.
Master the Onboarding Experience

The onboarding experience is the perfect opportunity for apps to make a good first impression. A few tried-and-true best practices:
A succinct value proposition
If users don't understand how an app can benefit their lives, they will lose interest quickly.
The New York Times mobile app welcome page exemplifies a value proposition done right —  in a few short and sweet sentences, users know exactly what they are in for.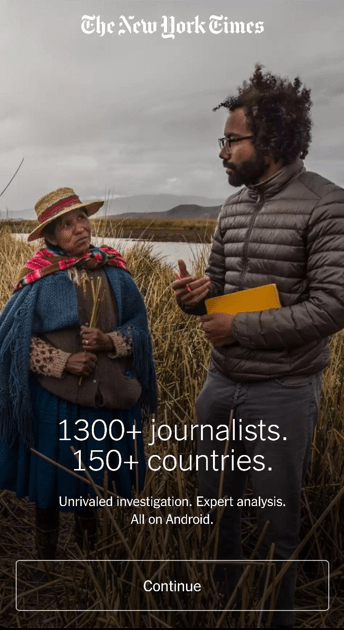 A smooth flow that drops users right into action
The sooner a user begins engaging with your app, the better. Thus, the onboarding flow should be about moving users forward. This is also a good time to encourage users to register for an account, upgrade to a paid subscription, or make an in-app purchase.
Encourage push notification opt-ins
The iOS platform requires a manual "yes" from users before allowing brands to send push notifications — a vital part of any mobile outreach strategy. A feature like Leanplum's Push Pre-Permissions lets you custom opt-in messages before the iOS default prompt, giving you a second (or third, or fourth) chance if users say no the first time.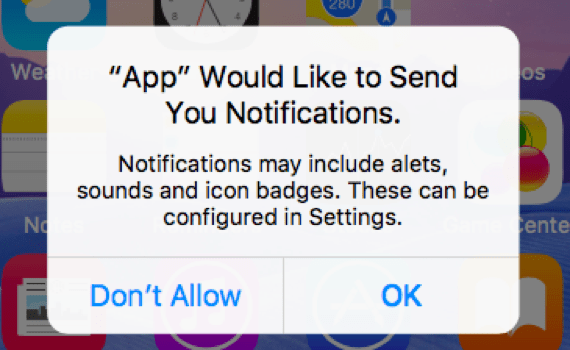 Meet customers at multiple channels
A multi-channel onboarding strategy can get users engaged from multiple touchpoints and drive your value-add home. For example, push notifications are a gentle way to remind users to complete the onboarding process. Email can be used to communicate key features or perks that exceed text limitations on mobile channels.

Personalize Your Outreach Efforts
To meaningfully engage users (the first step to long-term retention), brands must tailor their campaigns to each unique individual. Something as simple as including a first name in a push notification can boost open rates by 4x. When you go the extra mile and take user behavior into account, push notification open rates increase by an astonishing 800 percent.
For better targeting, pull in customer attributes such as age, location, gender, and device type. With the right mobile engagement platform, you can use these data points to build sophisticated customer personas based on past actions like purchases, browsing history, and abandoned shopping carts. Leveraging this information, your messaging can better meet the needs, wants, and interests of users.
You can also customize campaign send times so users receive messages at the most impactful moments. A tool like Leanplum's Optimal Time analyzes individual app usage patterns to automatically send a push notification when a user is most likely to open. It has been proven to increase retention rates by an impressive 7x compared to non-personalized messages.
As Peggy Ann Salz, a 20-year mobile industry veteran puts it, "personalization can win trust and respect when it is done properly."
Engage Users With Multi-Channel Messaging
Mobile users are now moving between multiple channels, devices, and micro-moments that marketers must navigate. In this landscape, a multi-channel strategy enables apps to be as flexible and varied as their users.
In a recent study, we found that the average number of weekly app sessions increased 3x when emails were sent along with push notifications — a testament to the efficacy of this approach.
An app's messaging mix should be inspired by data, by innovation, and by campaign type. But, most importantly, it should be informed by a thorough understanding of individuals on the receiving end. Which channels delight and which lead to an unsubscribe? Which channel will a user actually engage with?
After all, a comprehensive multi-channel strategy is one that understands the number one rule — that you have a presence on all the channels your users want you on.
Finetune Campaigns With A/B Testing
With A/B or multivariate tests, you can send multiple variations of each campaign to portions of your audience to see what works best. With insights from testing, you can also optimize the frequency with which you send messages and discover which channels lead to the most engagement.
Via, a ride-sharing and transportation management app, wanted to convert irregular users into consistently active ones. To achieve this goal, they used Leanplum to ramp up A/B testing efforts. Actionable insights from these iterations were used to implement a cross-channel reactivation campaign targeted at dormant users, resulting in driving 27 percent more riders back to the app.
The moral of the story is, long-term success requires experimentation and fine-tuning — not guesswork. This is especially true in the fast-paced world of mobile.
Balancing Retention & Acquisition
From the moment you launch your app, you should have a retention strategy that will engage app users and make sure your hard-spent acquisition dollars don't go to waste. By giving retention the attention it deserves, installs can be converted into a loyal user base, and the "mobile engagement crisis" can be mitigated if not overcome altogether.