The ultimate guide to creating epic content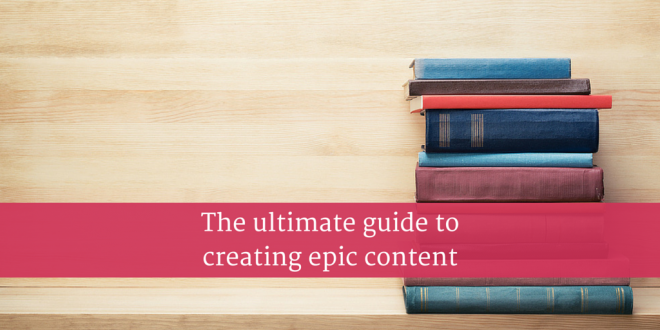 The expectations for content are growing…
Your prospects want MORE content – and it needs to be resourceful, definitive and long in nature.
But it's not just your customers who are craving lots of content; the search engines, social networks and advertising platforms are raising their standards too.
Google wants to rank content that is over 2,000 words…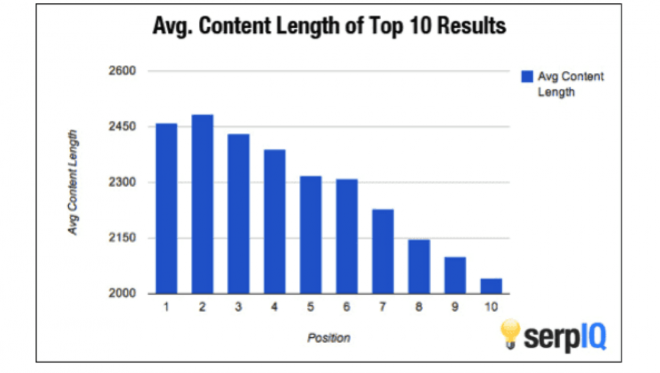 Source: serp IQ
People want to share content that is long and resourceful;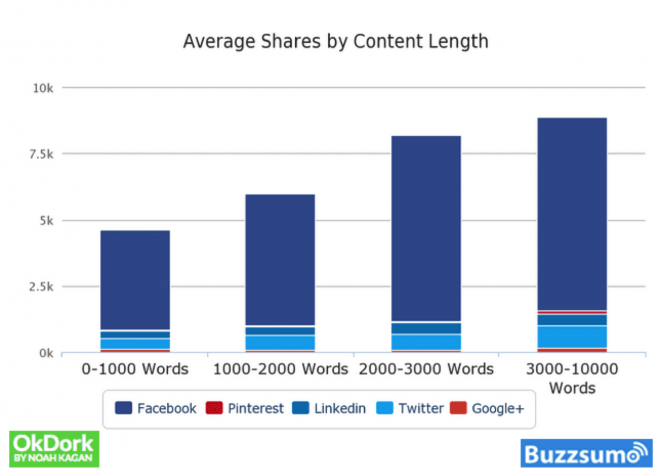 Source: OkDork
… and your paid traffic campaigns have to start with a piece of content you can hang your hat on, to wow your new prospects.
The hard part is it's like a never ending loop, somewhere sandwiched in-between everything else on your to-do list you need to crank out these ridiculously time consuming pieces of long-form content.
Where do you find the time?
I want to share an 8-step process for creating EPIC pieces of content – I use this every time I put something together.
This will help you create the type of content that is worthy of Google rankings, tons of social media shares and your valuable advertising dollars.
Sure this process won't actually create MORE time for you, that's impossible… But it will help you use your time more effectively, and in the end create higher quality content in LESS time.
So even if you're planning on hiring an agency, freelancer or expert to create content for your business… This process will help you get a better bang for your buck.
Let's get into it.
Step 1 – Prepare yourself
Before you sit down to build this long-form content, you need to prepare yourself.
There are a couple of things that are going to help you turn this content around more quickly, and replicate its quality every single time.
Content template – by using a template for creating content it helps you deliver similar results time after time. Rather than starting with a blank canvas, if you begin the writing process with a set structure, and then just fill in the gaps, it will make everything much easier.
Checklist – if the content template is designed for speed, then the checklist is designed for quality. Create a master "content checklist" and have a printed copy on your desk. Every time you create a piece of content, literally tick off the points in the checklist. It might sound elementary, but especially if you have a team of contributors it helps maintain quality standards. Below is a screenshot of the Web Profits blog post checklist, feel free to copy as many elements as you want;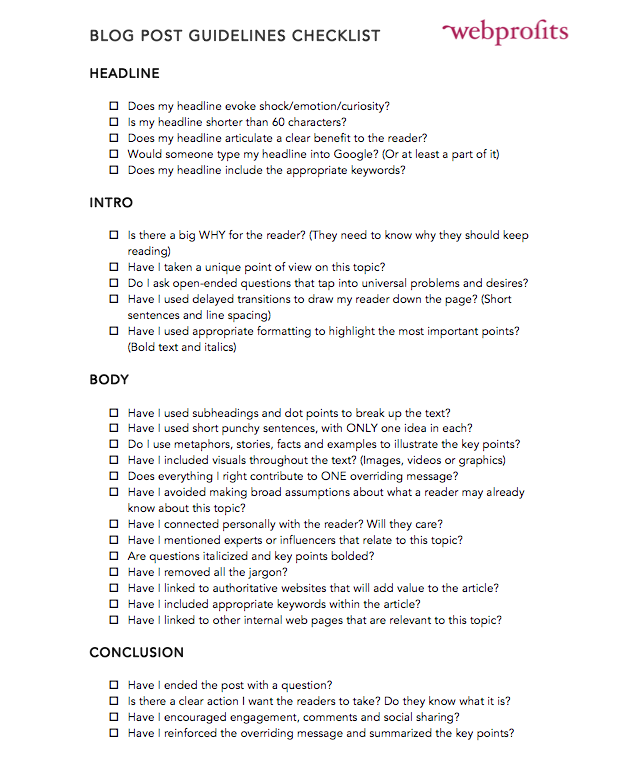 Process – as well as a template and checklist, if you have a clearly documented process for creating content, it eliminates all the guesswork and procrastination time. The great thing about a well defined process is that it allows you to break it down into manageable chunks. For example, if you only have 30 minutes spare in your day you are unlikely to write a whole article in that time. However, if you know that "Step 1" of your writing process only takes about 30 minutes, you can complete that part and prepare yourself for "Step 2" another day. (Hint: I'm giving you a step-by-step process in this blog post you could use)
Create accountability for yourself – now that you have a process, and a way to maintain the quality of your content, you need to make sure it actually gets done. Despite our best intentions most of the time blog writing and content creation gets put on the back burner. To reduce the chance of this happening, bring other people into the mix. Commit to a deadline with multiple stakeholders and get them to hold you accountable. Ask them to take something away from you if you don't meet the deadline, don't let it be flimsy. We are happy to let ourselves down, but much less likely to do it to others.
By putting in a little bit of extra effort up front and appropriately preparing yourself, the rest will happen quicker and quicker every time.
Now it's time to figure out what you're going to write about…
Step 2 – Find a content opportunity
Deciding what to write about can be frustrating, because often it feels like everything has already been done.
And you're right, just about everything HAS been done. This makes it even more important to be deliberate about your content ideas and find a winner.
A content opportunity is like a hidden gem within a sea of information overload…
It's a topic (or problem) that your customers care deeply about, but no one else has quite nailed it yet. The other content out there is underdone or outdated, despite getting a lot of engagement and activity.
This means there is a distinct opportunity for you to create something much better than anyone else and get a significant return on your effort.
The first thing you need to ask yourself when looking for a content opportunity is about your customers;
What are the core problems you solve for your customers?
I bet you know this already, but write it down on a piece of paper.
When you have done that, head over to Google Adwords and type the first problem into the keyword planner tool to discover potential search terms you can optimise your content for;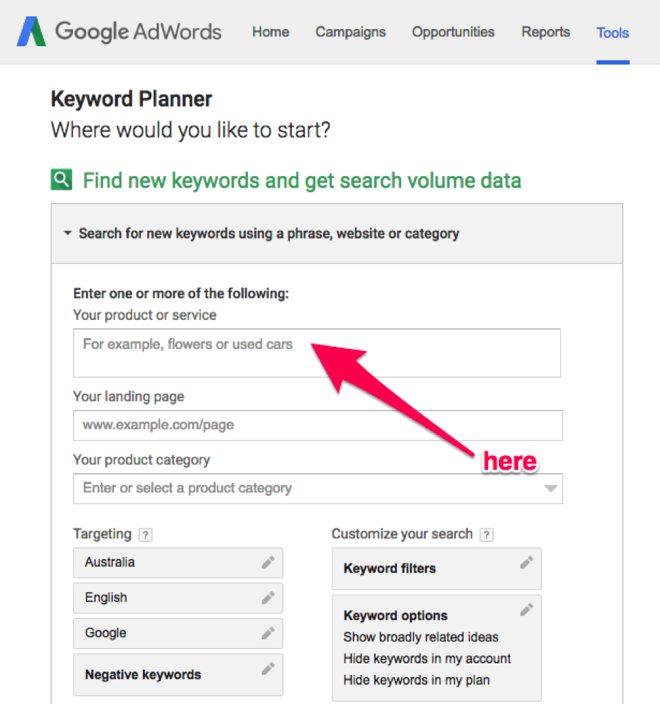 Source: Google AdWords
Don't forget to include some question-related words;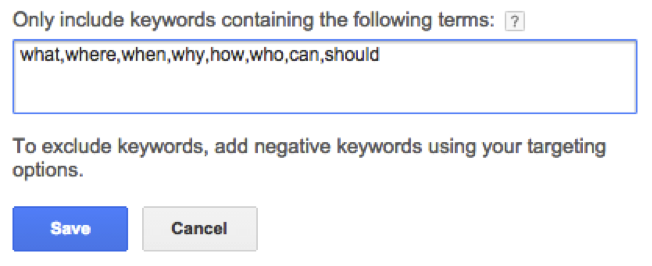 Source: Google AdWords
For example, let's say you are a personal trainer or fitness business and you want to help your audience put together a 6-week strength training program. Your piece of content will step them through exactly what to do from start to finish.
I discovered a content opportunity for the search terms "strength program" by going through this exact process;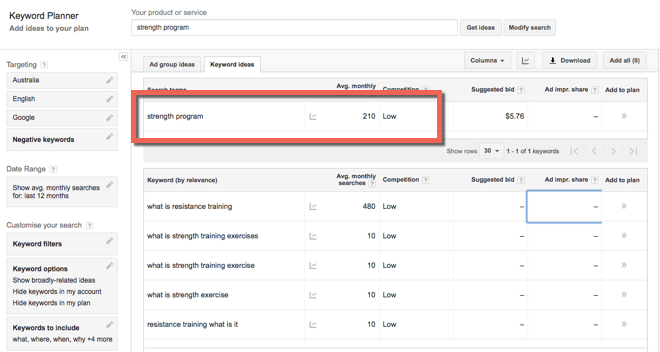 Source: Google AdWords
You are looking for potential keywords that have adequate search volume. (The search volume is telling you that people care about this topic)
To further validate whether a topic is interesting, drop it into a BuzzSumo search and see if the top articles are getting a lot of social shares;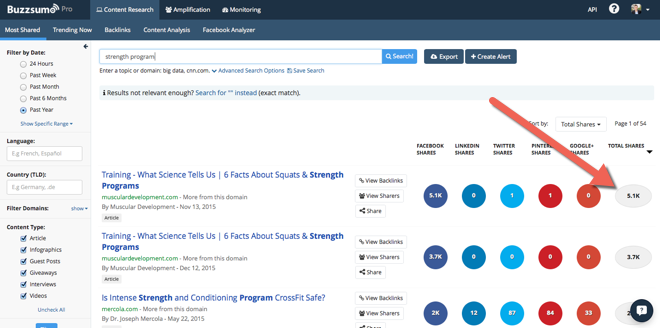 Source: BuzzSumo
Once you're confident with a core topic, suss out the best performing content already out there.
Literally open up the top 10-15 articles you find in a Google search, and a shortlist of the articles from BuzzSumo, in different internet browser tabs.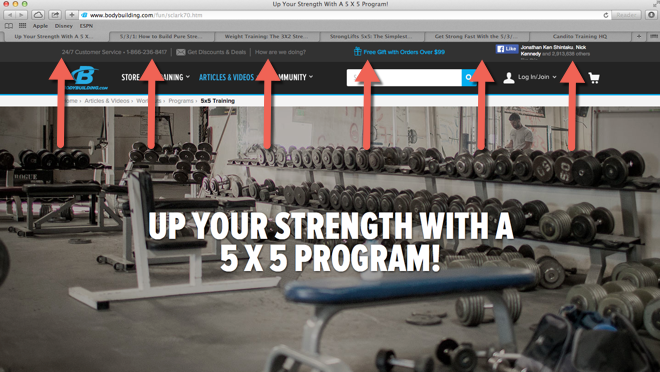 Is the content up to date? Has it been published within the last year?
How about the quality, are the articles you just opened; long, resourceful, visual and epic?
If you answer NO to at least one of these questions, chances are there is a content opportunity with that topic – run with it.
If you answer YES to these questions, go back and start with a different problem or potential topic, and keep going through this process until you find something worthwhile.
Step 3 – Build your content structure
This step is all about finding inspiration from the best content on your chosen topic so you can refine your content template into a unique structure.
Remember those articles you have open in your browser tabs?
Go back through each and every one of the articles and grab the most interesting headings and subheadings. Jot down the key points or themes you are seeing regularly from the other content. And as you gather more information, refine the key points into a list of subheadings.
By revisiting all of these articles and collating their best information, you are guaranteeing that when you write your piece of content it is going to be the best there is.
If you want to take this to the next level, you could repeat the process for some similar keywords that might give you different ideas. In the fitness business example, words such as "how to build strength" or "what is resistance training" would be a good start.
Then when you're happy, reorganise the headings to create a flow for the article that makes sense.
Your content template should now be replaced with a NEW structure for this piece of content. But that's all it is, a bare bones structure with no meat on it yet.
Now for the meat…
Step 4 – Fill your structure
Once you have your structure, it's time to fill it up with content.
Don't be too obsessive about editing or writing at this stage, this is just a cut and paste adventure.
Pick a different colour font in your content structure, and literally copy and paste all the best ideas, paragraphs, stats, images or examples from the articles you discovered on your chosen topic.
(Don't worry you won't be plagiarising, this is just a way to inspire easier writing later)
As well as other people's content, use this time to grab anything you have created in the past… eBooks, guest blogs, videos, infographics – whatever you can find that relates to this topic, drop it into your content structure.
To really find the best and most unique content on your topic, consider searching for all your closely related keywords on platforms such as SlideShare and YouTube;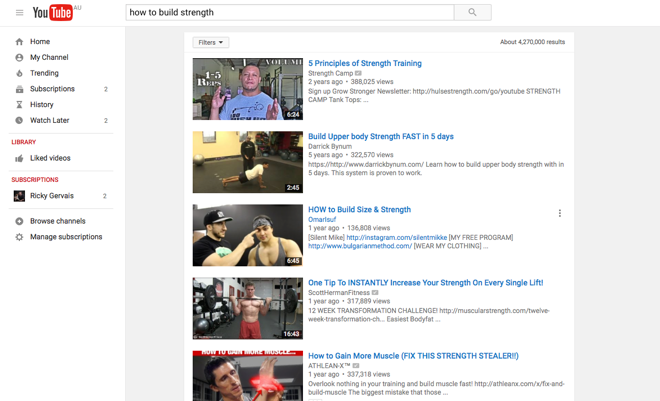 Source: YouTube
Of course, once you've collated all this content into one document you need to re-write it in your own words and take a unique position on the topic – but the bulk of the hard work is out of the way.
Step 5 – Write without distraction
This is usually when the panic sets in… Instead of actually writing, we choose to trawl through Facebook or the latest Iconic sale.
But because you have done so much pre-planning and research, when it comes to writing you will be surprised how much easier it is.
What I find works best is to do everything up until this stage, and then start the writing process with a fresh mind on a new day. Before you know it, you will have knocked out 2, 3, or 4 thousand of the best words you've ever put down.
All the thinking is out of the way; and the images, stats, examples and paragraphs you have collated will inspire new ideas and help you take a unique point of view on this topic.
When you are writing, try to avoid doing anything else. Turn off your phone, switch off email notifications, put the "Back in 5" sign up on your desk and get down and dirty.
Don't even stop to add in images or graphics – instead, put a descriptive placeholder in your article so you can come back and add this in later.
Exactly like I did for this article;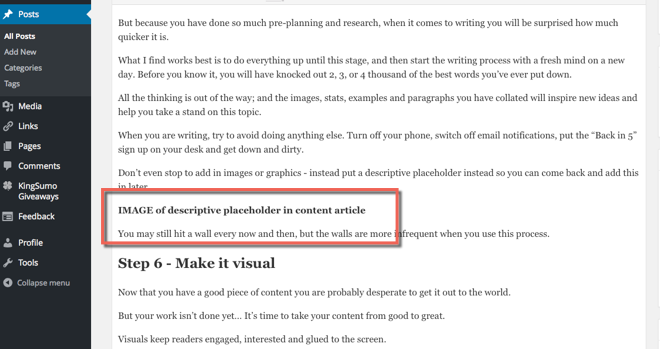 Also, consider writing your post directly into your blogging or website platform – WordPress in this example. That way, when you finish it's ready to go live and you don't need to take up another hour or so uploading it all.
You may still hit a "writing wall" every now and then, but they are more infrequent when you use this process.
Step 6 – Make it visual
Now that you have a good piece of content, you are probably desperate to get it out to the world.
But your work isn't done yet… It's time to take your content from good to great.
Visual content keeps readers engaged, interested and glued to the screen.
It helps people retain more information and is 40 times more likely to get shared on social media.
Don't believe me?
Here's what analysing over 100 million articles told OkDork and BuzzSumo: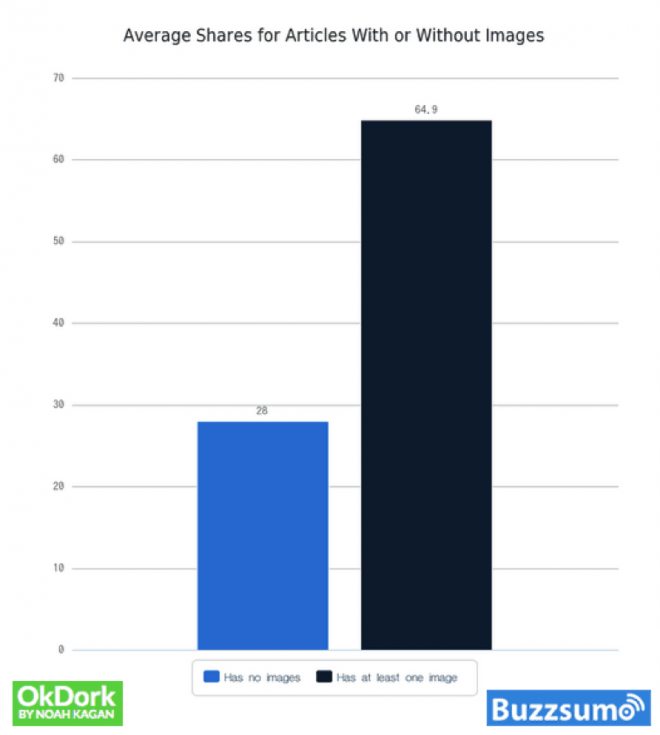 Source: OkDork
Some people think of "visual content" as a bunch of semi-related stock images stuffed in and around subheadings.
It has to be better than that. Visual content is all about screenshots that illustrate a point, videos that entice a longer stay on your page and infographics that get shared like crazy.
You will notice that I include an infographic later in this post.
BuzzSumo is an especially good search tool if you are looking for infographics to include;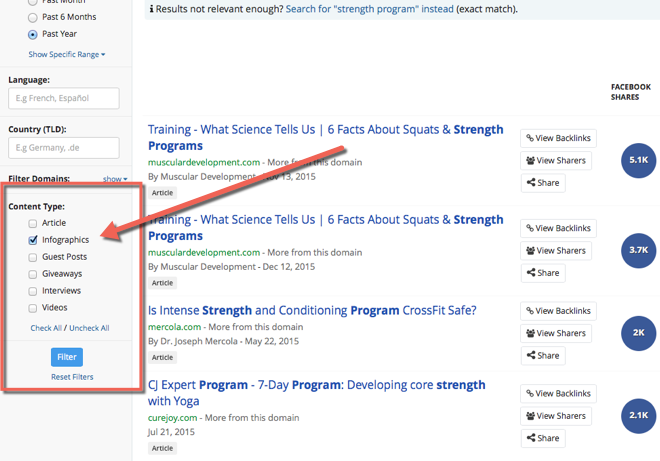 Source: BuzzSumo
In the end, if you have included placeholders for visuals as I suggested in the last step, adding images shouldn't be too hard and won't take you that much time.
I would recommend using Skitch or Snagit to capture screenshots because they allow you to add in annotations, arrows and boxes.
Step 7 – Craft a compelling headline
A well constructed headline is often the most important piece of the long-form content puzzle…
Because essentially it is the one element that draws a reader in and gets them to click on your content in the first place. So without a compelling headline, no one will read your content.
Did you know that 80% of people will read a headline, but only 20% will read the rest of your article?
That means you can spend hours and hours on an epic piece of content, but if you stuff up the headline it's all wasted.
The challenge is that your headline is amongst a sea of other headlines, tools, emails, games, videos and popup windows – all competing for the attention of your readers.
So what does it take to craft a compelling headline?
Here are some tips;
Come up with 10-15 different headline options for every piece of content, and get someone else to pick the best one
Get higher click throughs with numbers (36% higher) and brackets (38% higher)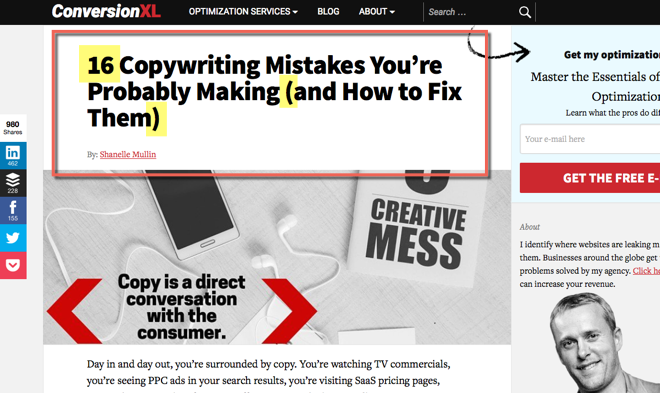 Source: Conversion XL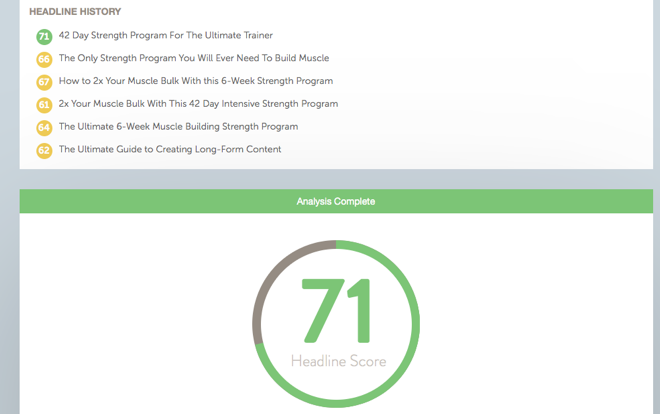 Source: CoSchedule
For example, I came up with a set of headlines for the health and fitness business example, see how creative you can get with the exact same topic;
"The Ultimate 6-Week Muscle Building Strength Program" 
"How to 2x Your Muscle Bulk With this 6-Week Strength Program"
"The Only Strength Program You Will Ever Need To Build Muscle"
"2x Your Muscle Bulk With This 42 Day Intensive Strength Program"
"42 Day Strength Program For The Ultimate Trainer"
When you're armed with a compelling headline, there's just one step left…
Step 8 – Optimise for search and hit publish
Before you can hit publish it's important not to forget about search engines.
After all, search engines are the most sustainable and consistent traffic you can get. And by creating epic content you are missing an opportunity if you don't try and claim a spot on page one.
Essentially, whether or not your content ranks in a search comes down to two primary factors; on-page elements and off-page elements.
The off-page elements are a list of things that you can influence, but they are largely outside of your control. Things such as backlinks, authority, social media reputation and so on.
The on-page elements on the other hand, are all the things within your direct control – these are where you need to concentrate when optimising your piece of content.
This infographic from Brian Dean at Backlinko does a great job of summarising the most important on-page SEO elements for your content;
Source: Backlinko
If you use WordPress, the Yoast SEO plugin is a really helpful companion for optimising your pages for search engines.
It reminds you where to include keywords, how many to include and how to make your search snippet enticing.
Now… Finally the moment you've been waiting for, it's time to hit publish!
Note: Unfortunately the content marketing journey doesn't stop here, if you want genuine and sustainable results from this stuff you need to spend as much time promoting your content as you have spent creating it.
Conclusion
At first creating epic content might seem overwhelming. But if you break the whole process down into manageable chunks it can become habitual and a whole lot easier to do.
You don't have to be a "writer" to crank out lots of quality content, you just need to have the discipline and attitude to get in there and do the hard work.
I can guarantee you that not many businesses outside of the "marketing industry" are doing this very well. So there is a massive opportunity for you.
Let's quickly recap the 8 steps in this process so you can take action straight away;
Prepare yourself with a template, checklist, strict process and accountability buddy
Take the time to find content opportunities, don't just write about anything
Before you write anything, build a content structure and fill it with the best content already out there
When you're writing, don't get distracted – prioritise some time in your day to get it done
To help you stand out from the clutter, make sure to include lots of visuals and a compelling headline
Finally, don't forget about search engines! If you create enough of this style of content they will become your best friends.
What do you think, do you have what it takes to create epic content?